Chocolate Sorbet has all the creaminess of rich, chocolatey goodness of chocolate ice-cream. This is a great way to enjoy chocolate when you're watching calories or when you just want guilt-free indulgence.
A few months ago I bought a Cuisinart Gelateria. It's a fancy ice-cream maker that has a larger capacity than my other ice-cream maker. It came with a recipe booklet full of great recipes. One of those recipes is this chocolate sorbet.
I was initially planning on making a chocolate granita for this post. Granitas are frozen ices that are similar to snow cones in texture (a bit finer grained) but the flavoring is in the frozen base.
You make a granita by making a sorbet base, freezing it and stirring it repeatedly (about every 30 minutes) during the freezing process. For those of you who don't have an ice-cream maker, this is a way to make home made ices without a machine.
Lent is coming and Orthodox Christians typically give up dairy as part of their Lenten observance. This Chocolate Sorbet recipe has no dairy so it's perfect for Lent or if you are lactose intolerant. Adding the chocolate chips to the base gives it just enough fat to be creamy like ice-cream without adding any dairy.
The original recipe made too much for the ice-cream maker so I've cut it in half.
You can easily change this chocolate sorbet up by adding special ingredients like dark coffee, orange juice, cherry juice, grand marnier, or chopped fruits. If you want to add flavorings, reduce the water by ½ cup.
Follow all the steps and add ½ cup of the flavor of your choice just before you refrigerate the base. I used Santa Barbara Chocolate dark chocolate instead of the chocolate chips.
This Chocolate Sorbet is amazing with strawberries or raspberries. Or, just savor the creamy chocolate all by itself.
Yield: 1 quart
Chocolate Sorbet
Total Time
2 hours
25 minutes
Ingredients
2 cups water
1 cup granulated sugar
¼ teaspoon salt
2 ounces semi-sweet chocolate chips (about ⅓ cup)
1 cup cocoa
¾ teaspoon vanilla extract
Instructions
Heat water, sugar, and salt in a medium saucepan until sugar dissolves.
Gradually mix sugar solution into cocoa using a whisk.
While the mixture is still hot, add the chocolate chips and let sit for 5 minutes before mixing with a whisk.
Chill 2 hours or overnight and then freeze in an ice-cream freezer according to the manufacturer's directions.
Notes
You can change the flavor slightly by reducing the water by ½ cup. Follow the rest of the directions and then add ½ cup of flavoring to the base just before chilling. You could flavor this sorbet with orange juice, cherry juice, coffee, Kahlua, Grand Marnier, or Kirsch.
Nutrition Information:
Yield:
1
Serving Size:
1/2 cup
Amount Per Serving:
Calories:

168
Total Fat:

4.1g
Saturated Fat:

2.5g
Sodium:

76.2mg
Carbohydrates:

36.9g
Fiber:

3.6g
Sugar:

30.6g
Protein:

2.1g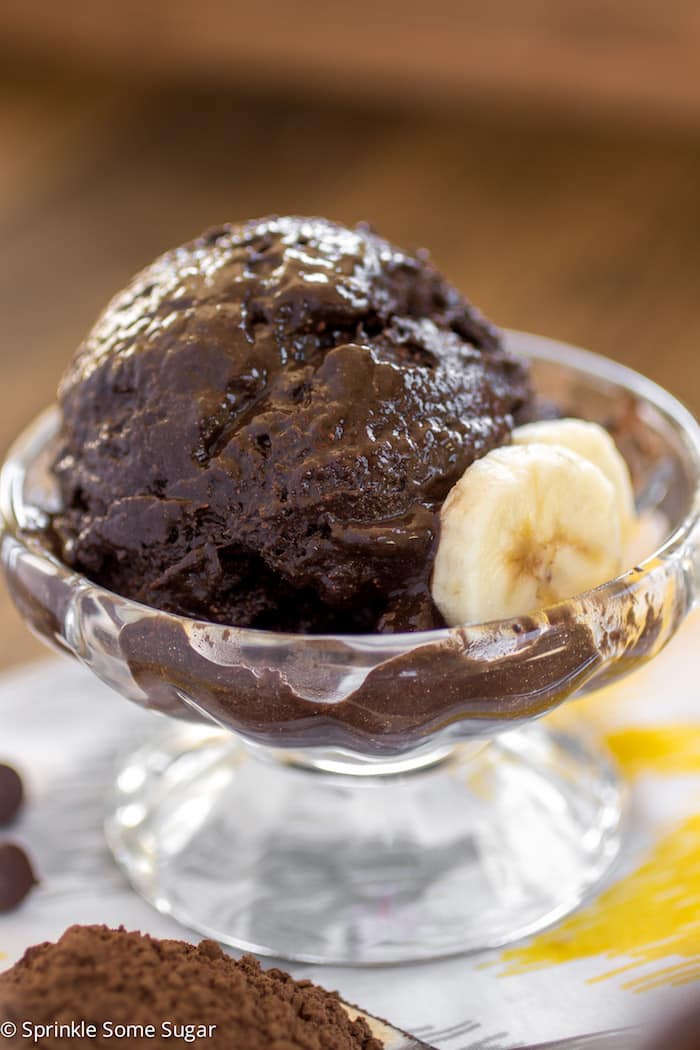 You might also like Dark Chocolate Banana Ice-cream.