Chocolate meringues topped with raspberry whipped cream are a delightful treat on a warm day! Chocolate Raspberry mini-Pavlovas are an elegant dessert that is easy to make. I'm enjoying these with some tea on my patio thanks to an amazing Honeywell evaporative cooler.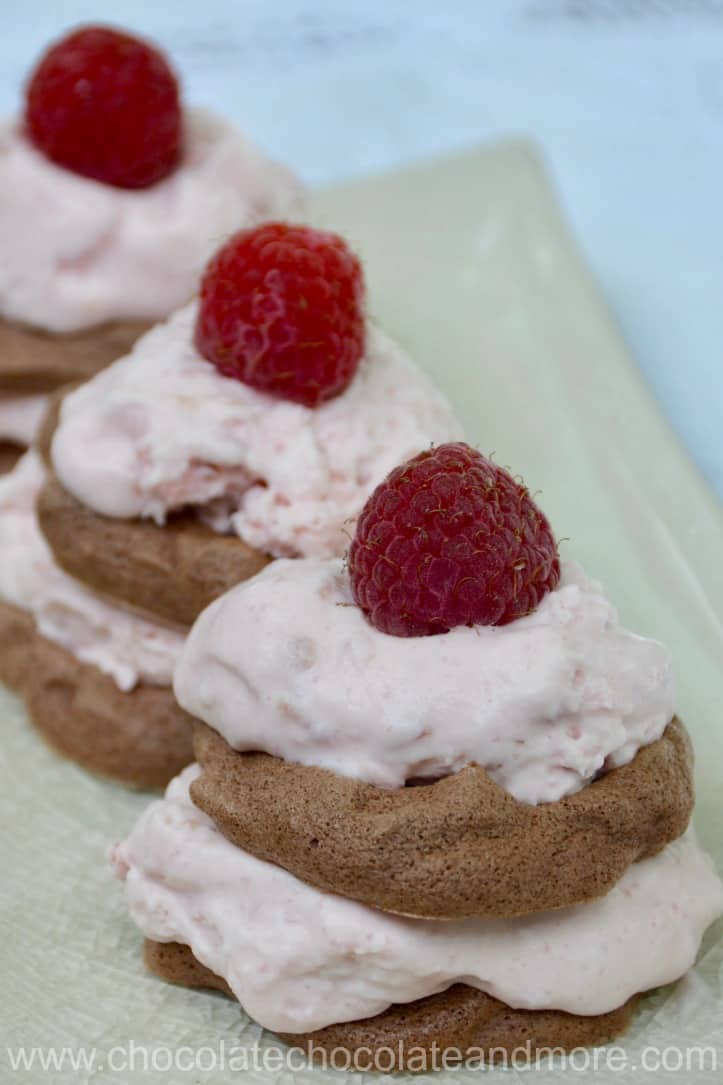 I enjoy gardening. It relieves stress and I love the challenge of finding the right plants for the right spots.
When I came back from Cambodia, most of my backyard was a barren mud pit. I guess the people who rented my house had a dog because all the grass under the trees by my patio was gone.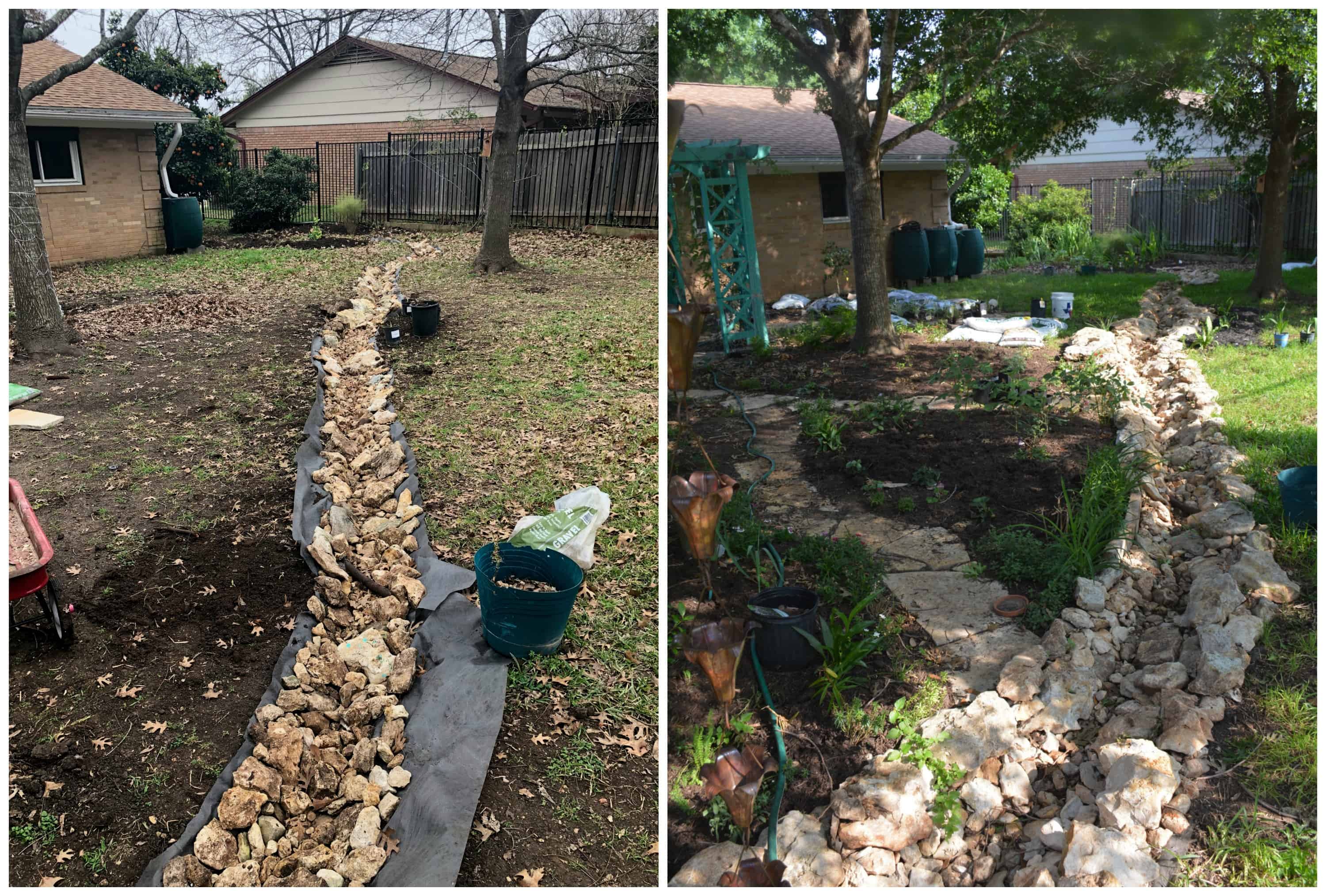 I've also had drainage problems from a downspout that's located uphill from my patio. So it was time to do some major work.
I dug a swale (or dry creek as they're called in Texas) from the downspout across the backyard. All the rocks in the swale came from my yard (it's that rocky). And, I put in a rain garden at the end.
Then I put in some stone paths and began planting. Most of the area is shaded. Finding plants that will tolerate dry shade is a challenge but things are coming along. I also planted a passion vine, clematis, honeysuckle and a grapevine by the pillars to my pergola.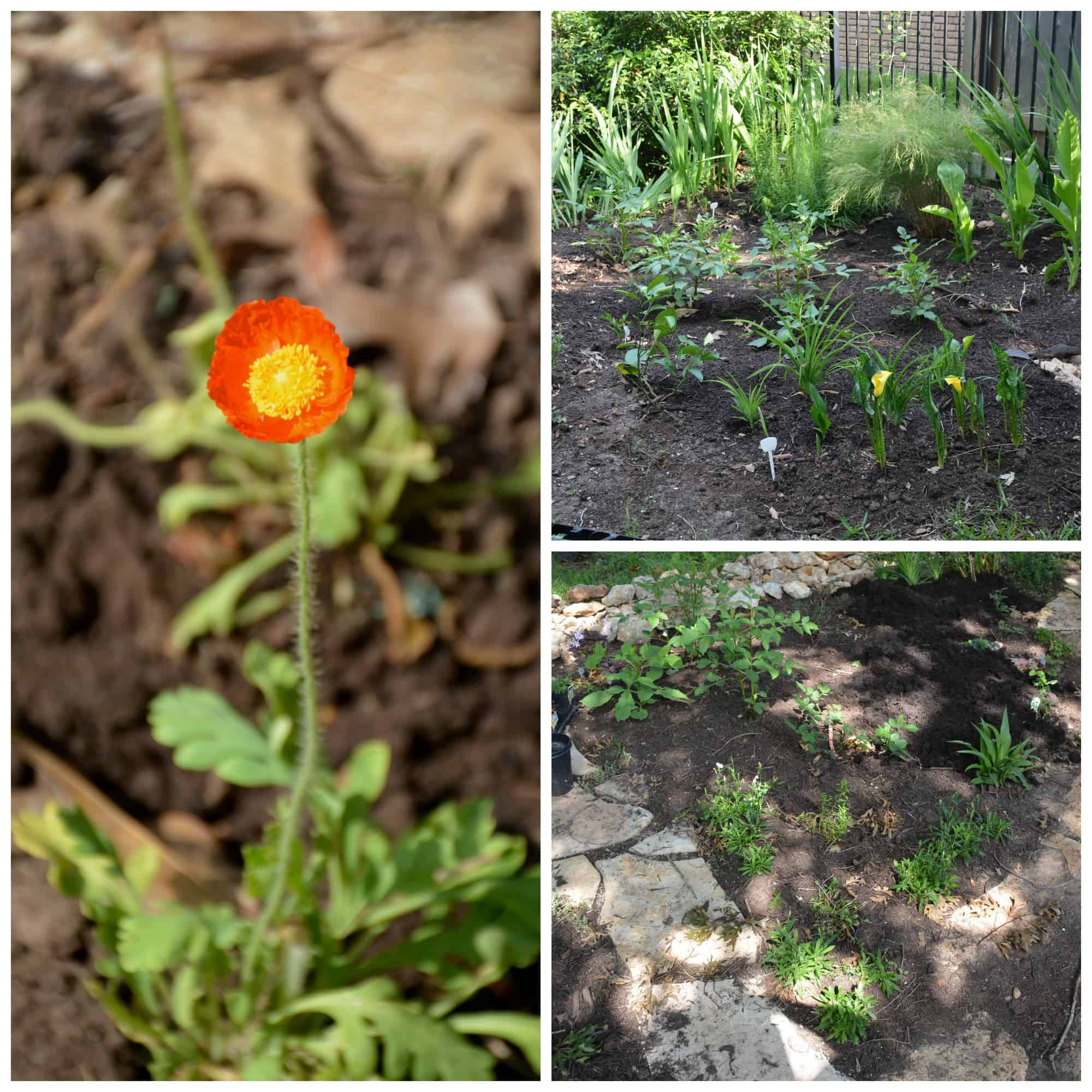 It's still a work in progress but I'm enjoying watching the flowers come in.
Now that the back yard is looking pretty, I want to spend time there. The problem in Texas is that it gets hot even in the shade. It's already over 80°F in the afternoons and it's been a cool spring.
So when the folks at Honeywell asked me to review their indoor/outdoor evaporative cooler, I jumped at the chance.
They sent me their 525 CFM Indoor/Outdoor Portable Evaporative Cooler (affiliate link). I was a little concerned when the box arrived because it was pretty dented. But the unit is packed well so there was no damage.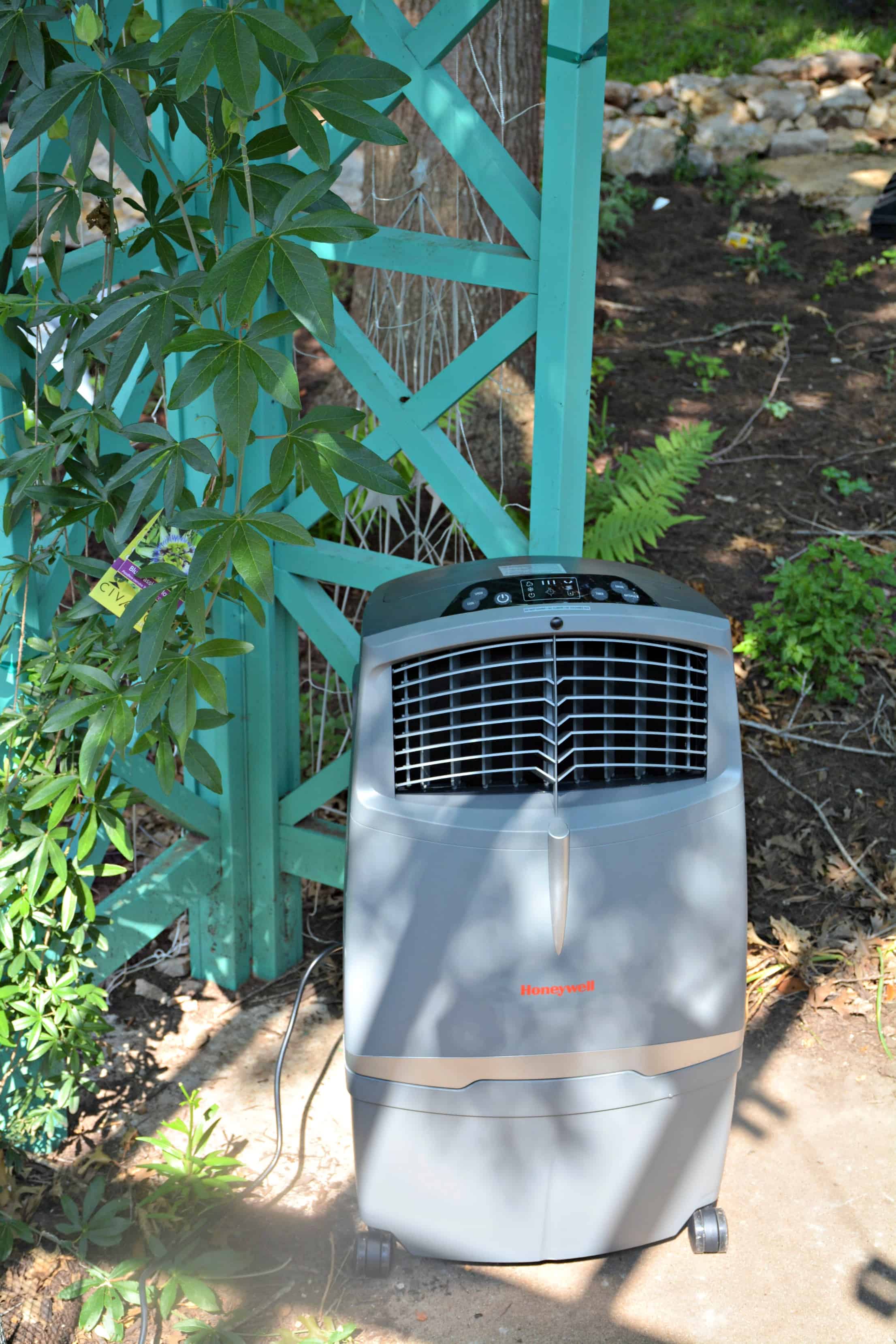 Evaporative coolers are an old concept. When I was a kid up in Delaware, we didn't have air conditioning. On hot days, we'd put a bowl of water in front of a fan. As the water evaporated, it would cool the air above it.
The 525 CFM Indoor/Outdoor Portable Evaporative Cooler uses the same principal (evaporating water absorbs the heat as air passes over it) so they are an efficient way to cool a small space.
The first task then is to fill the evaporative cooler with water. It takes a lot of water to fill the tank. I started running back and forth with a gallon pitcher from my kitchen and then finally got the garden hose out.
The 525 CFM is pretty lightweight until you fill it with water. Once you fill the water tank, it's not so easy to move around even though it does have wheels. So put it where you want it to be before you fill it.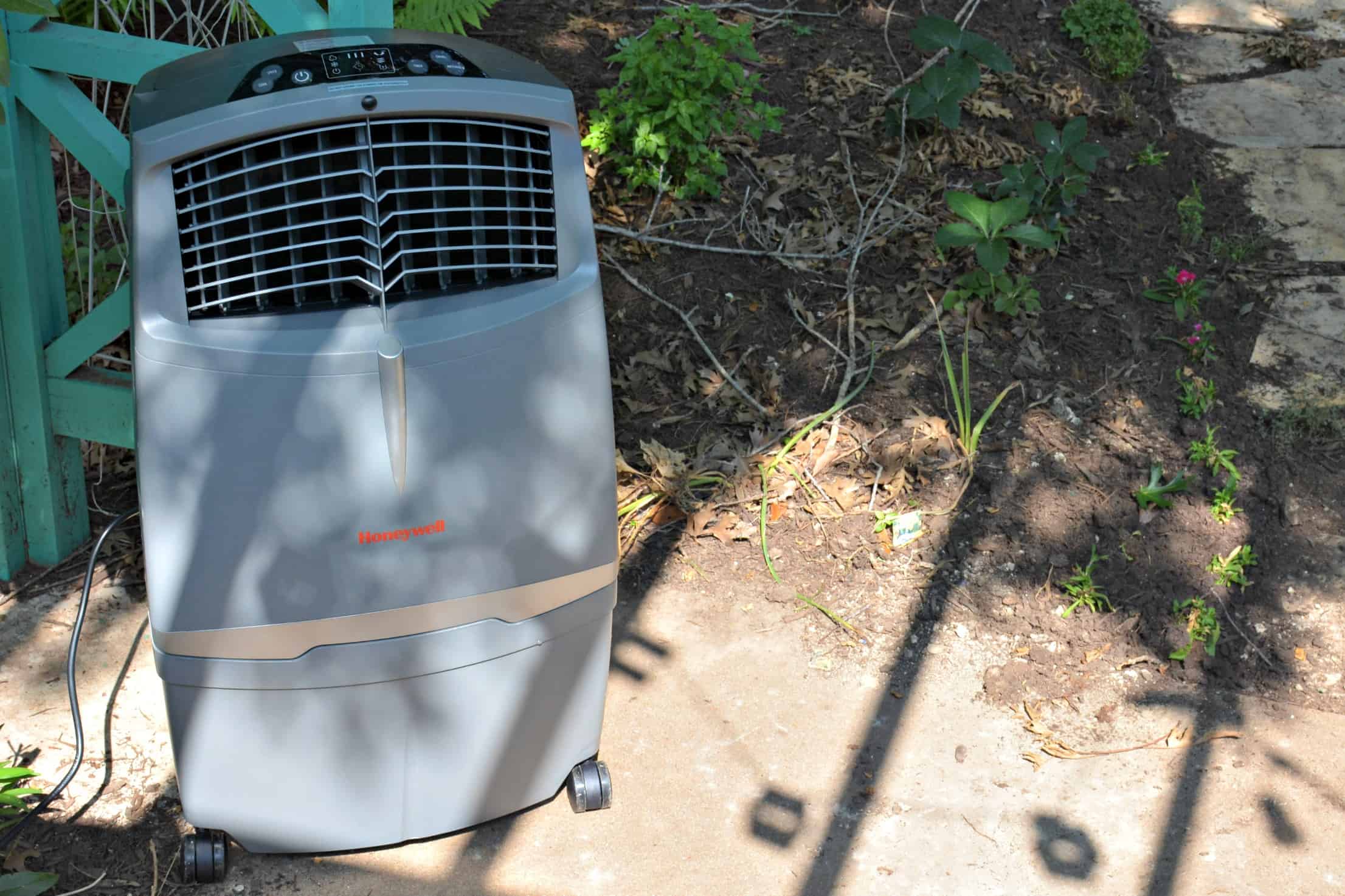 I found it easy to operate with either the remote or the buttons on the unit. This unit puts out a lot of air so it's wonderful outside on my patio. You can set it to oscillate or to blow in one direction and you can control the height of the breeze.
It also has a timer so you can turn it on and set it to cool for a certain amount of time before it goes off. This is a handy energy saver if you're forgetful like I am.
I've also used my 525 CFM evaporative cooler to cool my back room. It used to be the back porch and the original owner of my house put in heating and ac but it's never the same temperature as the rest of the house.
As an empty-nester, I love the energy savings of cooling a single room instead of the entire house. I can set my central air thermostat on eco but use my Honeywell evaporative cooler to enjoy a nice cool room. So far, I've used it in my bedroom at night and my office during the day. I may move it into the kitchen to cool that down while I'm baking.
On really hot days, you can add ice to the top of the unit. I find it cools well without the ice but I'm sure I'll be using that feature when the temperatures hit 100°.
Now about these chocolate raspberry mini-pavlovas. My Australian friends introduced me to pavlovas a few years ago. They're named after a famous ballerina (Pavlova) because the meringues are shaped like her tutu.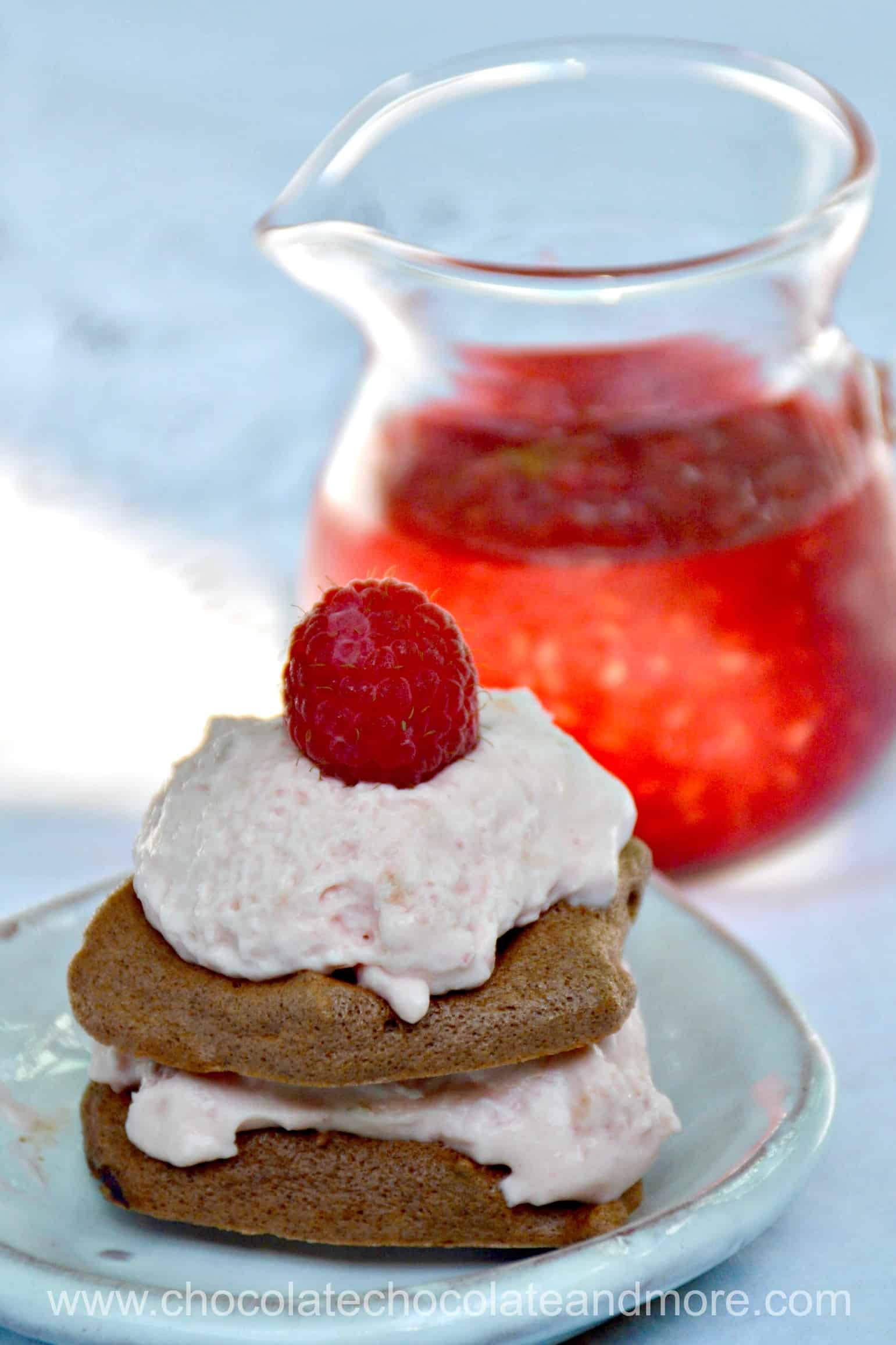 Usually, pavlovas are cake-sized. This makes for an elegant dessert until you try to slice it. Then it's not so pretty. (Maybe one of you knows the trick, I certainly don't).
I usually bring dessert to a weekly gathering of friends and I wanted to bring pavlovas without the mess. So I made mini pavlovas. Each one is an individual serving and they stay beautiful until someone eats them.
Chocolate raspberry mini-pavlovas start with chocolate meringues. I dropped my meringue onto parchment paper and spread it out into flat disks with a spoon.
I had some less-than-fresh raspberries in my refrigerator – you know, kind of mushy but not yet moldy. So I made some raspberry sauce for the raspberry whipped cream. You could substitute raspberry jam to save time. If you make the raspberry sauce, you'll have extra to either serve with the pavlovas or on top of ice-cream.
Ideally you want the meringues to be crisp when you serve this dessert. So you need to assemble it right before serving. I showed my guests how to assemble the layers and then let them make their own. It only takes a few minutes either way.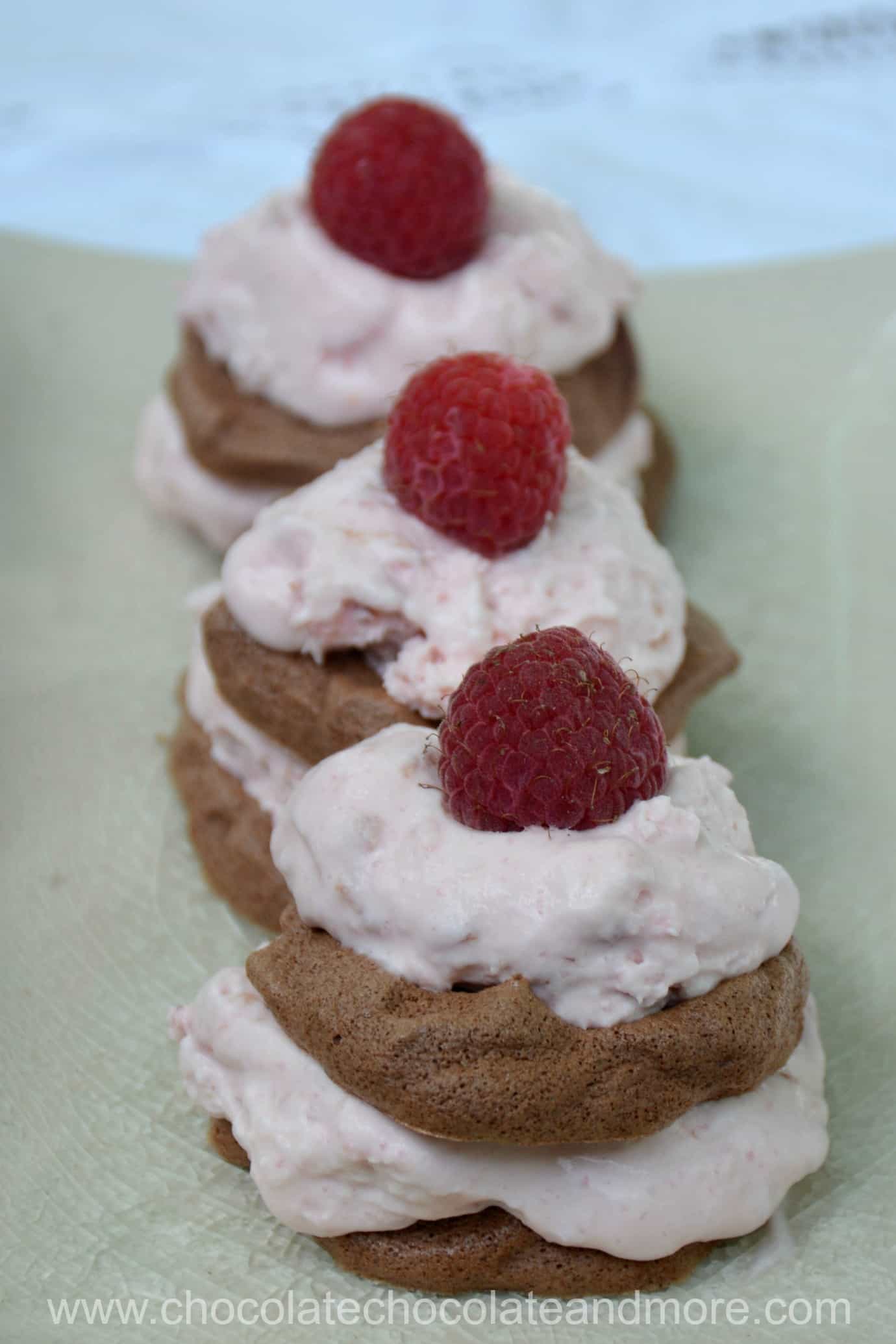 The components are also freezable so you can make the parts ahead of time and put them together at the last minute.
If you're having a party and want to stretch the recipe a little further, only use one meringue per pavlova. In other words, just put a spoonful of raspberry whipped cream on top of each meringue, top with a fresh raspberry and serve.
If you have left overs, eat them as quickly as possible. As they absorb moisture from the whipped cream, the meringues become more "cookie-like" which isn't all bad. The flavor will be as incredible as ever.
Yield: 12
Chocolate Raspberry mini-Pavlovas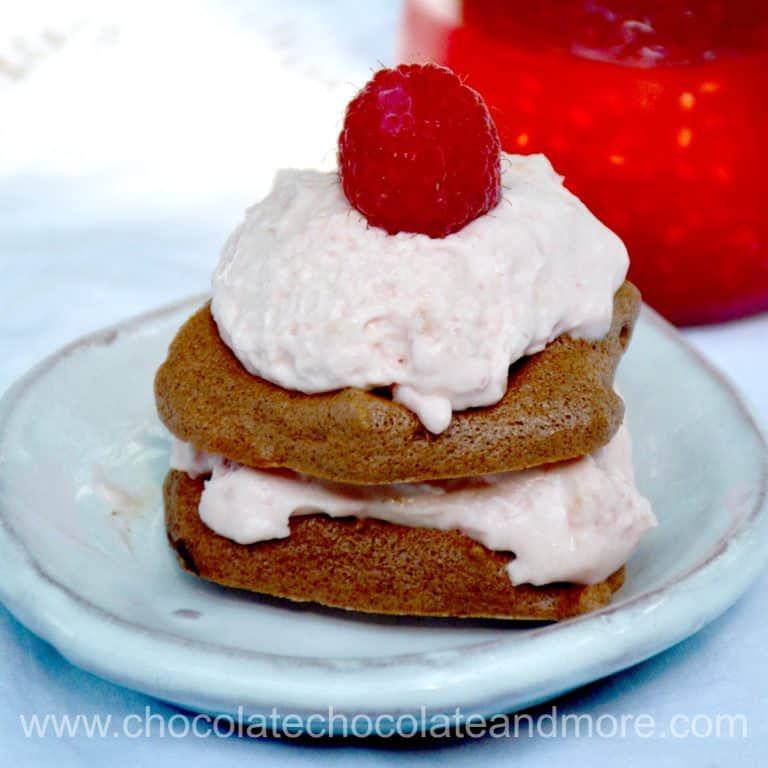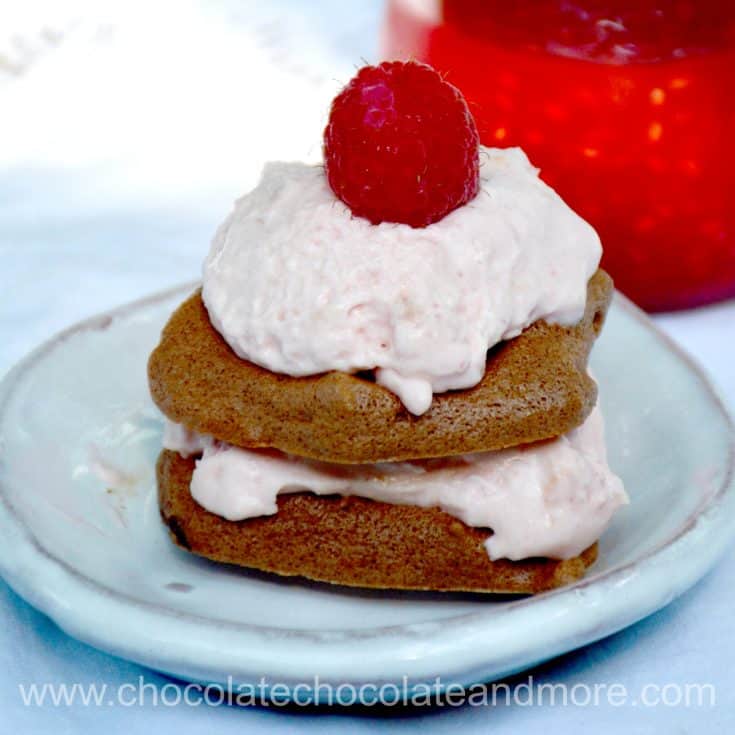 Light chocolate meringues with raspberry whipped cream
Ingredients
Chocolate Meringues
1/2 cup egg whites
1/4 cup cocoa powder
1/4 cup sugar
Raspberry whipped cream
1 1/2 cups whipping cream
5 tablespoons raspberry sauce or raspberry jam
1/2 teaspoon unflavored gelatin
Raspberry sauce
2 cups raspberries
1/2 cup sugar
3 tablespoons lemon juice
1 tablespoon cornstarch
1 tablespoon water
Instructions
Chocolate Meringues
Put egg whites in a mixing bowl and beat until frothy. If desired, add a pinch of cream of tartar (this helps the egg whites whip up nicely). Continue beating until soft peaks form.
Sift in the cocoa powder and sugar. Beat until stiff peaks form.
Line a pan with parchment paper or a silpat. Drop rounded tablespoonfuls of the meringue onto the paper leaving a couple of inches between each meringue. Use the back of a spoon to flatten the meringues into 2-inch disks.
Bake in a preheated 250°F oven for 20 minutes. Turn the oven off and leave the meringues in the oven until it cools (about 2 hours). Store in an airtight container and/or freeze if you are not using them the same day.
Raspberry Sauce
Put all the ingredients in a small saucepan and cook on medium high, stirring until the juices in the raspberries form a slightly thickened sauce. I smash the raspberries while I stir to speed things up.
Let cool before adding to the whipped cream.
Raspberry Whipped Cream
Put the ingredients in a chilled mixing bowl (I put my bowl in the freezer for 15 minutes). Beat until stiff peaks form. Refrigerate until ready to use. Use within 2-3 days or freeze.
Assembly
Assemble your pavlovas right before serving to keep the meringues crisp. I let my guests assemble their own.
Place one meringue on the plate, top with a generous tablespoon of raspberry whipped cream. Place the second meringue on top and top that with another tablespoon of whipped cream.
Garnish with a fresh raspberry and/or some additional raspberry sauce.
Looking for more light summer desserts?