Back in the 1950s, a friend of my mother's sent her this Chocolate Peppermint Fudge recipe. It is so easy to make that even as a child, I could follow the recipe. As I was growing up, I became the one in the family who always made the fudge.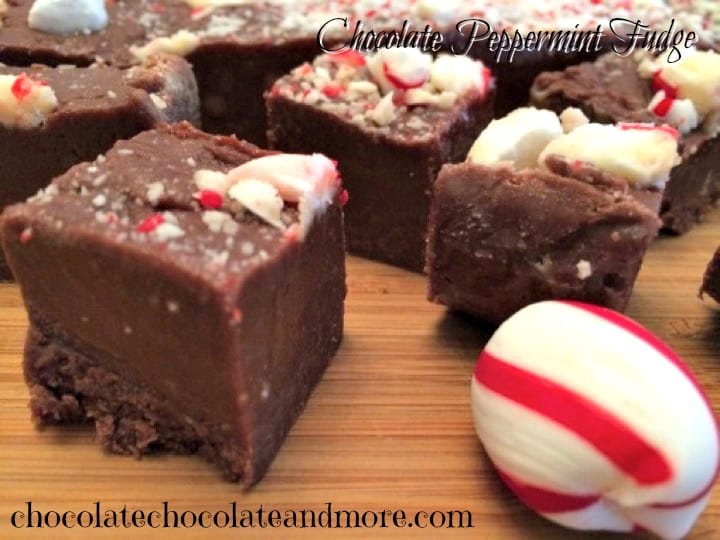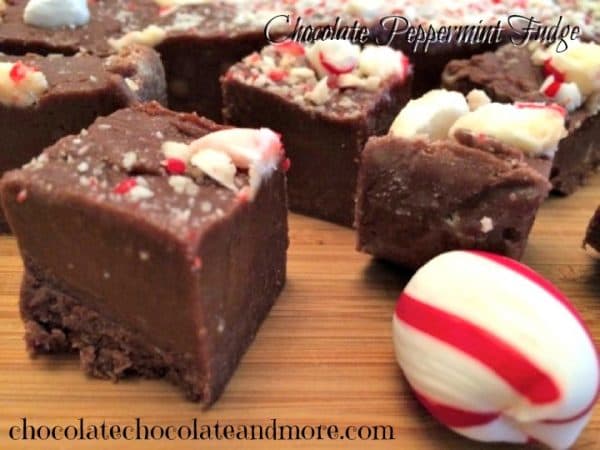 Kitty here again. Looking back, I realize this was where I began my life as a true chocoholic. Apparently this trait is genetic as both of my daughters and my nieces, Joan and Gail, inherited the same tendency.
As I have gotten older, my metabolism has changed. When I was in my teens and early twenties I could eat anything and everything without putting on an ounce. In other words, I was one of those people you hated to sit down to eat with because I would eat everything including desert with no problem. Wellll, life has gotten even with me. I now have to watch what I eat, splurging on it occasionally. This fudge is definitely one of my splurges (I'll have salad for dinner, please).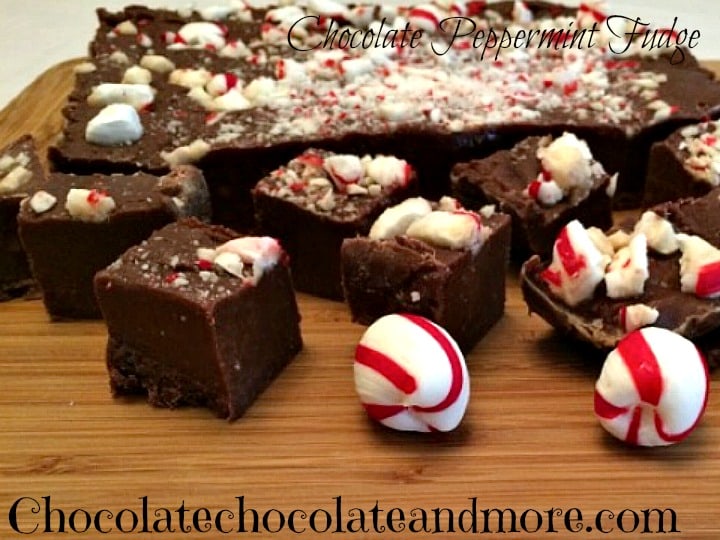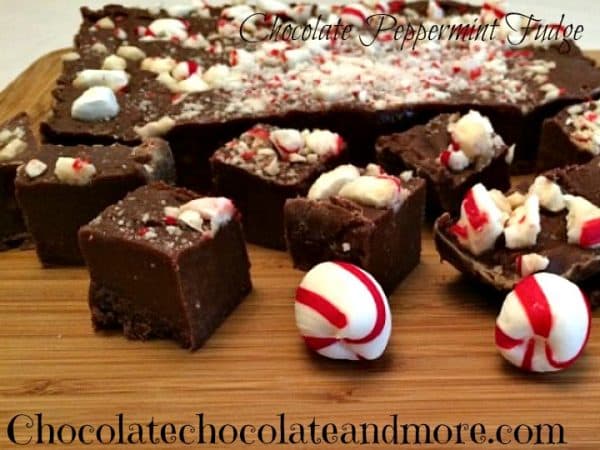 Over the years I have made a few changes including the type of chocolate used and the addition of peppermint to the recipe. This Chocolate Peppermint Fudge is so rich that you have to cut it into bite-sized pieces for serving.
The aluminum foil lining for the pan makes it very easy to lift the whole block of Chocolate Peppermint Fudge directly out of the 8″x8″ glass dish making for easier cutting and is one less thing that you have to scrub to clean. A word of warning, use sturdy aluminum foil as the block of Chocolate Peppermint Fudge is very heavy.
I use a knife with a long blade for cutting and rinse it with hot water between slices. This keeps the cuts smooth and prevents the fudge from sticking to the knife.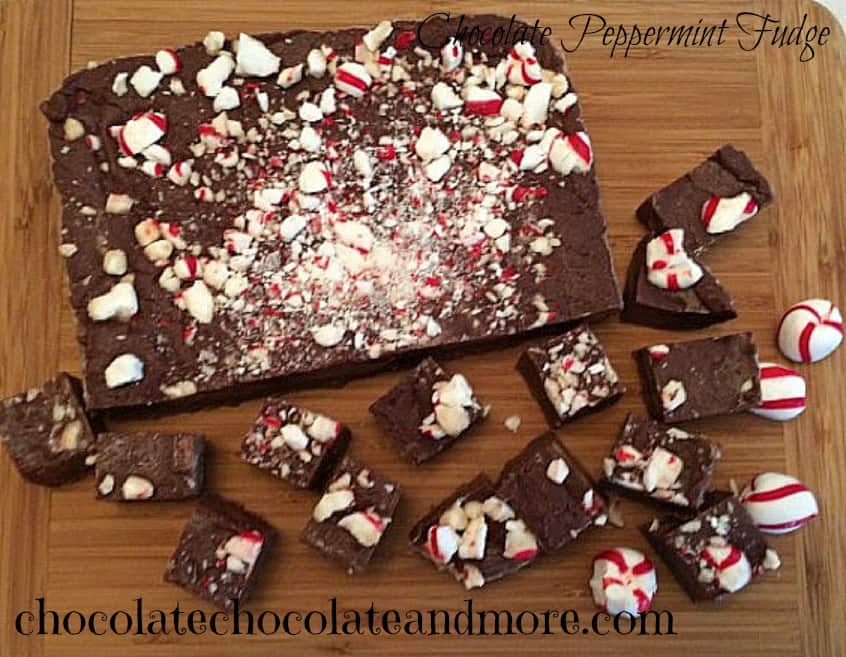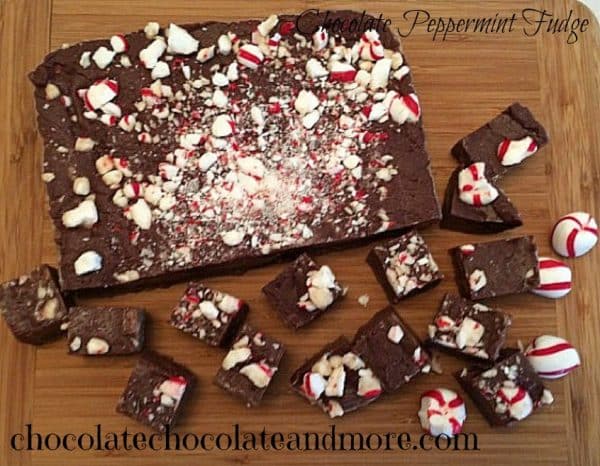 Chocolate Peppermint Fudge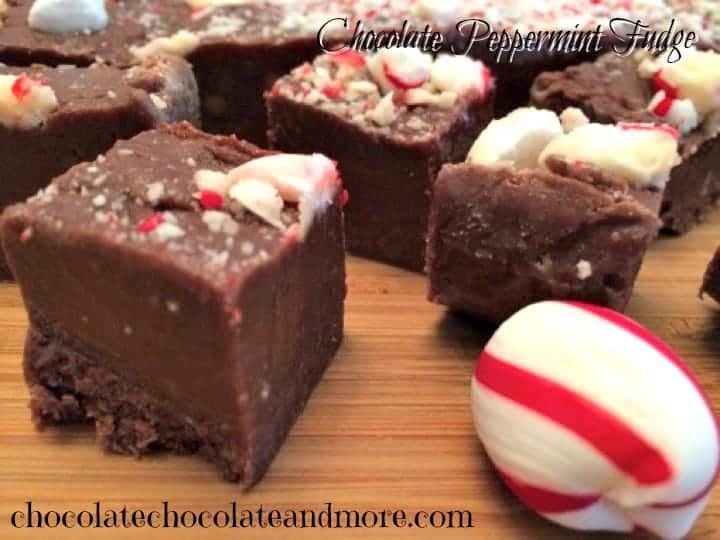 Ingredients
2 cups sugar
1 small (6 oz.) can evaporated milk
10 fresh marshmallows
1 (12 ounce) package chocolate chips
1 teaspoon vanilla
1 stick butter
14 peppermint candies
½ cup black walnuts (optional)
Instructions
Line an 8"x8" glass dish with aluminum foil. You can smoothly shape the foil over the outside of the dish. Then turn the dish right side up and your molded aluminum foil should slip right into the dish. Make sure that the foil is large enough to overlap the edge of the dish. Butter the aluminum liner and set aside until the fudge is completed.
Using a large heavy saucepan, bring to a boil over medium low heat sugar, evaporated milk, and marshmallows
When it boils cook for 5 ½ minutes stirring constantly. This expands as it cooks thus the need for a large saucepan.
Remove from stove and add chocolate bits, vanilla, butter, black walnuts (optional)
Stir until the butter and chocolate bits are melted and well mixed.
Pour into the buttered 8x8 buttered glass dish.
Place 14 peppermint candies in a sturdy zip lock plastic bag and pound with a rolling pin until crushed. I use Bobs Sweet Stripe Peppermint from Walmart. Sprinkle the crushed peppermint candies over the top and gently press into the fudge.
Refrigerate over night
You can use the overlapped aluminum foil to lift the fudge out of the dish in one solid piece so that it is easy to cut.
You might also like these fudge recipes.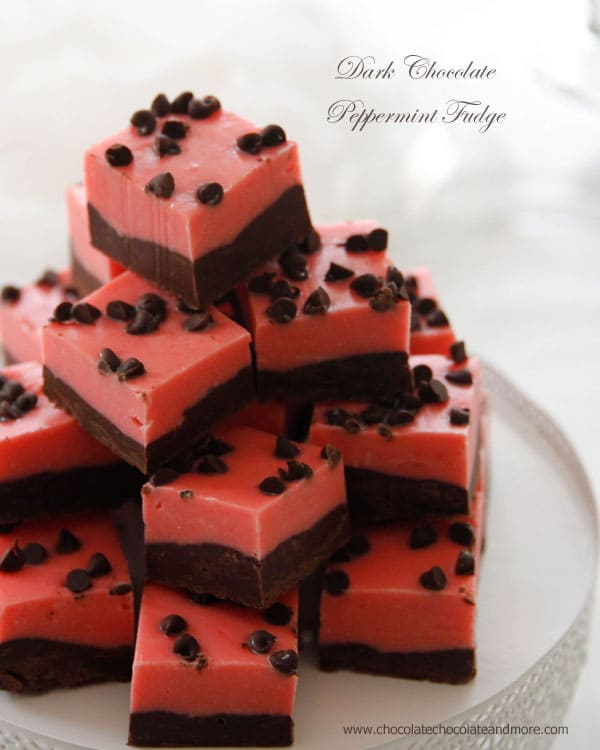 Dark Chocolate Peppermint Fudge
Pomegranate Fudge from Buns in My Oven