Chocolate Peanut Butter Krispy Treats are everything you love in an easy to make bar cookie- chocolate, peanut butter and rice krispy cereal. Make them for school lunches if you can save enough to pack!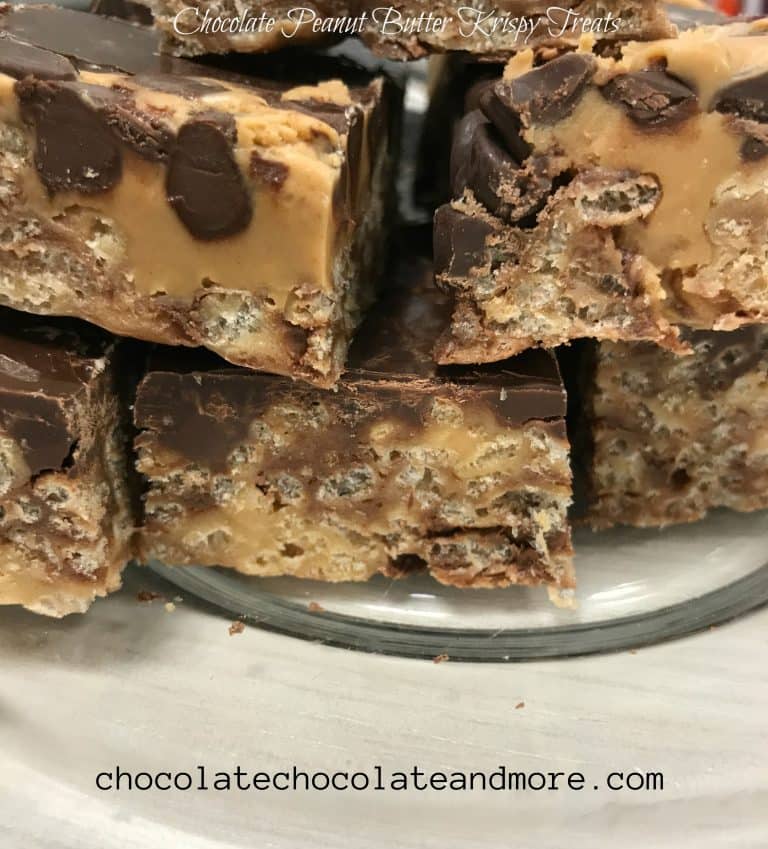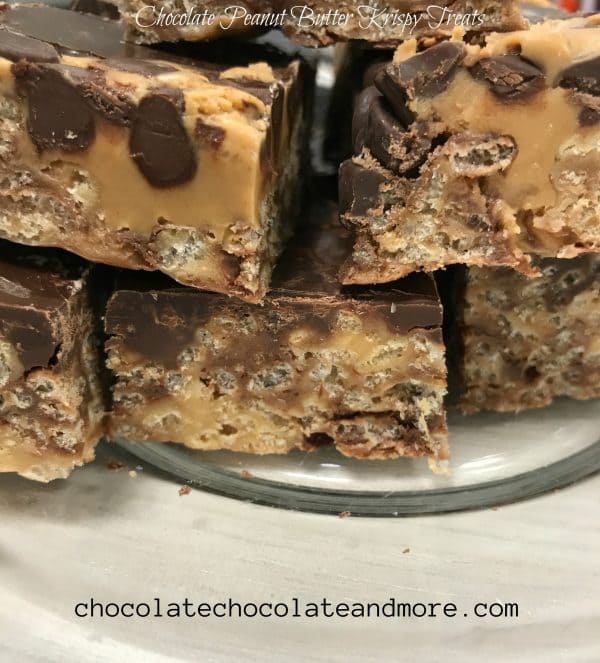 I'm pretty sure everyone I know has had a Rice Krispy treat (or a dozen) at some point in their lives. They are super easy to make, and satisfy the sweet, gooey and crunchy options in a snack. You can put almost anything into a Rice Krispy treat to jazz it up — I usually see them with M&M's of some sort, or a chocolate drizzle or with Peanut butter or caramel. Now, I love pretty much anything with chocolate and peanut butter, but I had never made the treats with that combo — so I decided to give it a try.
The recipe is one of those that I will call "make to taste" — if you like more peanut butter, or want to use chunky peanut butter instead of smooth, feel free. If you want to use more chocolate and less peanut butter, that is also a delicious alternative. I used reduced fat smooth peanut butter in my recipe (silly to go low fat, I know, but it is what I had on hand and it worked just fine), and Nestle's Chocolate morsels, but if you think dark chocolate might be your thing, that is an option as well.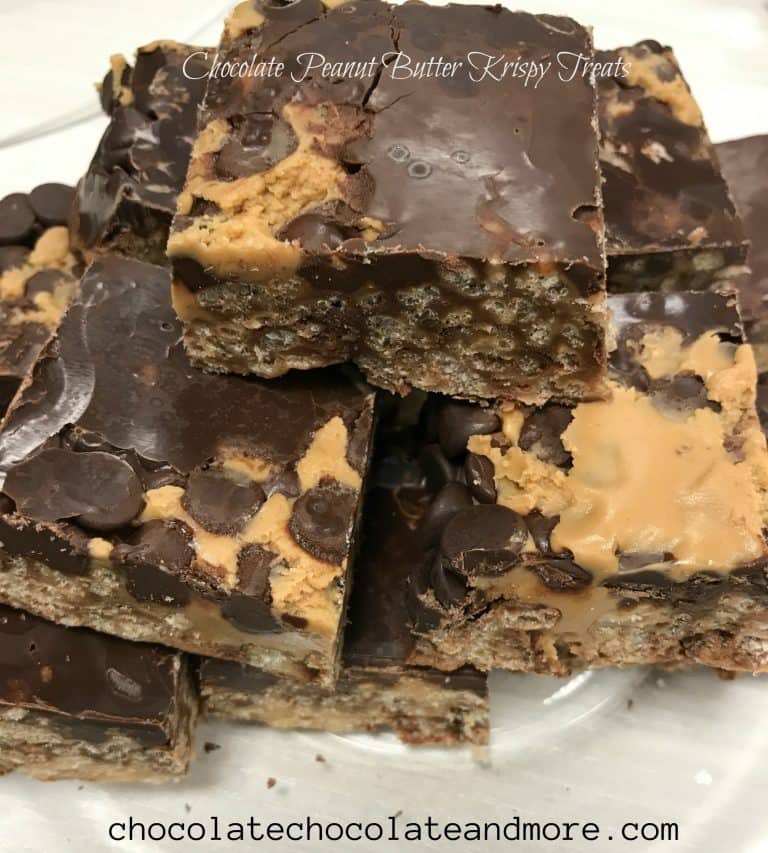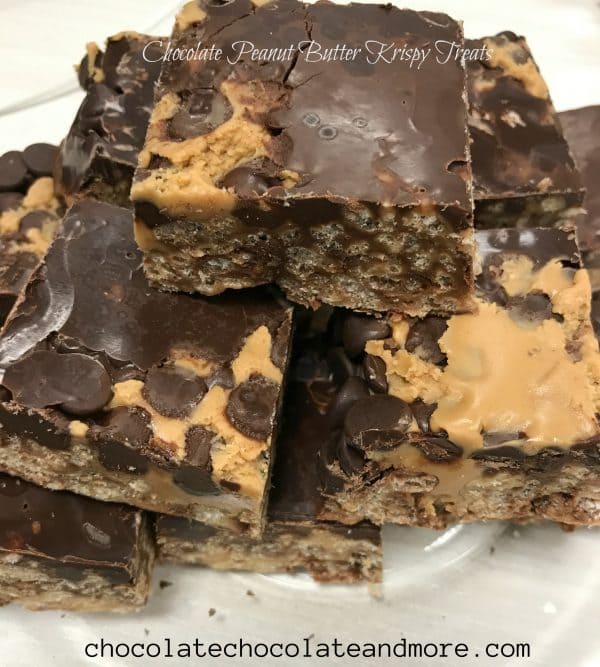 The preparation time for Chocolate Peanut Butter Krispy Treats is about an hour and a quarter — and most of that is just letting the final product cool before you turn it out to cut and serve. If you don't serve all of the treats at once, I would suggest freezing the left-overs, unless you know you will be eating them in within 24 hours. One thing about rice cereal is it does go stale, and that includes once it has been transformed into a sweet treat. If you need to keep them overnight before finishing, make sure you either put them in a zipper bag, or cover them with cling wrap to keep as much air out as possible.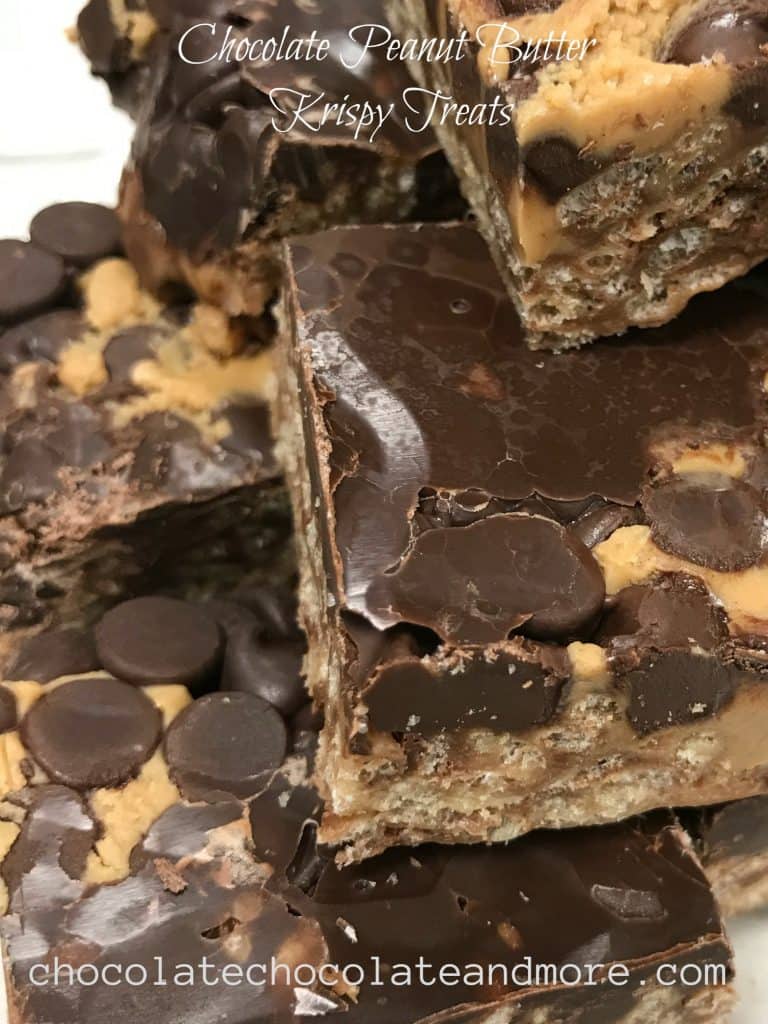 You probably already have the ingredients for Chocolate Peanut Butter Krispy Treats in your pantry already so whip up a batch for your family. You'll be glad you did.
Yield:
Chocolate Peanut Butter Krispy Treats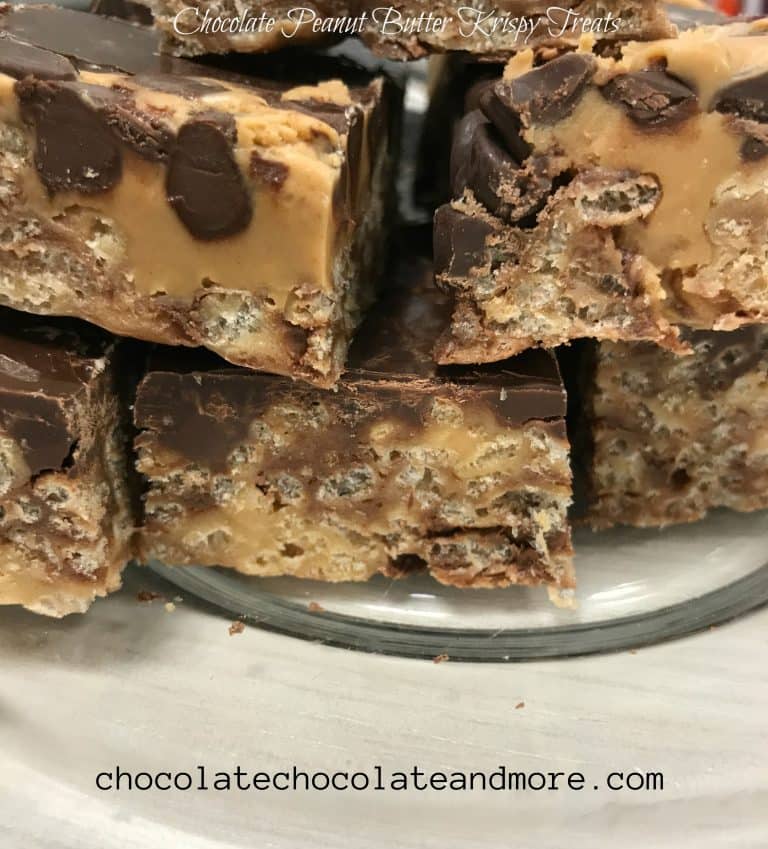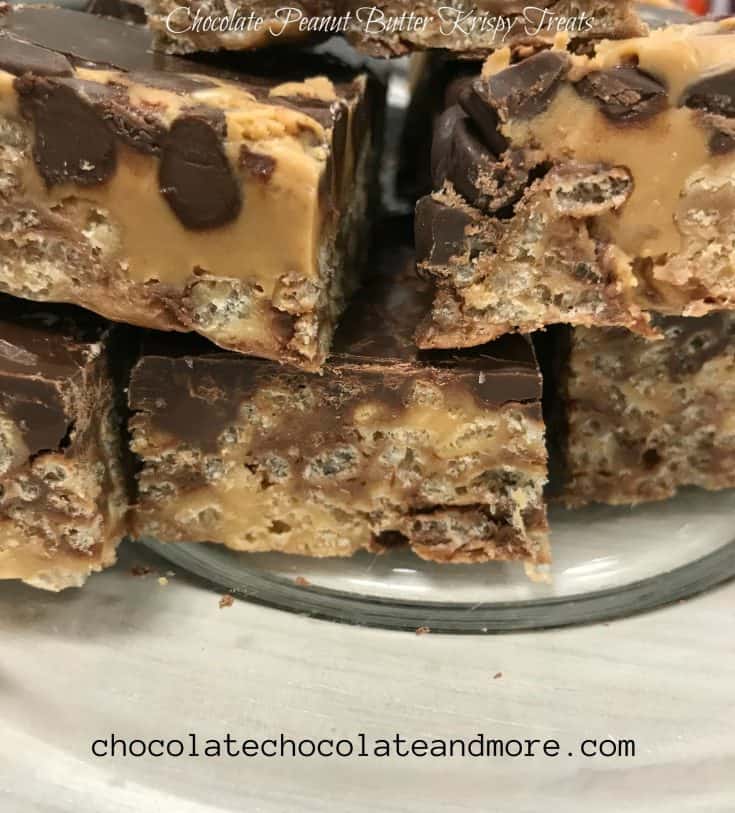 Ingredients
6 tablespoons unsalted butter
4 Cups mini-marshmallows
1 Cup peanut butter (you can use smooth or chunky), split into two half cups
6 Cups Rice Krispies (or generic puffed rice cereal)
1 1/2 Cups semi-sweet chocolate chips (you can use dark chocolate as well)
1/2 Cup semi-sweet chocolate chips (you can use dark chocolate as well)
Instructions
In a 9" x 13" baking pan, lightly butter the sides of the pan.
On the bottom, sprinkle 1 1/2 cups of chocolate chips, covering the bottom of the pan.
Using one of the half cups of peanut butter, drop small spoon-fulls of peanut butter at random intervals on top of the chocolate chips.
Set pan aside.
In a large saucepan over low to medium-low heat, melt the butter until light brown, approximately 7-8 minutes..
Add the marshmallows and stir constantly until completely melted.
Remove the pan from the heat and stir in the remaining peanut butter until melted.
Add 1/2 cup chocolate chips and stir until melted.
Add the puffed rice cereal and fold together until well coated.
Using a spatula, press the mixture evenly on top of the chocolate chips and peanut butter drops in the prepared baking dish.
Cool completely (approximately one hour).
Turn treats out onto waxed paper -- the chocolate chips and peanut butter from the bottom of the pan should be melted into a topping on top of the treats.
Cut into squares or rectangles and serve.
Love peanut butter and chocolate? You might also like these recipes.

Chocolate Peanut Butter S'mores bars
Peanut Butter Cornflake S'mores bars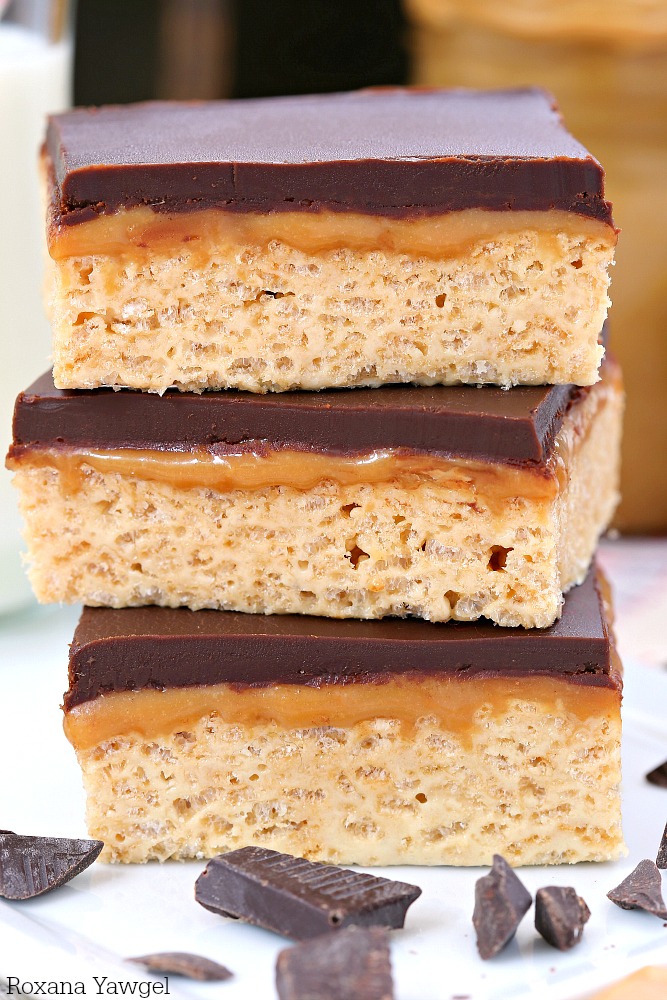 Homemade Whatchamacallit Bars from A Treats Affair.

Reece's Peanut Butter Cup Bars from Domestic Rebel.