Peanut butter and bananas go so well together. Add rich chocolate pudding and meringue and you've got chocolate peanut butter banana pie.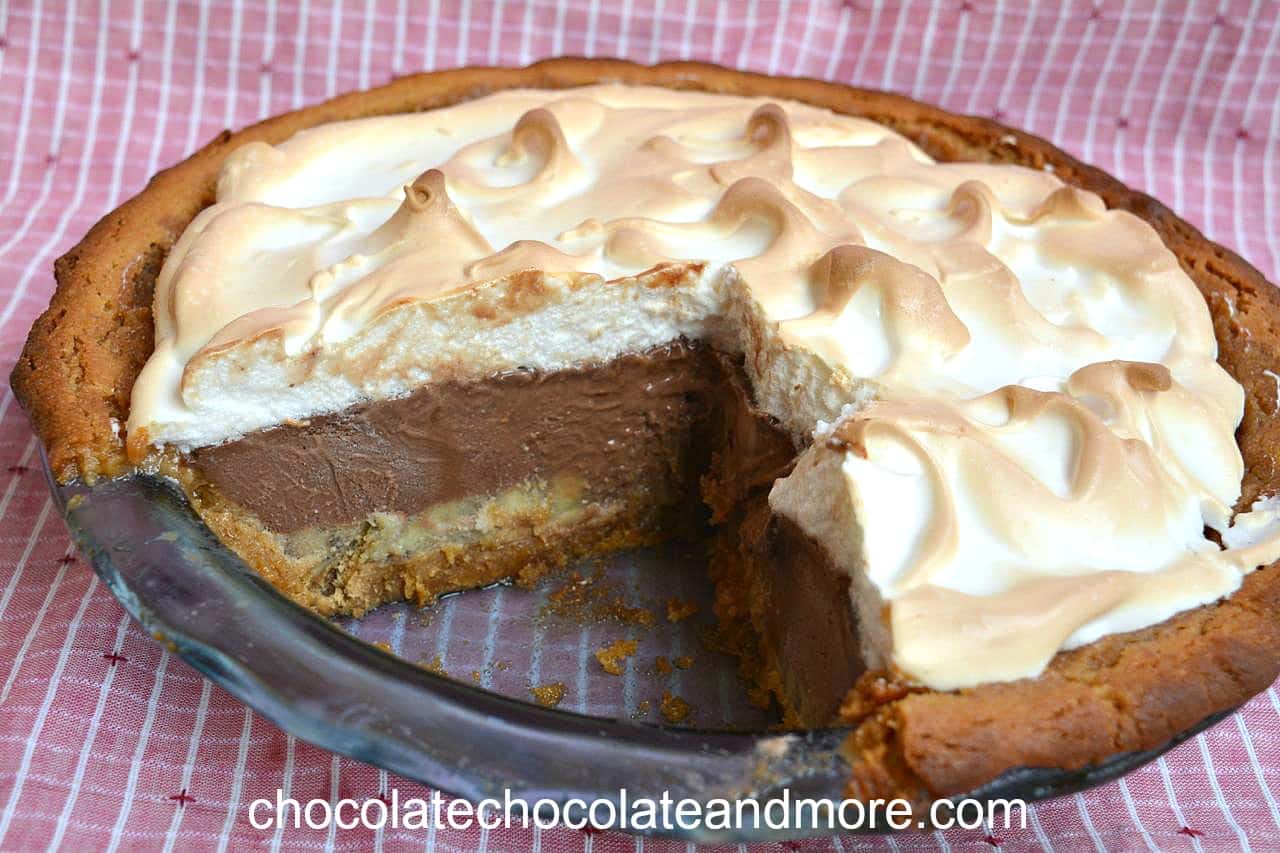 When I was a kid we used to eat bananas and peanut butter as a healthy snack. Then as a teenager I discovered frozen bananas covered in chocolate. So when I was thinking of what to do with some older bananas I was a bit torn. Put them in a peanut butter sandwich or coat them with chocolate and freeze.
As I was staring into my pantry deciding what to do, I spied some peanut butter cookie mix and thought how that might go with the bananas. I decided then that I was going to put together all three flavors – peanut butter cookies, bananas, and chocolate.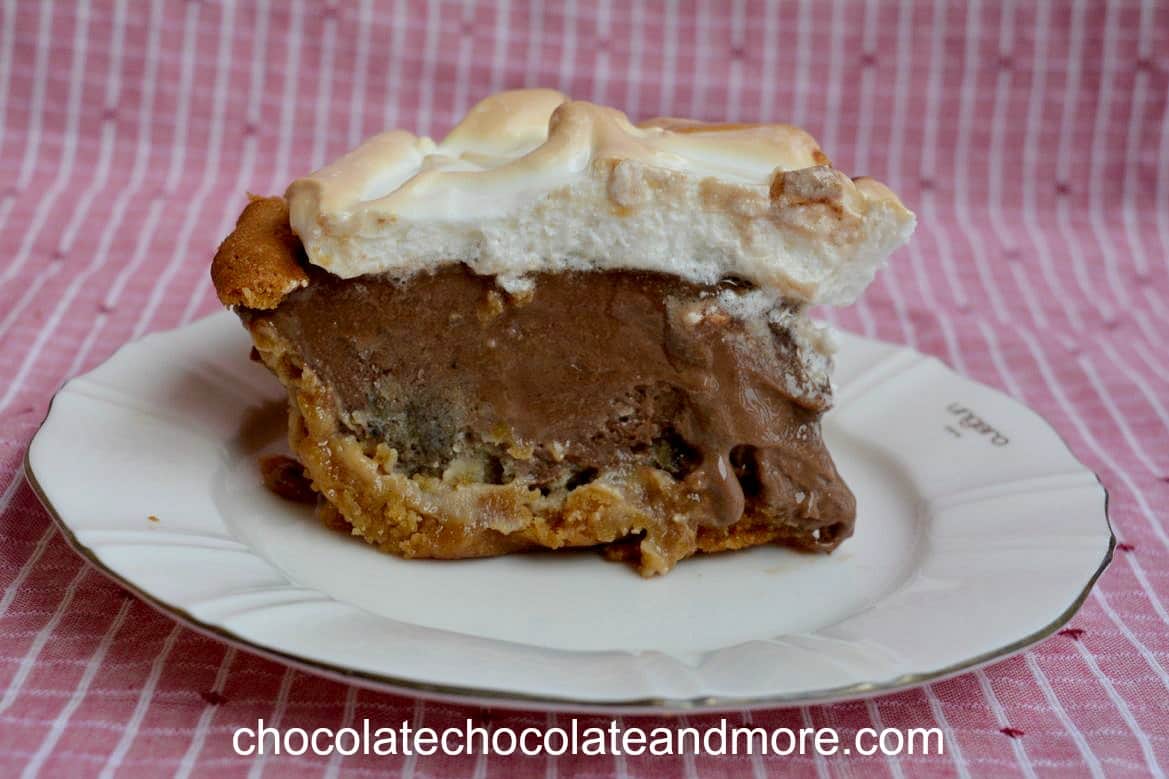 I don't know why I settled on a pie but I'm glad I did. The chocolate pudding is great by itself and the flavor combination is everything I'd hoped it would be. Slightly salty peanut butter cookies with chocolate and bananas. It looked a little plain when I put it together and I had some extra egg whites from other baking projects so I decided to top it with some meringue.
My colleagues at work gave Chocolate Peanut Butter Banana Pie 2 thumbs up. They're brutally honest when it comes to desserts so I know I've got a good one when they ask for more.
Since it's not filled with chocolate mousse, you've got to freeze it in order to slice it. This makes the chocolate pudding like a fudgesickle and it's so refreshing on a hot day!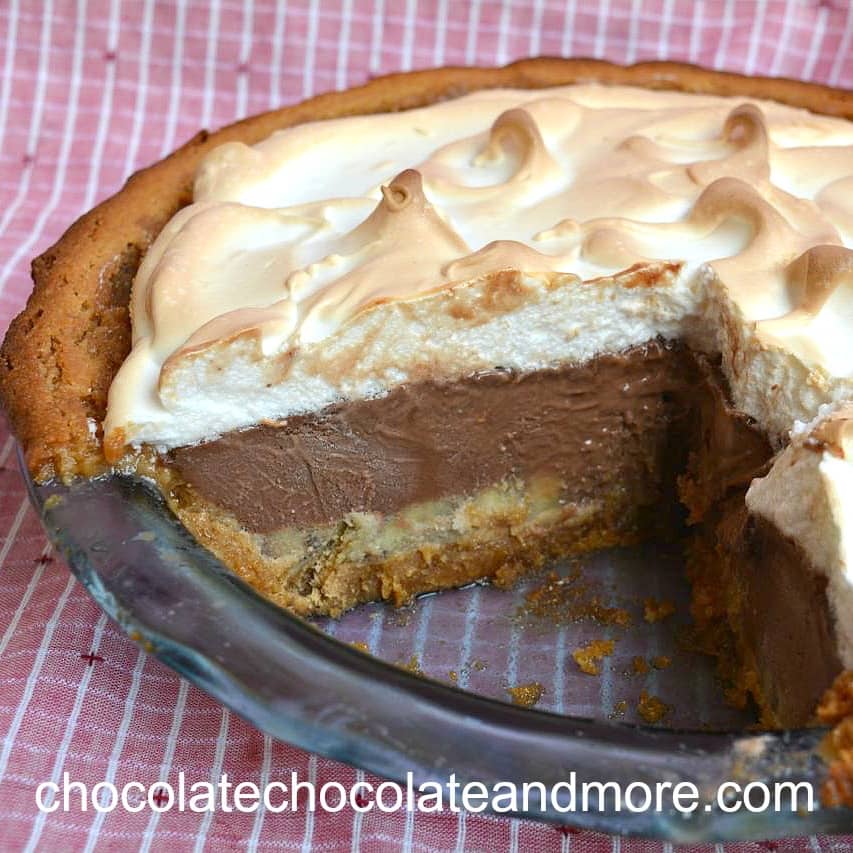 There are quite a few shortcuts you could use to make this. I started with peanut butter cookie mix. You could use store-bought pudding for the filling. I caramelized the bananas but it would be good with sliced bananas. If you're in a rush, you could also just top it with whipped cream instead of meringue.
Chocolate Peanut Butter Banana Pie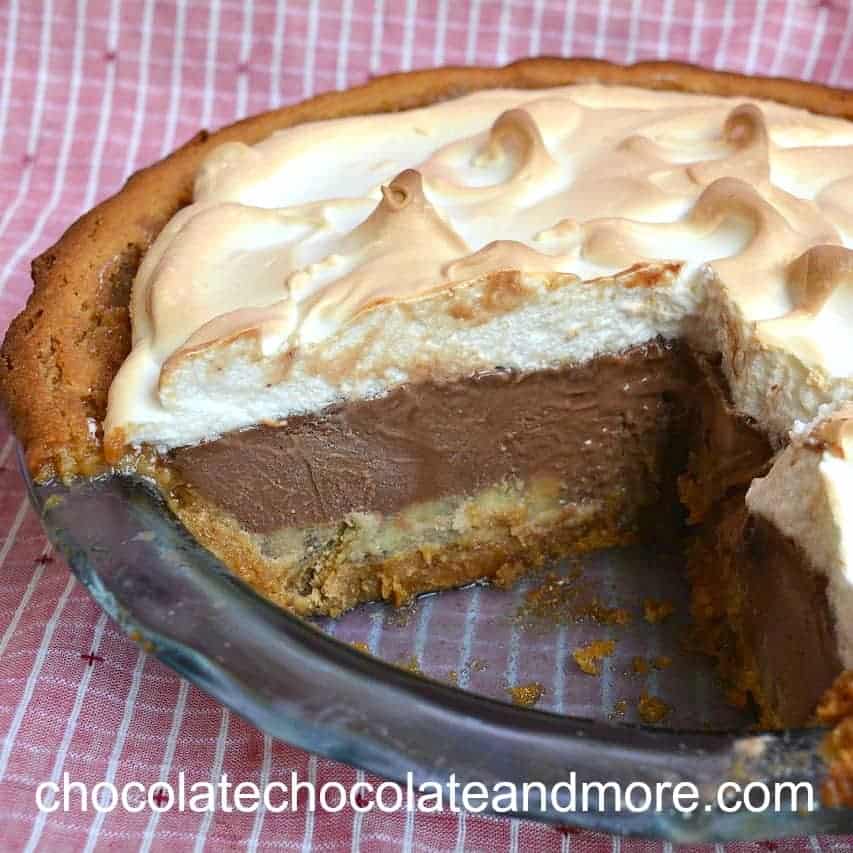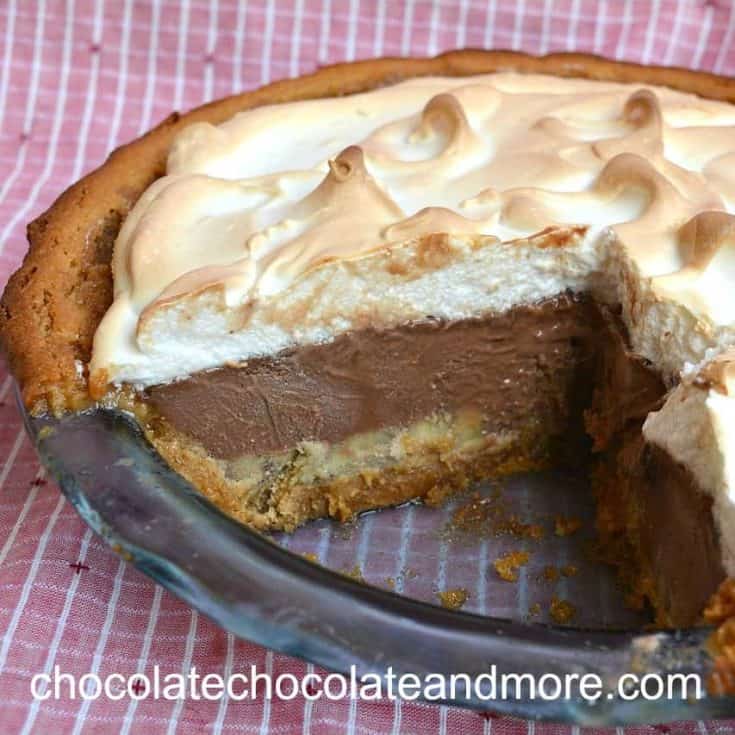 Ingredients
I package Betty Crocker Peanut Butter Cookie mix
For the filling
3 egg yolks
½ cup sugar
4 ½ tablespoons cornstarch
4 ½ cups whole millk
7 ½ ounces semisweet chocolate (210 grams)
pinch salt
1 ½ tablespoons vanilla
¼ cup butter
¼ cup brown sugar
4 sliced bananas
For the Meringue
6 egg whites
½ cup sugar
1 teaspoon vanilla
Instructions
Prepare peanut butter cookie dough according to package directions (or use your own cookie dough). Press dough into a 9 inch pie pan to form a crust. Bake at 375°F for 15-20 minutes until done. Let cool.
Whisk together egg yolks, sugar and cornstarch in a bowl and set aside.
Put milk, semisweet chocolate and salt in a medium pan. Heat over medium heat, stirring constantly until chocolate melts. Ladle 1 cup of the chocolate mixture into the egg yolk mixture and whisk until smooth. Add a second cup of chocolate mixture to the egg yolk mixture and whisk together. Pour the egg yolk mixture into the pan with the remaining chocolate mixture and return to the stove. Heat on medium, stirring, until the mixture thickens. Let cool.
Put butter, brown sugar and bananas in a frying pan. Fry together until the liquid thickens. Let cool.
Spoon carmelized bananas into the crust first. Spoon Chocolate pudding on top. Refrigerate while you make the meringue.
Beat egg whites until soft peaks form. Continue beating and gradually add sugar until stiff peaks form. Beat in vanilla. Spread meringue on top of pie. Bake at 375°F for 10 - 15 minutes (until peaks turn golden.
Remove from oven and let cool. Place in freezer until frozen solid. Slice and serve.
If you like this, you might also like this Chocolate Banoffee Pie
Or these Mini Peanut Butter S'mores Pies from Melissa's Southern Style Kitchen.