Light, fluffy chocolate marshmallows are a fun snack or a way to add a little more chocolate to your hot chocolate. Thank goodness they're easy to make because my kids gobble these up.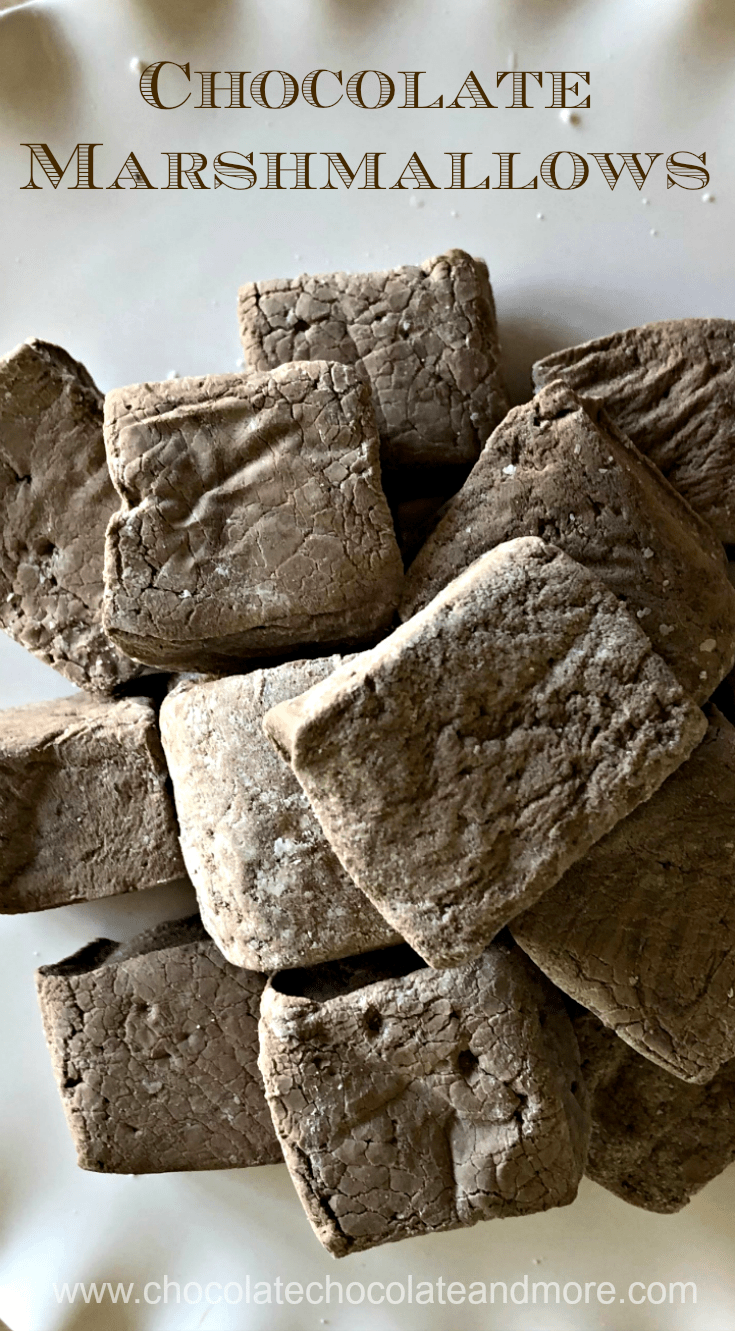 I went on a marshmallow making binge when Becks was home for Christmas. It was cold and rainy so she and her boyfriend were drinking a lot of hot chocolate – I mean a lot!
Now I love hot chocolate on a cold day but sometimes you just need to dress it up a bit. I started with homemade vanilla marshmallows. The recipe is the same as these except omit the cocoa and add 1 more teaspoon vanilla.
Then my neighbors pointed out that a local ice-cream shop sells flavored marshmallows so I decided to try some different flavors.
I made coffee, peppermint stick and these chocolate marshmallows. Chocolate marshmallows add extra chocolate creaminess to hot chocolate. And they are fun to eat with either the coffee or peppermint stick marshmallows.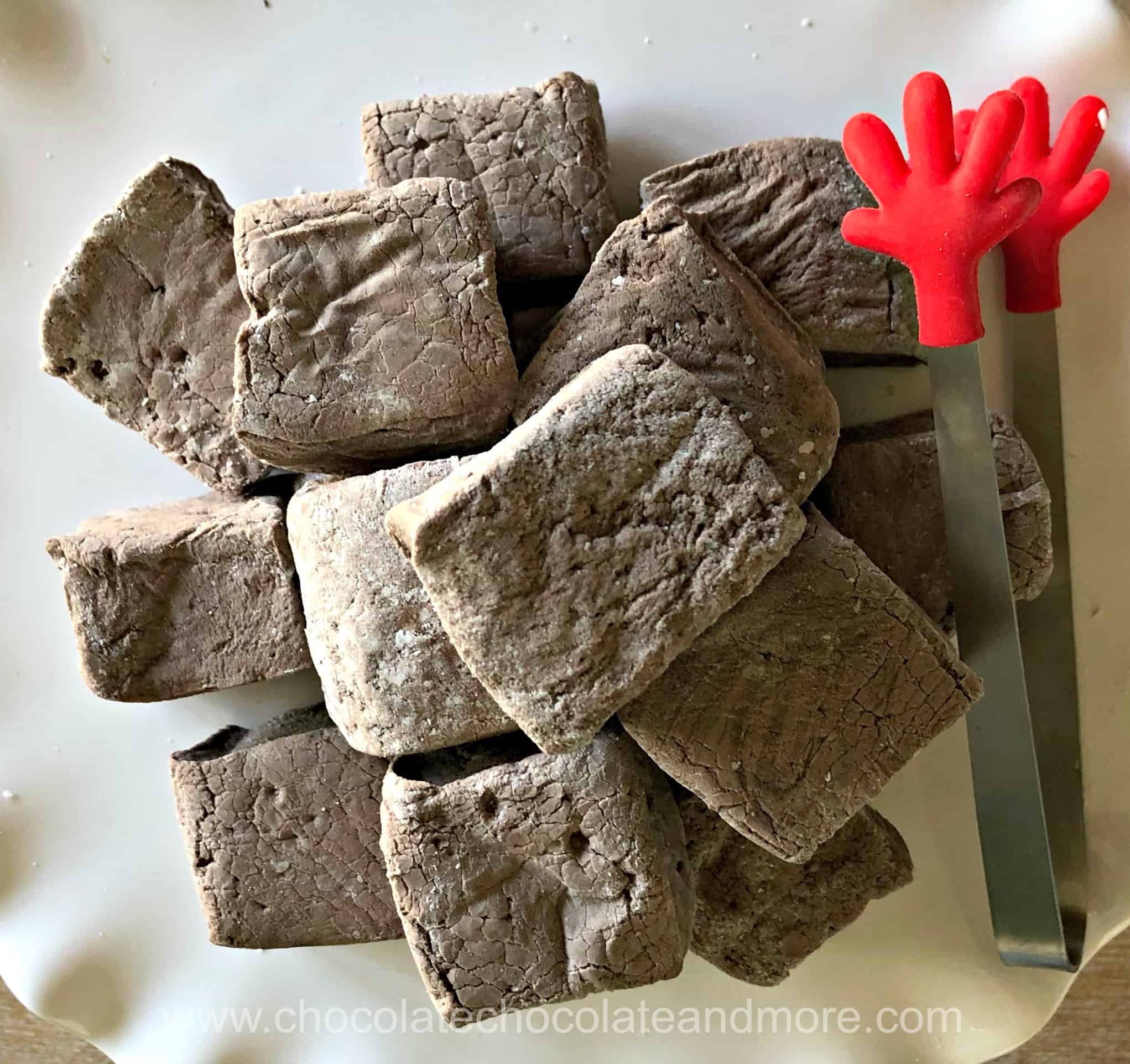 Yield: 55 marshmallows
Chocolate Marshmallows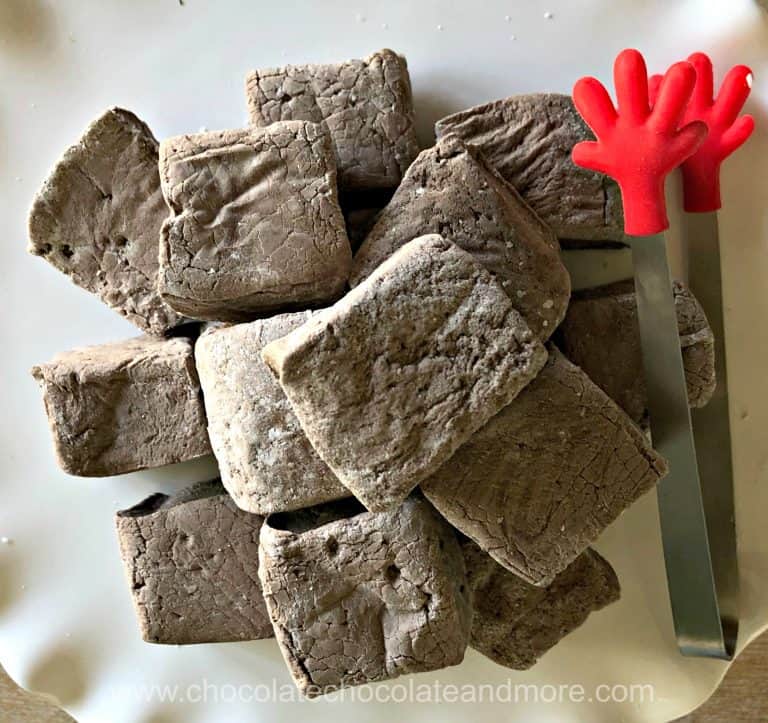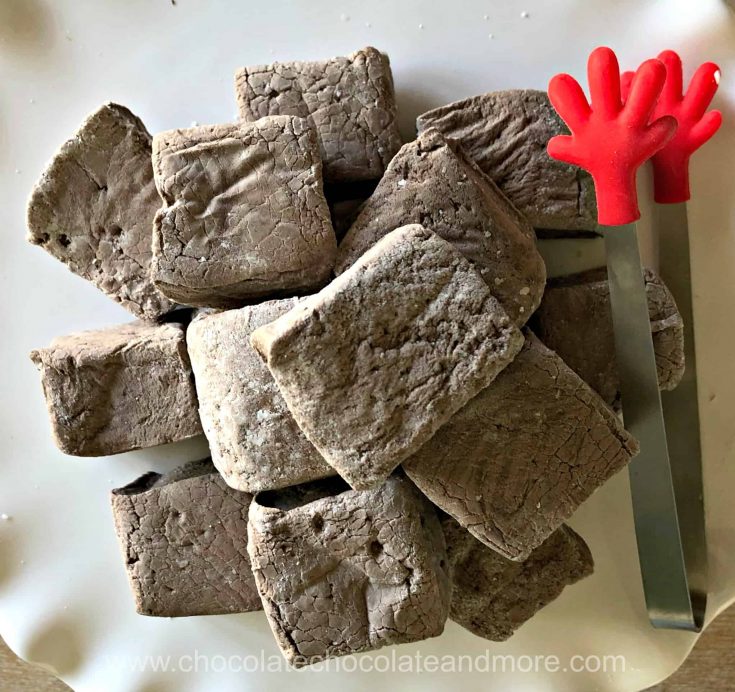 Ingredients
3 packets unflavored gelatin (2 1/2 tablespoons)
1/2 cup warm water
1/4 cup cocoa
1/3 cup corn syrup
2 cups sugar
1/2 cup water
1/4 teaspoon salt
2 teaspoons vanilla
1/4 cup corn starch
1/4 cup powdered sugar
Instructions
Put gelatin, cocoa, and warm water in the bowl of a stand mixer with a whisk attachment. Let sit while you make the sugar syrup.
Line a 13" x 9" pan with aluminum foil. I used one sheet that fit lengthwise and then put a second sheet that fit width wise over it (like a plus sign). When you push the two sheets into the pan, the edges line up in the corners with no wrinkles. It's OK if there's a little gap between the edges. You also want a couple of inches of aluminum foil to hang over the sides. This makes it easy to remove the marshmallow from the pan. Spray the aluminum foil with cooking spray. Also spray two spatulas with cooking spray.
Put sugar, corn syrup, salt and water in a large, heavy saucepan making sure not to get any sugar on the sides of the pan. I put the water in last and use it to rinse and sugar off the sides.
Bring to a boil and cook on medium high heat until the mixture reaches 240°F. If needed, stir to mix the ingredients but you should keep stirring to a minimum. Once you reach 240°F, you will need to work quickly. Turn off the heat.
Turn your mixer on low to break up the gelatin. Then turn it up to a medium speed. Gradually pour in the hot sugar syrup until all is mixed into the gelatin.
Then turn your mixer on high. You will beat the gelatin until it's just slightly hot (you can put the back of your hand on the bowl). Add the vanilla extract and beat in.
Now you have to work quickly. Remove the whisk and use one of the spatulas to scrape the marshmallow into the bowl (or into the pan). Then use the second whisk to quickly scrape the marshmallow out of the bowl while you pour it into the prepared pan. You won't be able to get all the marshmallow off the whisk and bowl before it solidifies so there will be a generous beater for someone to lick.
Mix the powdered sugar and cornstarch together. Dust the top of the marshmallows with some of the powdered sugar mixture. Cover with plastic wrap and let sit for at least 4 hours (or overnight).
Turn out onto a board sprinkled with the powdered sugar mixture. Remove the aluminum foil and dust the top of the marshmallow with more powdered sugar mixture.
Spray a sharp knife with cooking spray and cut the marshmallow lengthwise into 5 strips. Then cut each strip into cubes.
Place the remaining powdered sugar mixture in a bowl and coat each marshmallow with it. Shake off the excess. Store in an airtight container for up to 3 weeks.
Nutrition Information:
Yield:
27
Serving Size:
2 marshmallows
Amount Per Serving: Calories: 84Total Fat: 0gSaturated Fat: 0gTrans Fat: 0gUnsaturated Fat: 0gCholesterol: 0mgSodium: 24mgCarbohydrates: 21gFiber: 0gSugar: 19gProtein: 1g

Nutrition information is provided as a guideline only. Please consult a dietitian if you have specific dietary requirements.
You could also use this recipe in Jenni Field's Peanut Butter Marshmallow cake.