A fun twist on Chocolate Covered Strawberries, Chocolate Dipped Strawberry Meringues are heavenly but so easy to make. Anyone you decide to share a few with will be delighted!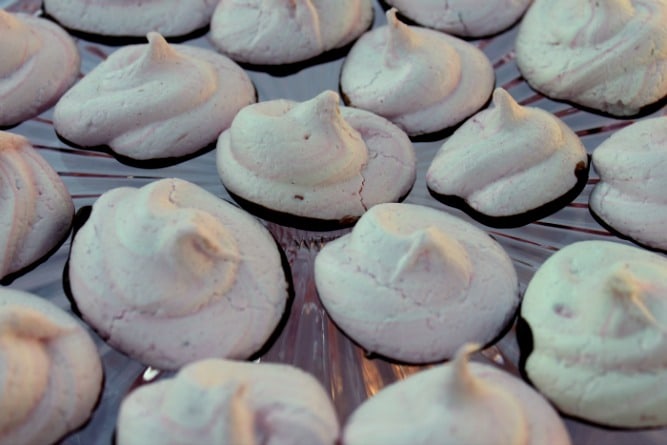 Joan was my aunt, and I am ecstatic to be able to contribute to her blog and legacy. This is my second post on Chocolate Chocolate and More. The first was Chai Buttercream Icing, and I plan on sharing a bunch more of my favorite recipes in the future!
Since I didn't introduce myself on the last post, I will briefly here. I am a senior in high school. I am working on getting into college and plan on studying physics and astrophysics.
Outside of my classwork I participate in robotics and engineering competitions, I am working on building my art portfolio, and I enjoy playing viola, scuba diving, running, and, of course, baking. So, in a nutshell, I am a very artsy nerd and proud of it.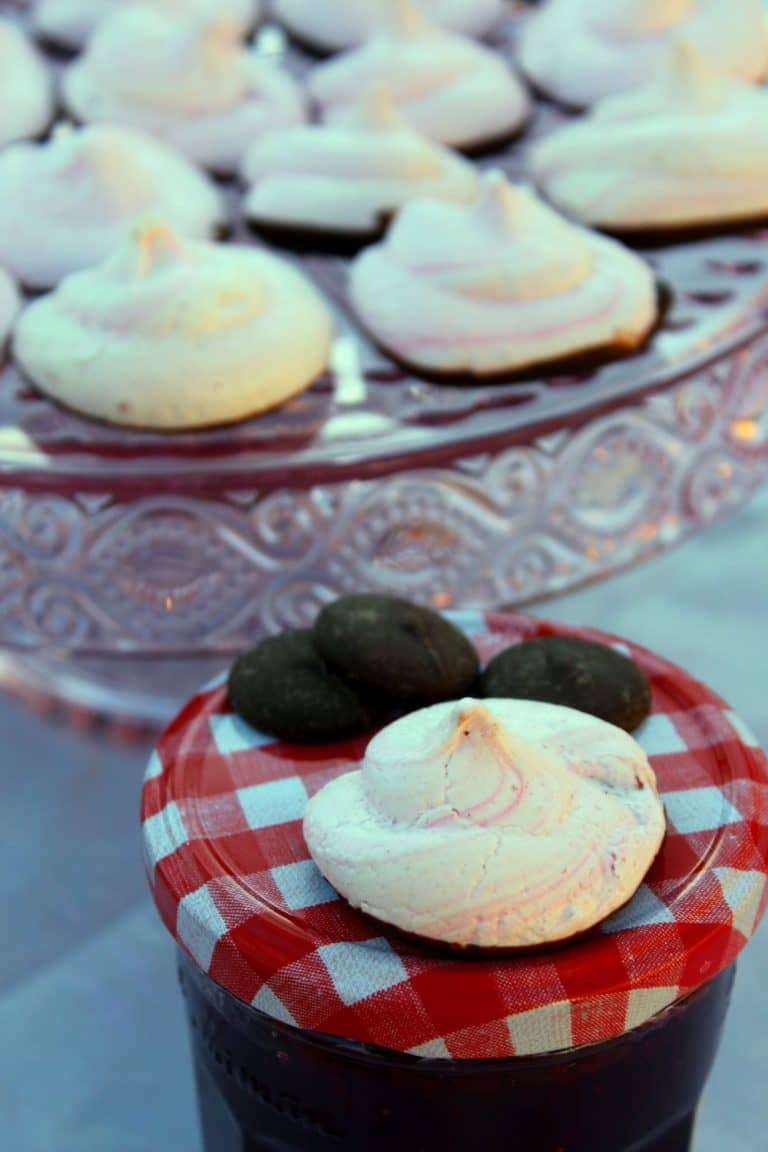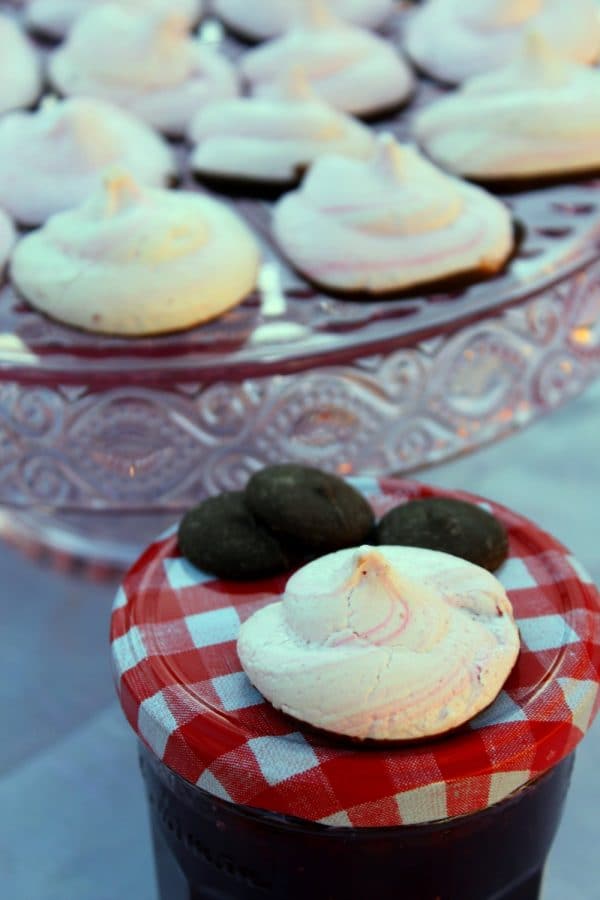 I started baking when I was small with my mother and grandmother. One of my first experiences in front of the stove involved me planting my entire hand palm-first onto the electric burner while it was red hot to see if it really was warm or not. It was.
Needless to say I have grown a lot since then. When I started to bake on my own, meringues were one of the first cookies I fell in love with. They are easy to modify and experiment with different flavors, and I am sure I will write up a post about a few others I especially enjoy.
I chose the strawberry flavor for a selfish reason. For the past six months I had been living with my mother in Cambodia, where strawberries are over $9 for a pint.
Ever since I returned stateside in January, I have been gulping them down as fast as I can. I was overjoyed at the chance to use them in my baking as well.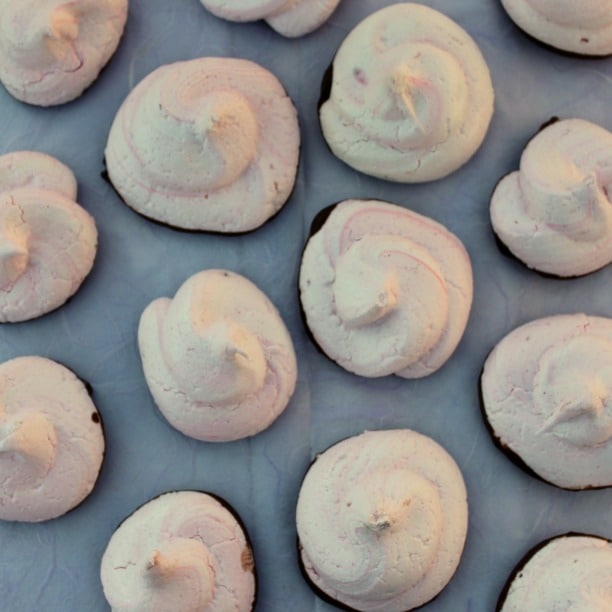 Also, it's a little over a week until Valentine's Day. So the strawberry and chocolate theme fit really well. I personally have never been too big on Valentine's Day. I never celebrated with anyone, and always found the holiday something to avoid. Even though celebrating isn't my cup of tea, I am all about consuming the sweets that define the holiday.
Chocolate Dipped Strawberry Meringues are perfect for giving out to friends, family, and loved ones – for Valentine's Day or on any other day. They are incredibly easy to make; the hardest part is waiting for the chocolate to dry so you can eat them!
Chocolate Dipped Strawberry Meringues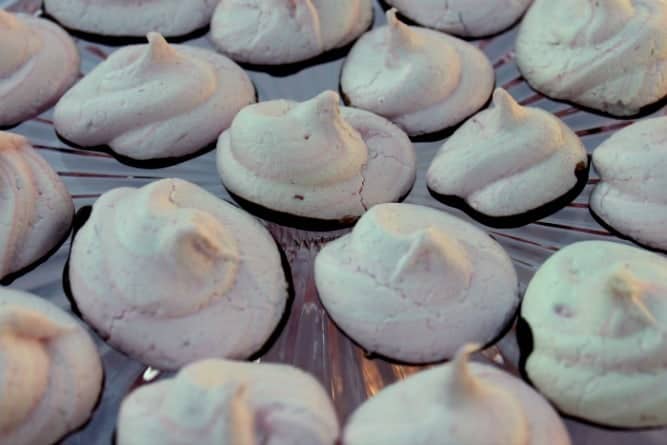 Ingredients
For Strawberry Meringues:
4 egg whites
1/8 teaspoon cream of tartar
2/3 cup confectioners sugar
2/3 cup regular white sugar
1/4 teaspoon strawberry extract
1 1/2 tablespoon strawberry preserves (no clumps)
For Chocolate Bottoms:
3/4 cup Ghirardelli's dark chocolate baking melts
Instructions
Beat egg whites and cream of tartar on high until glossy peaks form.
Mix sugars together and sift into the egg whites a few tablespoons at a time, mixing well in between. Once completely added, mix for 4 to 7 additional minutes on medium speed.
Fold in strawberry extract and preserves.
Fold over edges of a plastic baggie and use a spatula to fill with batter. Pipe any shape cookie you want onto cookie sheets. The size of your cookies determines bake time and also how many you will have. Bake longer for larger cookies.
Bake in preheated oven at 200°F for 40-50 minutes. Turn off oven and let cookies cool inside.
Follow the instructions given for melting the dipping wafers either in the microwave or on the stove. (I used a glass bowl on top of a pot of water on the stove and warmed the water up until the chocolate melted, stirring continuously.)
Dip the bottoms of the strawberry meringues into the melted chocolate and place upside down on a cooling rack to dry. While the chocolate is wet the cookies can also be dipped into sprinkles!
Notes
If you want the cookies to be more pink/red you can always add a few drops of food coloring when adding the flavoring.