Chocolate Coconut Orange Mousse Cake has layers of chocolate cake flavored with orange and coconut. It's filled with orange mousse and topped with chocolate orange ganache. Make it with Grand Marnier for an adult dessert or use orange juice for the kids.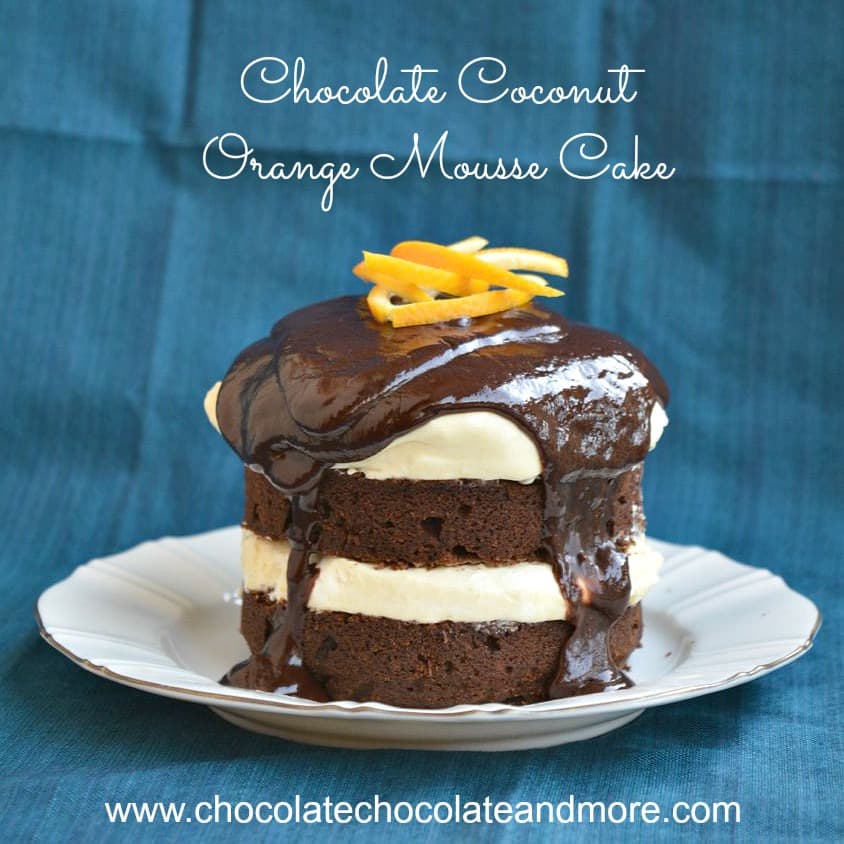 I've been thinking about what to do with these amazing Vietnam origin extra dark chocolate disks Santa Barbara Chocolates sent. I've already eaten quite a few so I knew I needed to act quickly before there weren't any left.
Since right now I'm living just over the border from Vietnam, I wanted a tropical twist for this special chocolate.
Thinking of what to make for this post took most of my weekend. I'm going out of town in a few days so I didn't want a lot of left overs. Right now I'm an empty nester so I needed something I could share with a few friends before I leave. I came across a recipe for a mini raspberry coconut cake and decided I could modify that to fit my needs.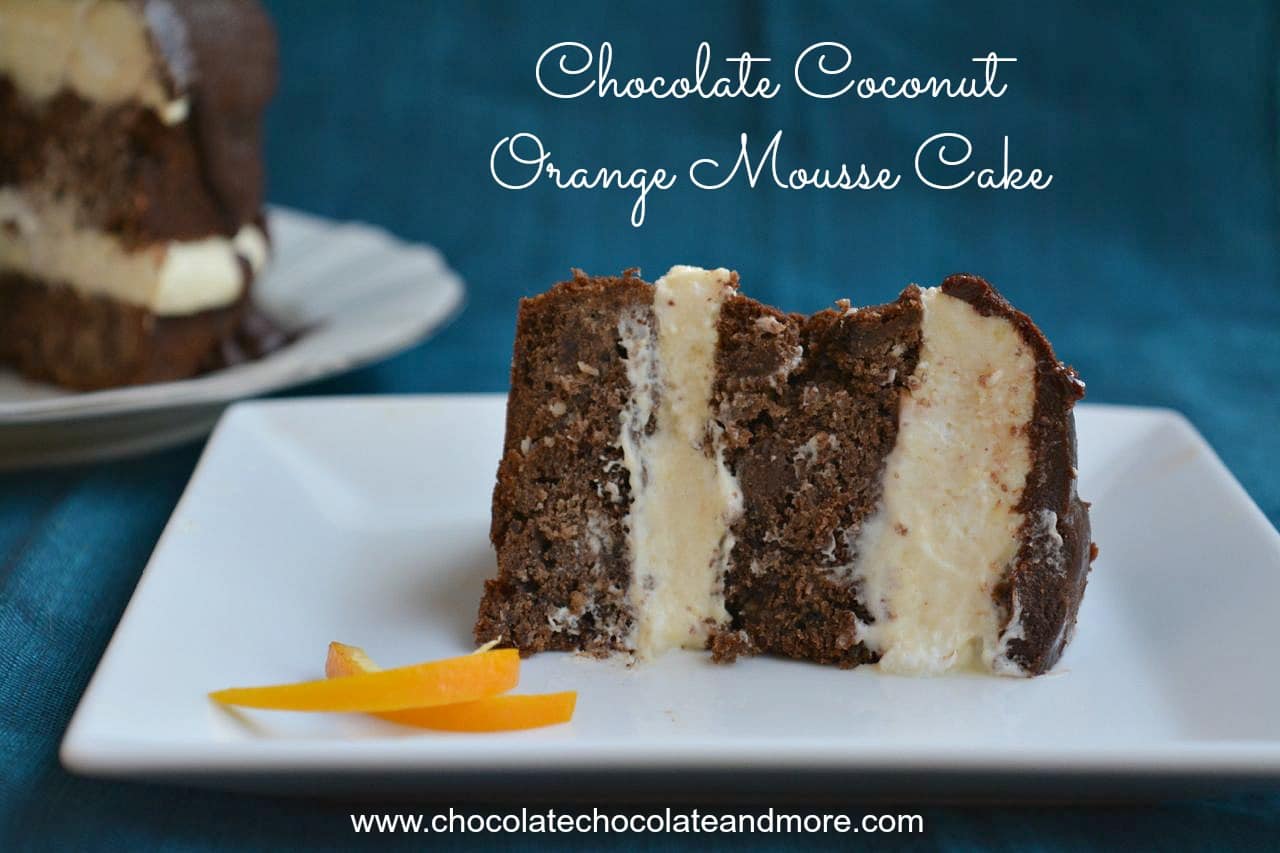 Transforming a raspberry coconut cake into a chocolate version was easy but a chocolate cake all by itself is a little boring so I wanted to fill it with mousse. For some reason Terry's dark chocolate oranges came to mind. They used to only be available around Easter so we could only have dark chocolate flavored with orange once a year. It was such a treat that I wanted to replicate those flavors in my Chocolate Coconut Orange Mousse Cake.
The mousse and ganache recipes work well for a 4 inch spring form pan. Because the springform pan sides are only 1 3/4″ tall, the cake recipe fills the pan very full (almost to the top). Surprisingly it didn't spill over as it baked but it's about 1/3 more than you really need (mine looked like a giant chocolate muffin when I took it out of the oven). A 4 inch cake pan has taller sides (2 inches) than the 4 inch springform pan so it's a little safer when you bake.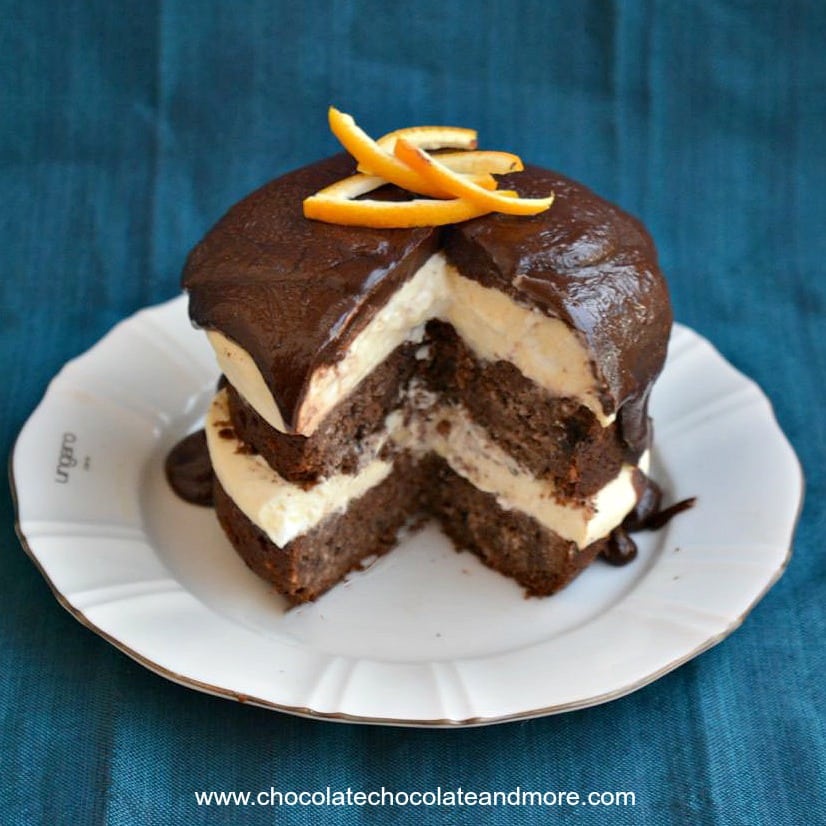 If you doubled the cake batter, you could easily fill three 4 inch springform pans or one 8 inch round pan. You'd need to triple the ganache and mousse filling for three mini cakes or one 8 inch one.
Since I was using a springform pan and they often leak, I cut my parchment paper a little larger than the pan bottom (I traced around the outside of the pan). I buttered the bottom and sides of the pan and then lined with the slightly too large parchment paper. This prevented leaking from the bottom of the springform pan.
The mousse is really nice by itself so you could serve it alone or make chocolate bowls from the chocolate disks and serve the mousse in that.
Yield: 2-3 servings
Chocolate Coconut Orange Mousse Cake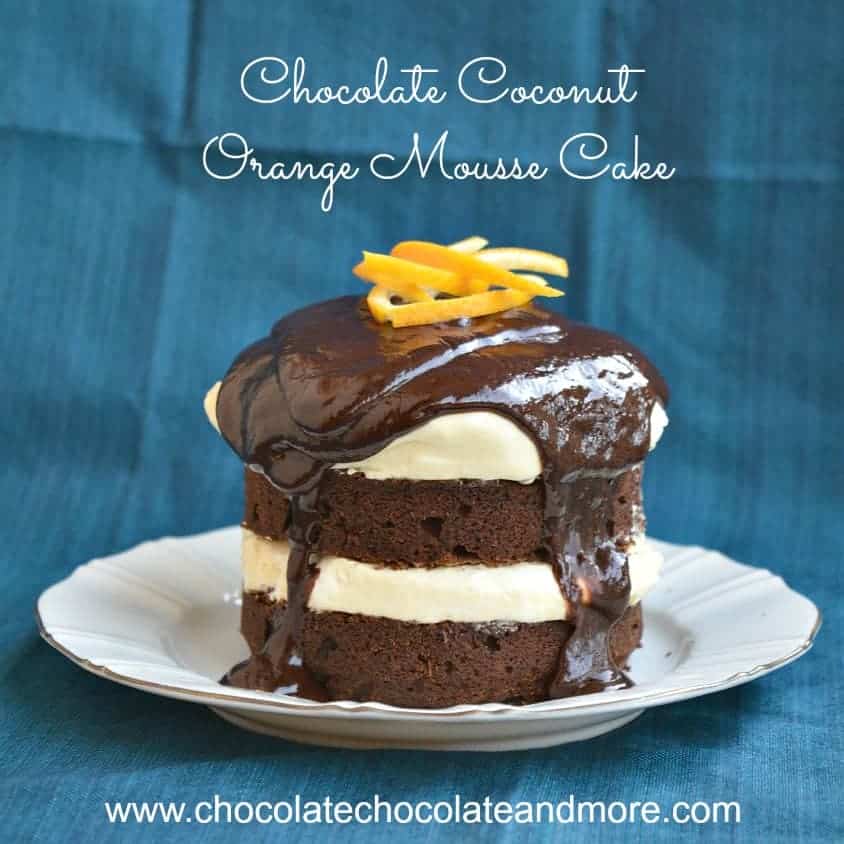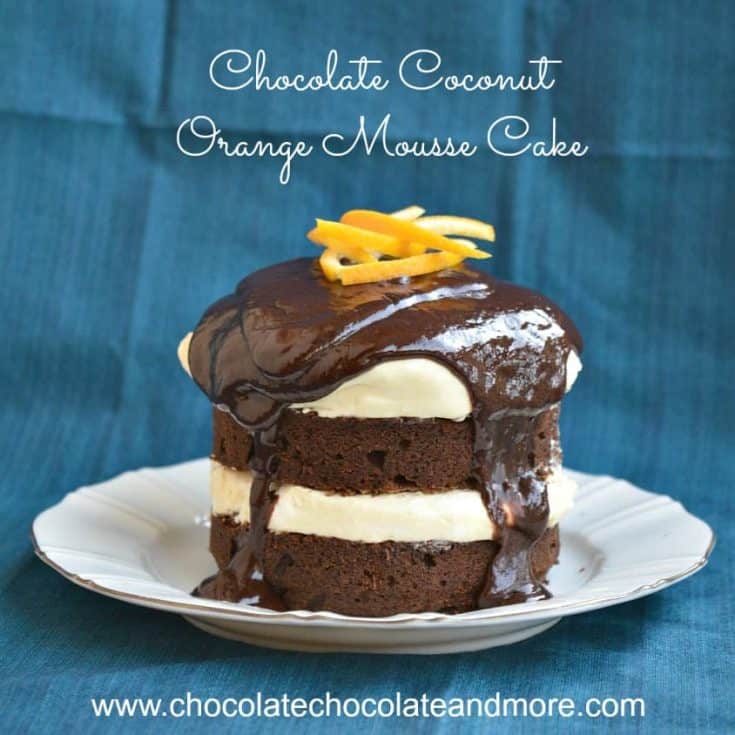 Ingredients
For the Chocolate Coconut Orange Cake
2 tablespoons plain yogurt
⅛ teaspoon baking soda
6 tablespoons + 2 teaspoons butter at room temperature
¼ cup sugar
1 egg
¼ cup shredded unsweetened coconut
2 tablespoons unsweetened cocoa
1 tablespoon grated orange rind
½ cup cake flour, sifted
¼ teaspoon baking powder
¼ cup orange juice or Grand Marnier
For the Orange Mousse
¾ teaspoon gelatin
1 tablespoon sugar
¼ cup milk
1 egg yolk
3 tablespoons Grand Marnier
½ teaspoon orange juice
6 tablespoons heavy cream
For the Chocolate Orange Ganache
⅓ cup dark chocolate disks (I used Santa Barbara Chocolate sourced from Vietnam)
1½ tablespoons whipping cream
2 tablespoons Grand Marnier (or orange extract – do not use orange juice)
Instructions
Line a strainer with cheese cloth (or use a fine mesh strainer). Mix baking soda and yogurt together and place in the strainer to drain out extra water. Let sit for 30 minutes. Discard the water.
Preheat oven to 350°F. Grease and line a 3 ¾ inch (or 4 inch) springform pan with parchment paper.
Cream butter and sugar until light and fluffy. Add egg and mix well. Add sour cream, coconut, cocoa and orange rind and mix well.
Gently fold in flour. Fold in baking powder.
Put batter in prepared pan and bake for 40 minutes until toothpick inserted in center comes out clean. While the cake is baking prepare the filling.
Remove cake from the pan and let cool. Trim off top (it will be domed like a muffin).
Cut the cake into two layers. Drizzle 2 tablespoons orange juice (or Grand Marnier) over the bottom layer and put half the filling on top of it.
Place the second layer on top of the filling. Drizzle remaining orange juice or Grand Marnier over the top layer and put remaining filling on the top layer. Refrigerate until firm. (I put my cake in the freezer for 20 minutes to speed things up).
Top with chocolate orange ganache.
Orange Mousse Filling
Mix gelatin and sugar in a small saucepan. Whisk in milk and egg yolk. Cook over medium heat whisking constantly until the custard thickens and heavily coats the whisk. Remove from heat and let cool until room temperature.
Whisk in Grand Marnier. (if using only orange juice, add all the orange juice at the end).
Refrigerate about 20 minutes until very thick. (do not refrigerate too long or it will become rubbery)
While the custard is cooling, beat whipped cream until stiff peaks form.
Gently fold the cooled, thickened custard into the whipped cream.
Gently fold in the orange juice and refrigerate for 30 minutes until stiff.


Chocolate Orange Ganache
Melt disks and whipped cream in a microwave on medium power for 30 seconds. Stir and heat in 20 second intervals, stirring after each one until chocolate is melted and smooth. Let cool until warm (not hot). Add Grand Marnier (or orange extract) and immediately drizzle on cake.
Notes
If you want an alcohol free version of this cake, substitute fresh orange juice for Grand Marnier in the mousse but add all of the orange juice as the last ingredient in the mousse. Do not substitute orange juice for Grand Marnier in the ganache as that may make the chocolate seize. Use orange extract instead. I sped up the mousse by putting it in the freezer for 20 minutes. I also put the assembled cake in the freezer for 20 minutes before slicing to make it easier to slice.
Nutrition Information:
Yield:
3
Serving Size:
1 slice
Amount Per Serving: Calories: 619Total Fat: 33gSaturated Fat: 21gTrans Fat: 1gUnsaturated Fat: 10gCholesterol: 177mgSodium: 178mgCarbohydrates: 71gFiber: 5gSugar: 42gProtein: 11g

Nutrition information is based on cutting the cake into 3 slices and is provided as a guideline only. Please consult a dietitian if you have specific dietary needs.

Want more chocolate orange goodness?