Chocolate Coconut Orange Mousse Cake has layers of chocolate cake flavored with orange and coconut. It's filled with orange mousse and topped with chocolate orange ganache. Make it with Grand Marnier for an adult dessert or use orange juice for the kids.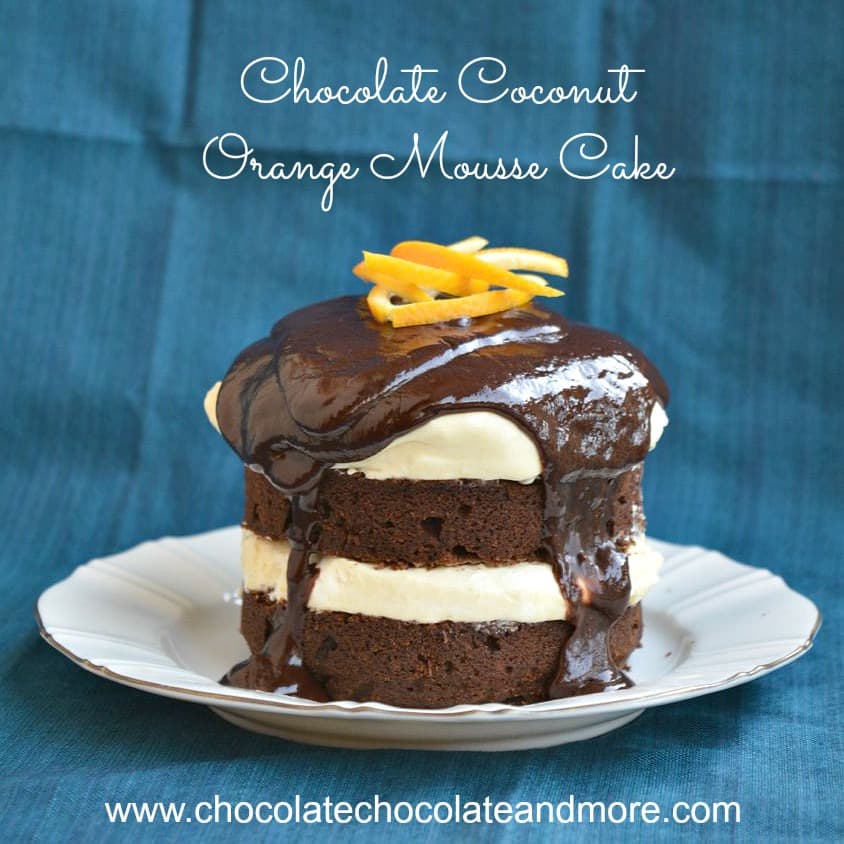 I've been thinking about what to do with these amazing Vietnam origin extra dark chocolate disks Santa Barbara Chocolates sent. I've already eaten quite a few so I knew I needed to act quickly before there weren't any left. Since right now I'm living just over the border from Vietnam, I wanted a tropical twist for this special chocolate. We also have a giveaway where you can win these chocolates so make sure you enter! The giveaway is limited to US residents (including Alaska and Hawaii).
Thinking of what to make for this post took most of my weekend. I'm going out of town in a few days so I didn't want a lot of left overs. Right now I'm an empty nester so I needed something I could share with a few friends before I leave. I came across a recipe for a mini raspberry coconut cake and decided I could modify that to fit my needs.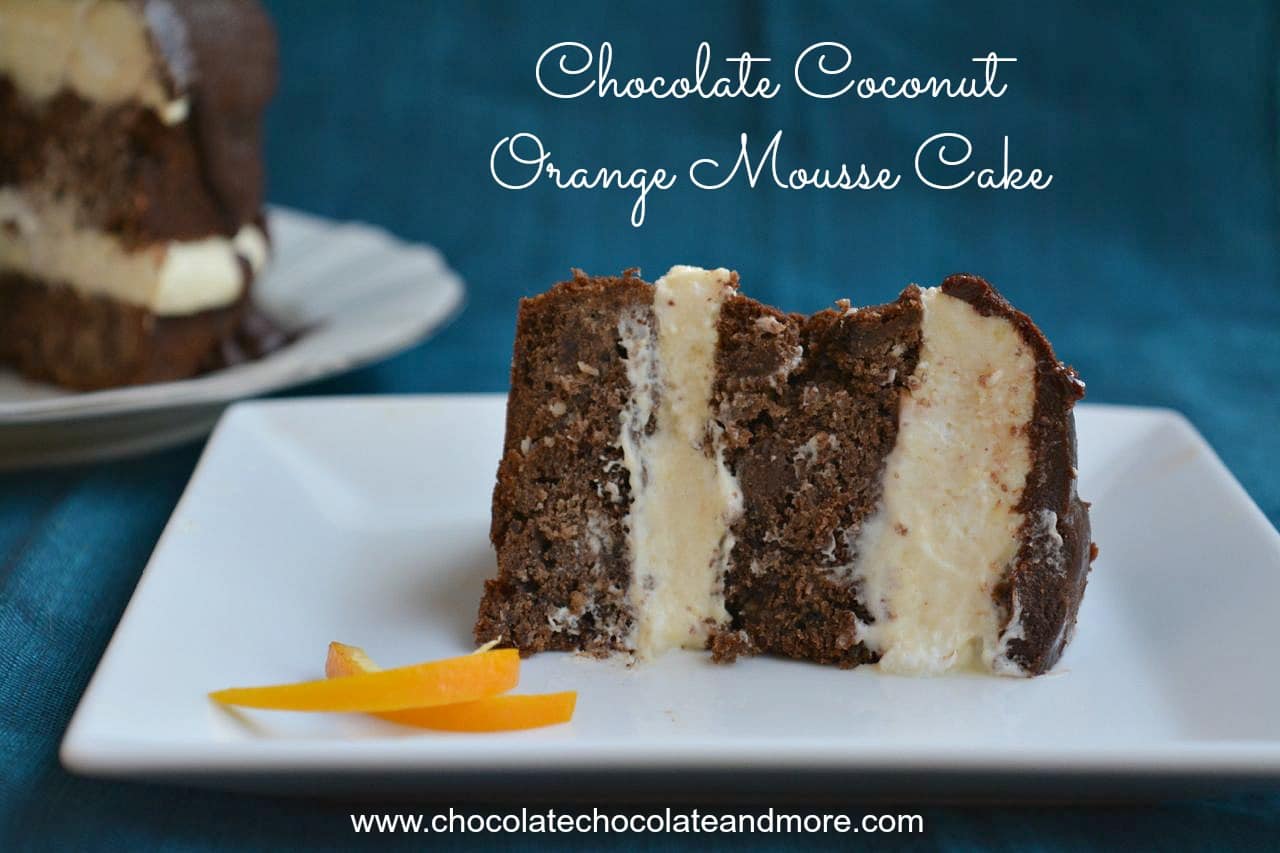 Transforming a raspberry coconut cake into a chocolate version was easy but a chocolate cake all by itself is a little boring so I wanted to fill it with mousse. For some reason Terry's dark chocolate oranges came to mind. They used to only be available around Easter so we could only have dark chocolate flavored with orange once a year. It was such a treat that I wanted to replicate those flavors in my Chocolate Coconut Orange Mousse Cake.
The mousse and ganache recipes work well for a 4 inch spring form pan. Because the springform pan sides are only 1 3/4″ tall, the cake recipe fills the pan very full (almost to the top). Surprisingly it didn't spill over as it baked but it's about 1/3 more than you really need (mine looked like a giant chocolate muffin when I took it out of the oven). A 4 inch cake pan has taller sides (2 inches) than the 4 inch springform pan so it's a little safer when you bake.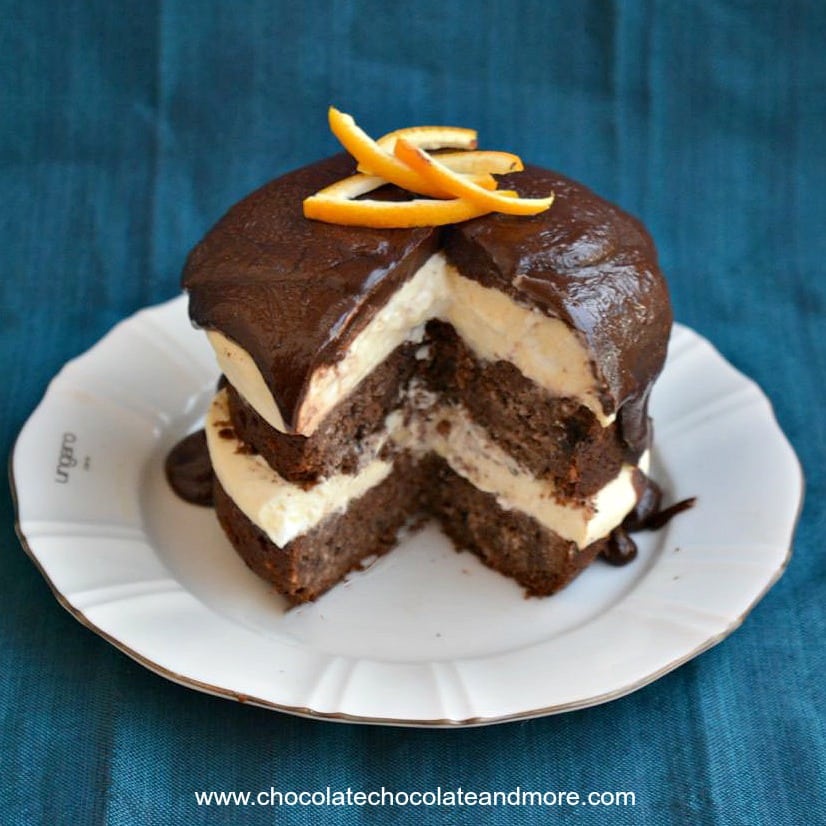 If you doubled the cake batter, you could easily fill three 4 inch springform pans or one 8 inch round pan. You'd need to triple the ganache and mousse filling for three mini cakes or one 8 inch one.
Since I was using a springform pan and they often leak, I cut my parchment paper a little larger than the pan bottom (I traced around the outside of the pan). I buttered the bottom and sides of the pan and then lined with the slightly too large parchment paper. This prevented leaking from the bottom of the springform pan.
The mousse is really nice by itself so you could serve it alone or make chocolate bowls from the chocolate disks and serve the mousse in that.