Chocolate Coconut Dump Cake has rich chocolate, coconut flavor. It's like Almond Joy in a pan.
There really isn't much easier than making a dump cake — grab a few ingredients and a pan, pile it all in, throw it in the oven and voila!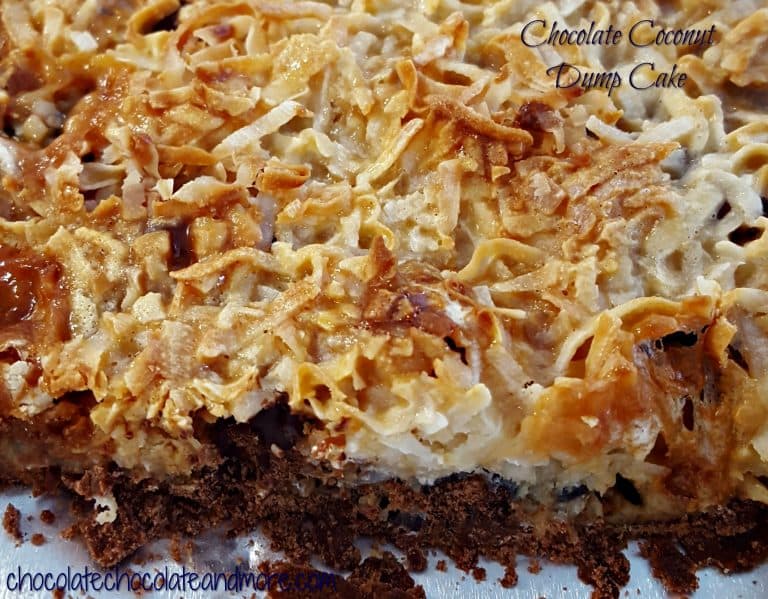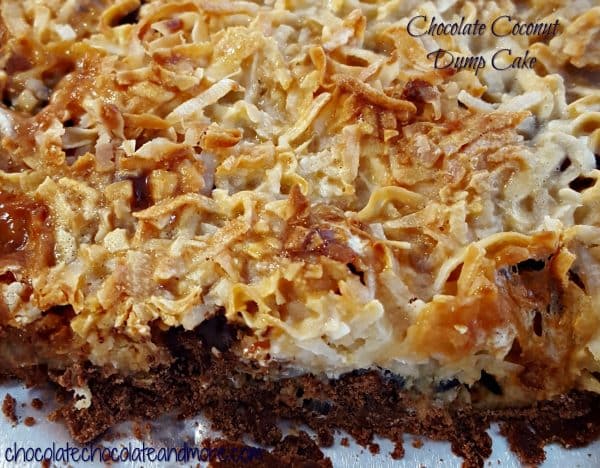 Over the years, I have inherited a lot of cookbooks from a wide variety of sources: Junior Women's Clubs, Hospital Volunteer Associations, other local community organizations. I discovered this recipe in a 16 year old compilation of recipes from my dad's former co-workers at Pratt and Whitney Aircraft in West Palm Beach, FL.
The premise of Dump Cakes is pretty simple — no need to mix ingredients — just layer in a pan like a lasagna and pop it in the oven. All the ingredients melt together as they bake, and voila, a sweet and gooey chocolaty treat that you can have for dessert, pack in a lunchbox, or just nibble on as you go through your day.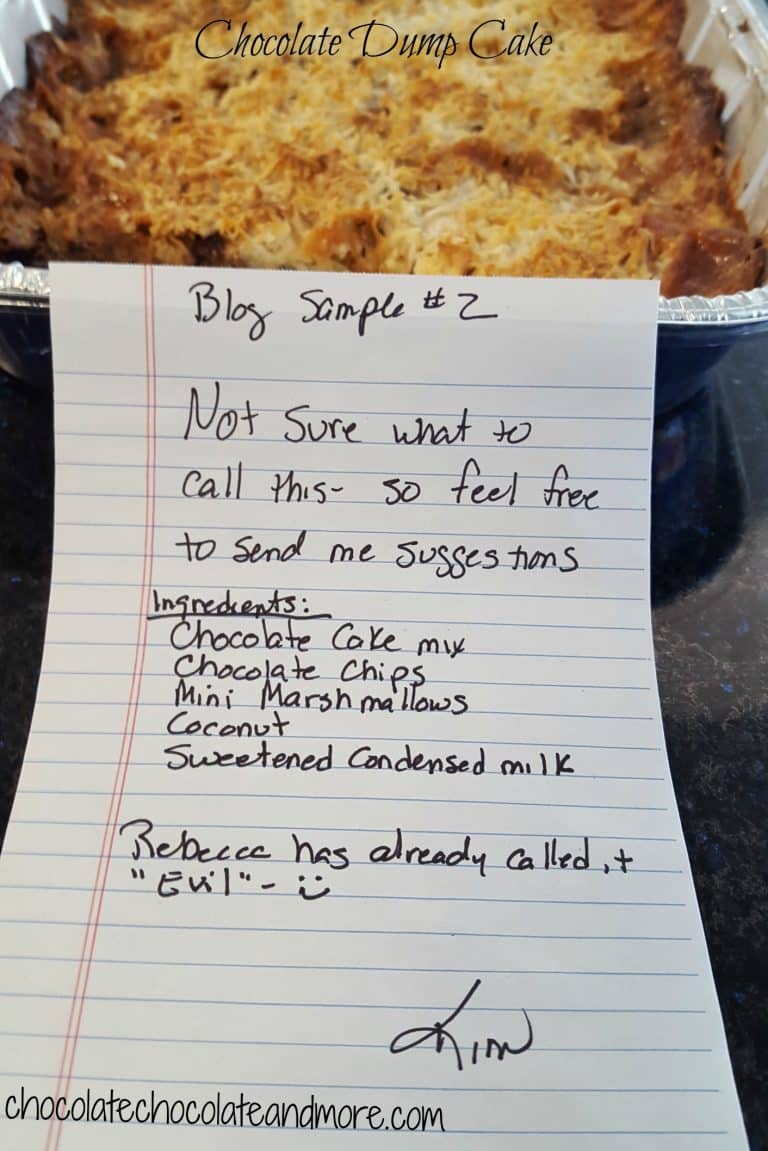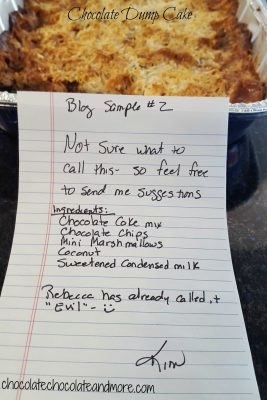 The original name for this recipe was "Miracle Bars", but I was going to try and name this something a little more descriptive, so I brought the finished product into my office and placed a note with the pan asking for suggestions. The first one I got was "Evil, just plain evil – in a yummy way!", but I figured that wasn't a very good name for such a delicious treat. Another compared it to an "Almond Joy bar in a pan", which is a very good description of what the end result tastes like. In the end, though, it is just a delicious dump cake, and Chocolate Coconut Dump Cake is as good a name as any for me.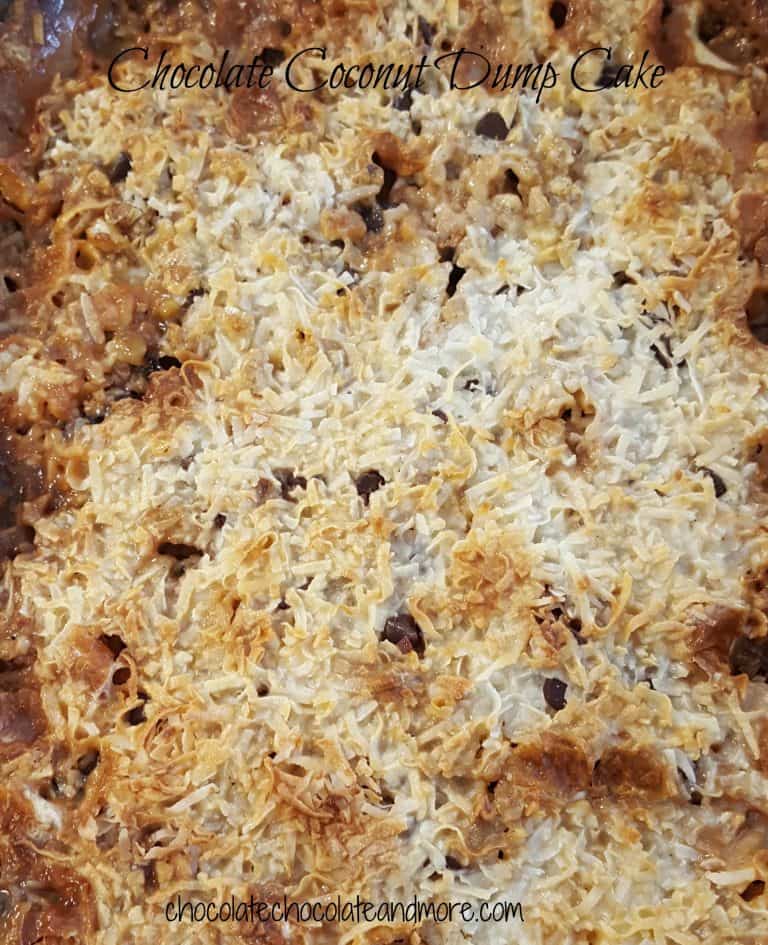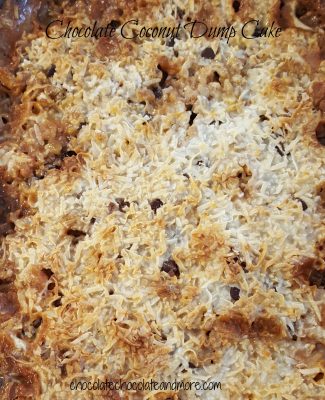 This recipe has six ingredients: butter, chocolate cake mix, chocolate chips, mini marshmallows, coconut, and sweetened condensed milk. The first time I tried to make it, the cake mix didn't really get a lot of moisture to make it "cakey", so I added a little bit of water between the mix and chocolate chips, and it worked out much better. I hope you enjoy it as much as we did!
Chocolate Coconut Dump Cake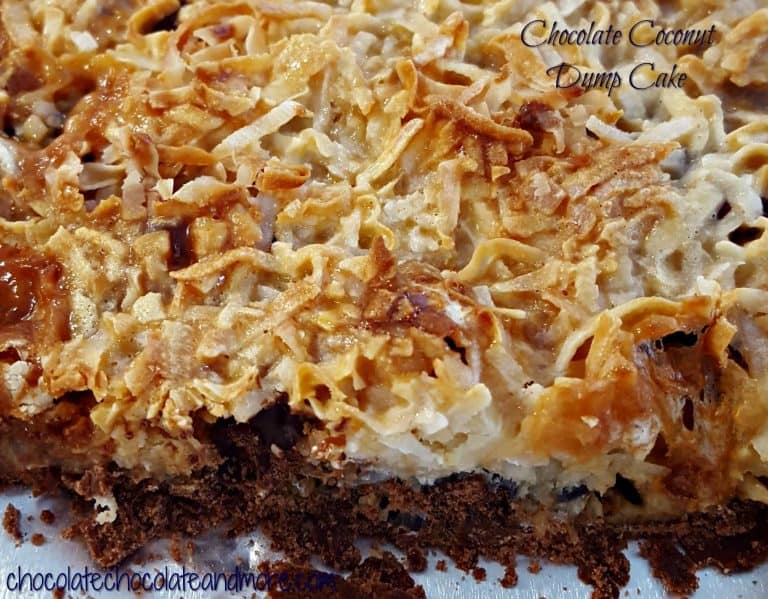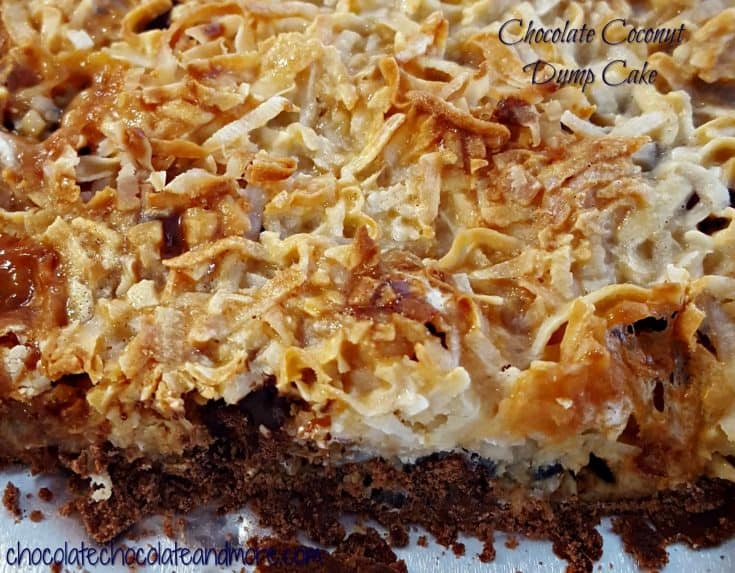 Ingredients
3 tablespoons melted butter
1/2 box (1 1/2 cups) chocolate cake mix
1 cup mini marshmallows
6 ounce package (1 cup) chocolate chips
1/2 of a 7 ounce package of coconut
14.5 ounce can sweetened condensed milk
1/4 cup water (to sprinkle on cake mix if using a larger pan)
Instructions
Preheat oven to 350 degrees
Spread melted butter on the bottom of a cake pan (8x8 or 9x9 work best)
Starting with the cake mix, layer each ingredient on top of the butter.
Drizzle can of condensed milk evenly across the top of the coconut layer
Bake for 30 minutes
You might also like coconut pecan no-bake chocolate bars
Or this Apple Raspberry Dump Cake from Six Sister's stuff.