Chocolate Cherry Paris-Brest – light choux pastry filled with cherry pie filling and chocolate cream in an elegant presentation. This decadent dessert is easier than it looks and you can even make the parts ahead of time!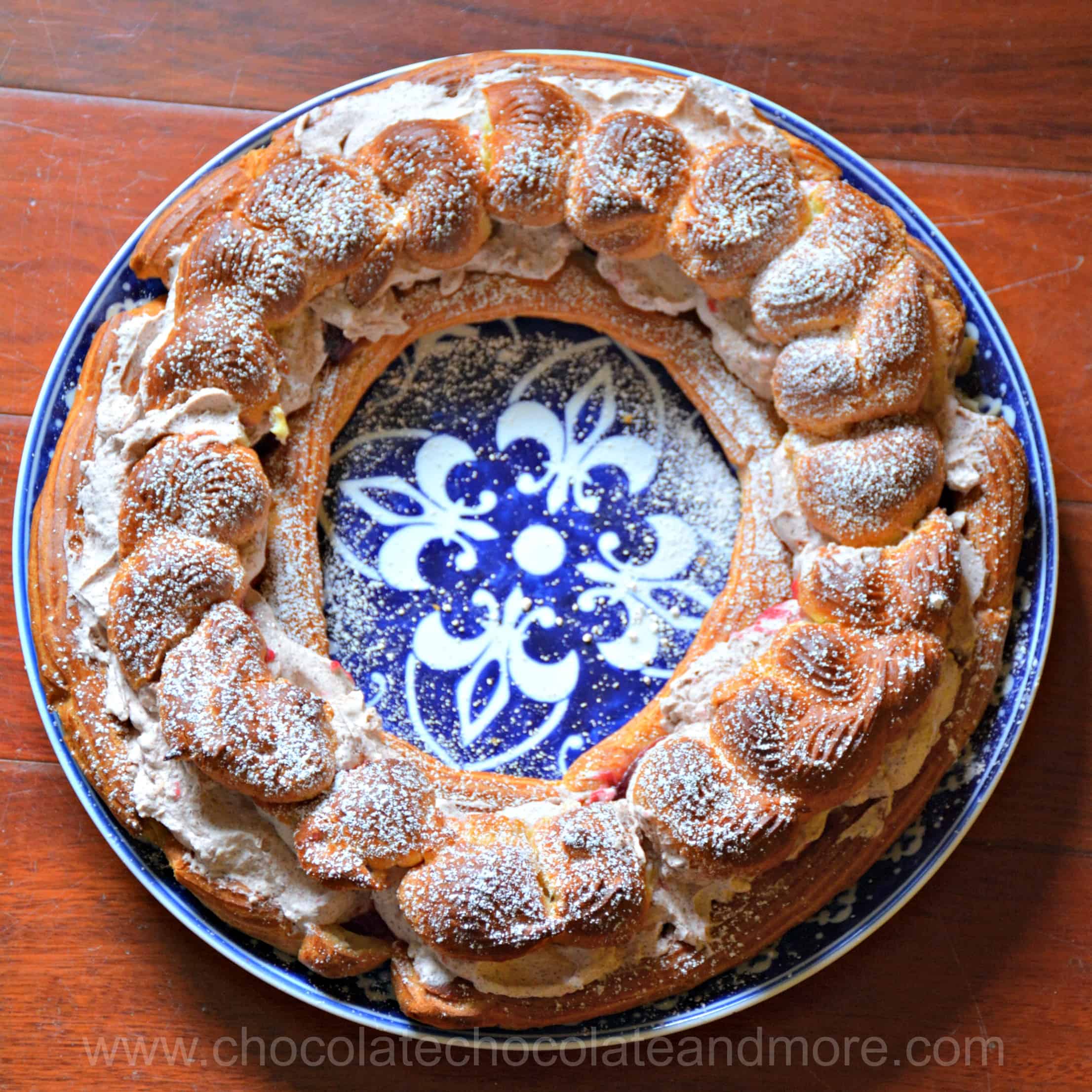 A French baker invented the Paris-Brest to celebrate a bicycle race from Paris to Brest. This ring-shaped eclair filled with praline pastry cream resembles a bicycle tire in honor of the race.
I love eclairs. Light pastry on the outside. Decadent filling on the inside. Ganache on top. What's not to love?
When it comes to making them, everyone thinks you've slaved for days. But, nothing could be further from the truth.
Yes, they do take some time, but they're much simpler than they look. And, if you only have short blocks of time, you can make the pastries and freeze them until you have time to make the filling.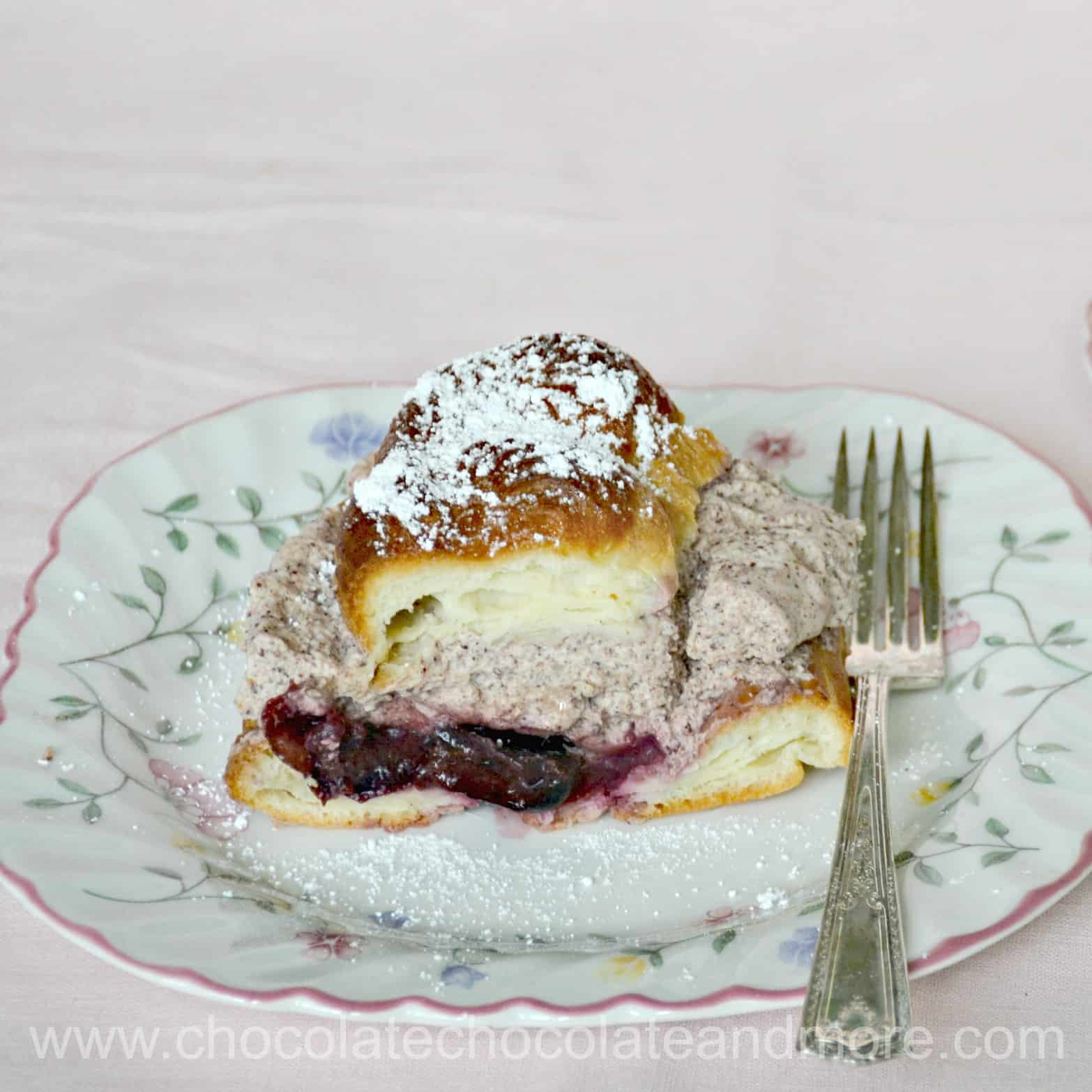 You make the dough on the stove. Boil water, butter, and salt and then add flour all at once to the hot mixture. The heat turns the mixture into a fairly stiff dough.
I add my eggs one at a time while the dough is still hot. But I learned from my good friend Jenni Field, a trained chef, that you're supposed to let the dough cool first. It works either way and adding eggs to hot dough saves time. And we all need more time, don't we?
This dough is so easy, I made it in my kitchen in Cambodia. Jenni and I did a live video of it. She's so fun and gives great tips. You can see the video on the Pumpkin Spice Cream Puffs post
You don't need a piping bag. Put the dough in a plastic bag and cut the corner off to make a 1-inch diameter hole and pipe using that. For cream puffs, I just drop the dough by the tablespoonful onto a cookie sheet.
For this Paris-Brest you'll make 3 rings of dough- two on the bottom and one on top.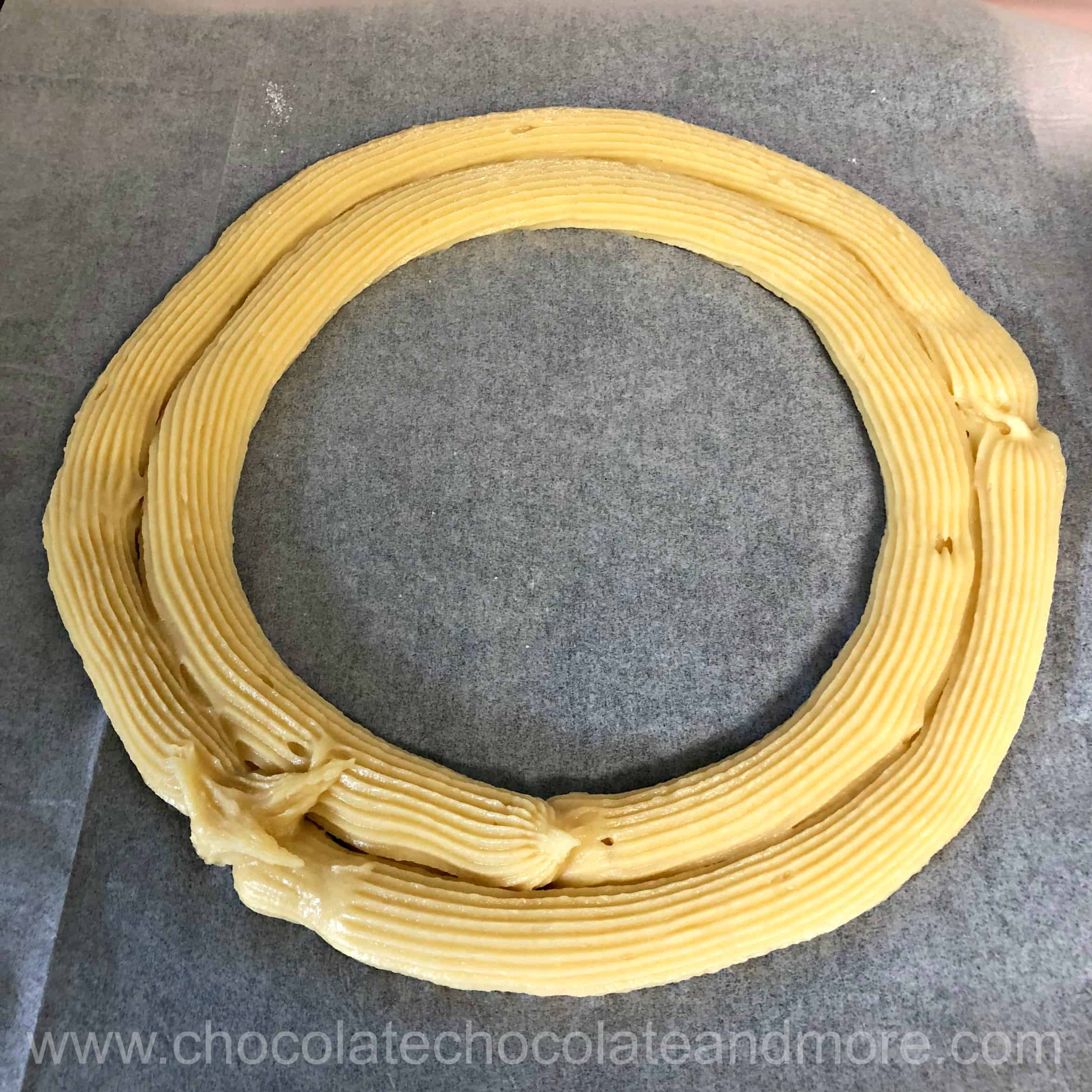 I made little circles on top to make it a little more decorative but didn't pace myself so ran out of dough. You can see the swirls stop in the lower right. No one noticed in the finished pastry.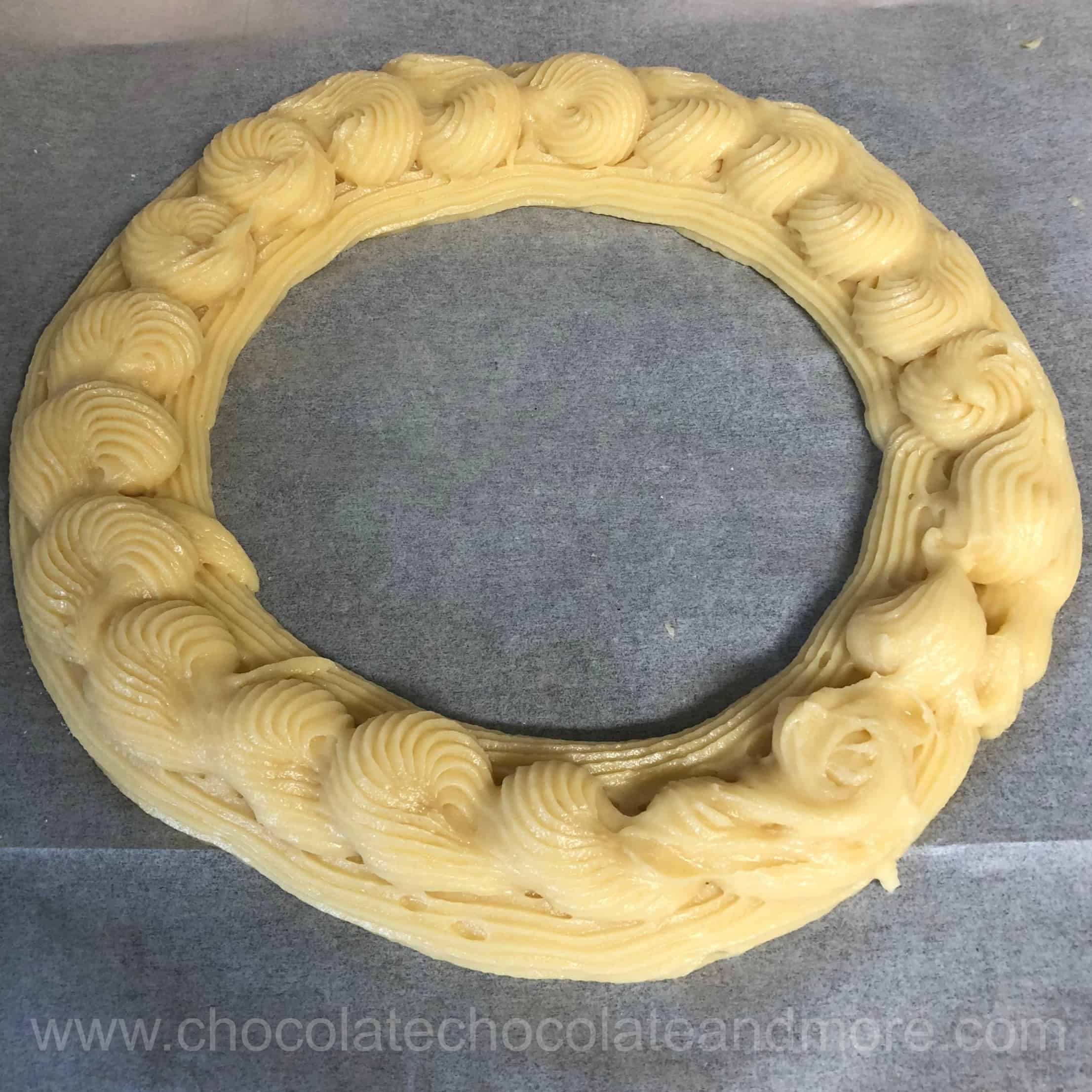 I adapted Barb Kiebel's amazing cherry pie filling for this recipe. You could use canned if you're pressed for time but her cherry pie filling beats canned hands down.
Now for the chocolate whipped cream. My daughter gave me some To'ak cacoa for Mother's Day. This gourmet cocoa is ethically sourced from Ecuador and the flavor is outstanding.
I'm not sure how they process their cocoa powder but this is amazingly smooth. Normally, I find unsweetened cocoa powder to be bitter but To'ak cocoa only has a slight, mild bitter aftertaste.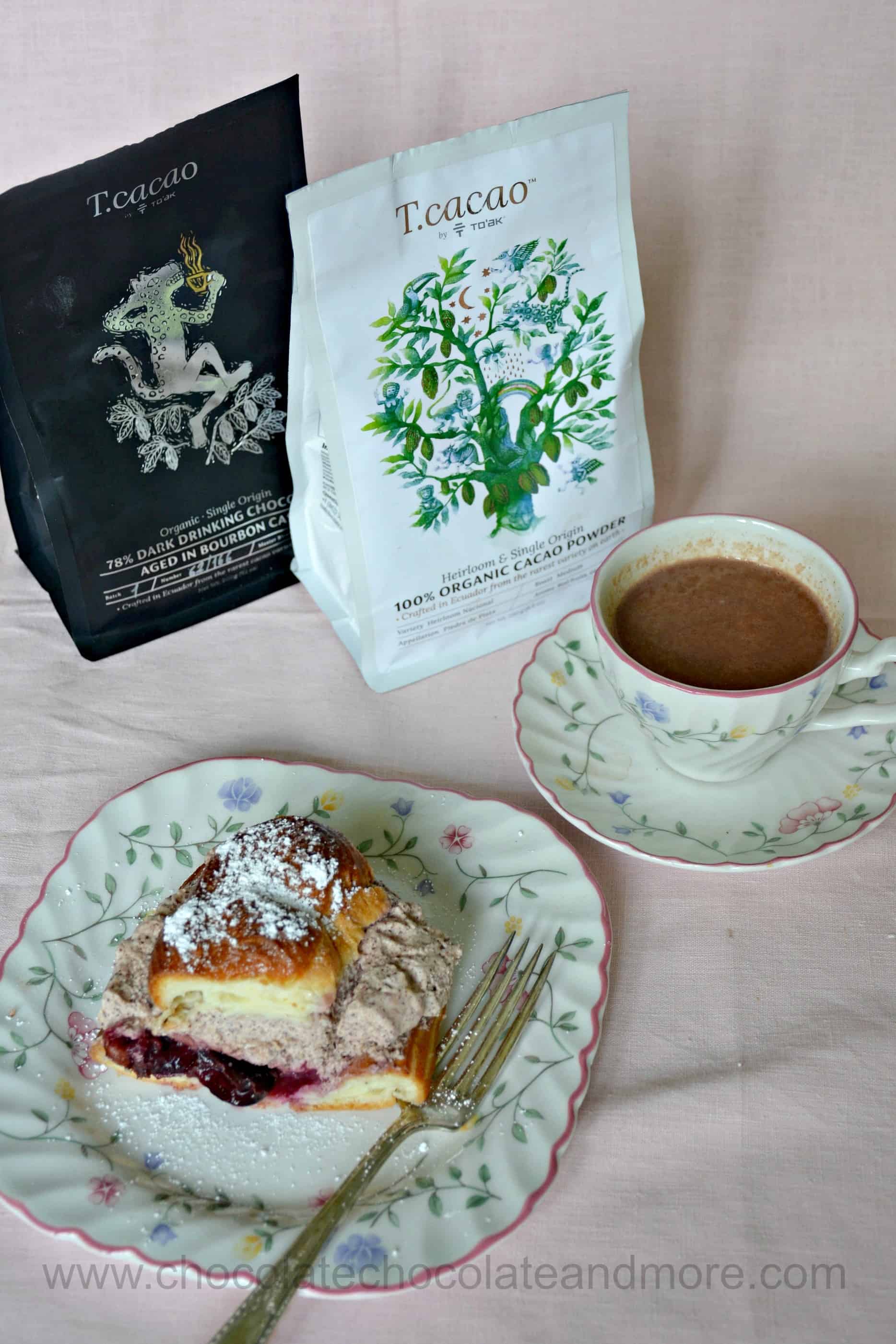 This means you can use less sugar and have a more intense chocolate flavor than other cocoa powders. At $18.50 per 8.8 ounce (250 g) bag, this is on the spendy side. But, this is a great gift for any chocolate lovers in your life.
My daughter also sent me some aged To'ak drinking chocolate. This chocolate is aged for 2 years in a bourbon cask. I guess it's like the chocolate version of whiskey. The flavor is amazing!
The drinking chocolate has a little sugar added in so you can think of it like hot chocolate mix or you can make it with water. The package has directions for both European style drinking chocolate and American style hot chocolate. It's not sweet like most hot chocolate mixes – just rich dark chocolate.
It's a good thing that you only need 2 tablespoons per cup of drinking chocolate. A 7.1 ounce bag costs $38 and free shipping from To'ak starts at $40 so buy two and keep one for yourself.
Yield: 1 pastry, 16 servings
Chocolate Cherry Paris-Brest
Chocolate cherry Paris-Brest is a ring of light pastry filled with chocolate cream and cherries. Dust with a little powdered sugar and shaved chocolate for a spectacular dessert that's deceptively easy to make.

Prep Time 10 minutes

Cook Time 50 minutes

Additional Time 15 minutes

Total Time 1 hour 15 minutes
Ingredients
Choux Pastry
1 cup water
1/2 cup unsalted butter
1/2 teaspoon salt
1 1/4 cup all purpose flour
5 large eggs
Cherry Filling
1 1/2 cup cherries
2 Tablespoons sugar
2 1/4 teaspoons corn starch
2 teaspoons lemon juice
2 Tablespoons water
1 teaspoon butter
Chocolate Whipped Cream
2 cups heavy whipping cream
1/4 cup powdered sugar
1/4 cup cocoa powder
1 teaspoon vanilla
1 teaspoon unflavored gelatin
Instructions
Trace a 9 inch circle onto parchment paper with a pencil or pen. Turn the paper over and use it to line a cookie sheet. Preheat the oven to 425°F.
Put water, butter and salt in a medium sized saucepan. Bring to a boil.
Add the flour all at once and stir. You will get a thick paste like mashed potatoes or playdough.
Stir the eggs in one at a time. The first is the hardest but it gets easier with each egg.
Put the dough in a pastry bag and pipe a ring around the inside of the pastry circle. Then pipe a ring around the outside of the circle. Lastly, pipe rounds of dough on top of the line between the two rings (like a pyramid). If you don't have a pastry bag, you can use a plastic bag and cut the end off (leave a hole about 1 inch wide). Or, you can simply spoon the dough onto the parchment paper.
Bake for 20 minutes and then reduce the temperature to 375°F and bake for another 20 -30 minutes.The pastry should be puffed, dark brown and crispy. Let cool.
While the pastry cooks prepare the fillings. Stir the ingredients for the chocolate whipped cream together in the bowl of a mixer and the bowl and beaters in the refrigerator to cool thoroughly while you make the cherry pie filling.
Make the cherry filling. Put all the ingredients except the butter into a small saucepan. Heat over medium high heat, stirring, until the mixture forms a thick sauce. Remove from heat and refrigerate.
Take the mixing bowl with the chocolate whipped cream ingredients. Beat the mixture until stiff peaks form.
To assemble the Paris-Brest, slice the top layer of the ring off horizontally. Since mine was too delicate to move in one piece, I left it in place and just picked up sections to spread the fillings. Then I laid the top back down on that section and moved to the next one. Spread the cherry filling in the bottom and the chocolate whipped cream on top. Place the top of the ring back.
If desired dust with powdered sugar and a little grated chocolate just before serving. This is best served on the same day as it is assembled.
Nutrition Information:
Yield:
16
Serving Size:
1 slice
Amount Per Serving: Calories: 237Total Fat: 18gSaturated Fat: 11gTrans Fat: 0gUnsaturated Fat: 6gCholesterol: 96mgSodium: 96mgCarbohydrates: 15gFiber: 1gSugar: 6gProtein: 4g

Nutrition information is provided as a guide only. Please consult a dietitian if you have specific dietary needs.
Looking for more chocolate cherry treats?
Photo Credit: www.melissassouthernstylekitchen.com