Chocolate almond polenta cake has a slightly nutty texture similar to cornbread. It's also flourless which makes it gluten free.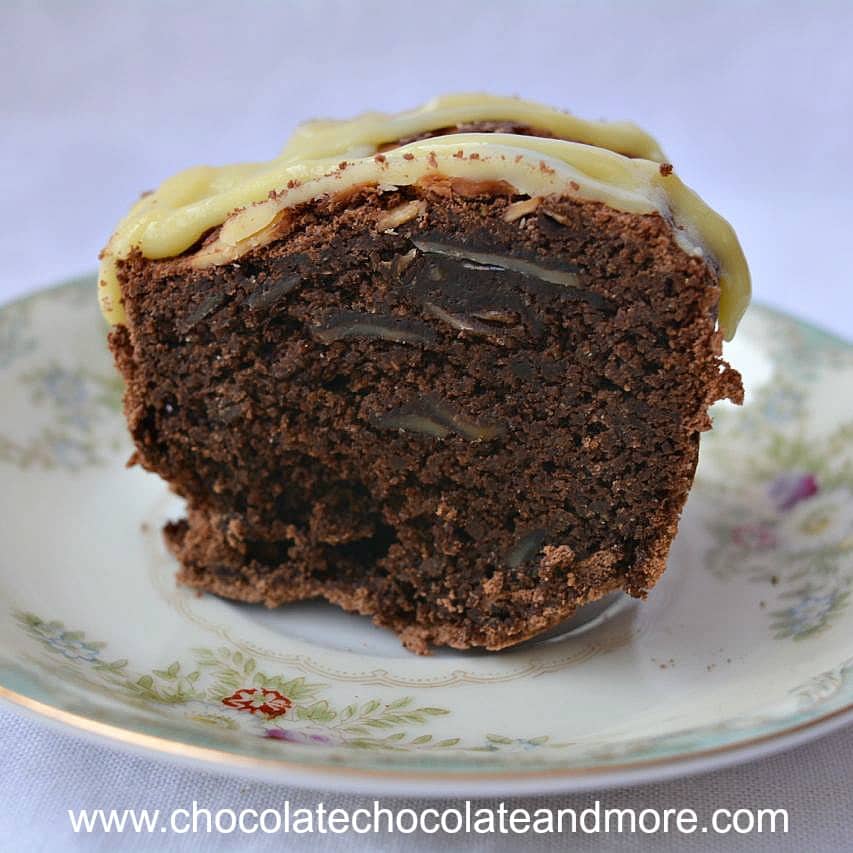 Tonight is Becky's senior prom and I'm on the other side of the world. I knew it would be difficult missing some of Becky's milestones when we started this journey. It was great having one-on-one time while she was here with me in Cambodia but she needed to finish high school back in the US and I needed to finish my Fulbright.
We're very close so Becky and I talk every day. It's amazing what technology can do these days. I remember my first international call from Africa home. The delay was about 30 seconds and the costs were astronomical. Now Becky calls me through Facebook and it's like we're in the same city.
Becky is low drama and I like that. It's much less stressful as a parent when your child is easy going. Last year though, prom was all about drama. The boy who asked her waited until only 2 weeks before prom to do so. This meant finding a dress and making a hair appointment at the last minute.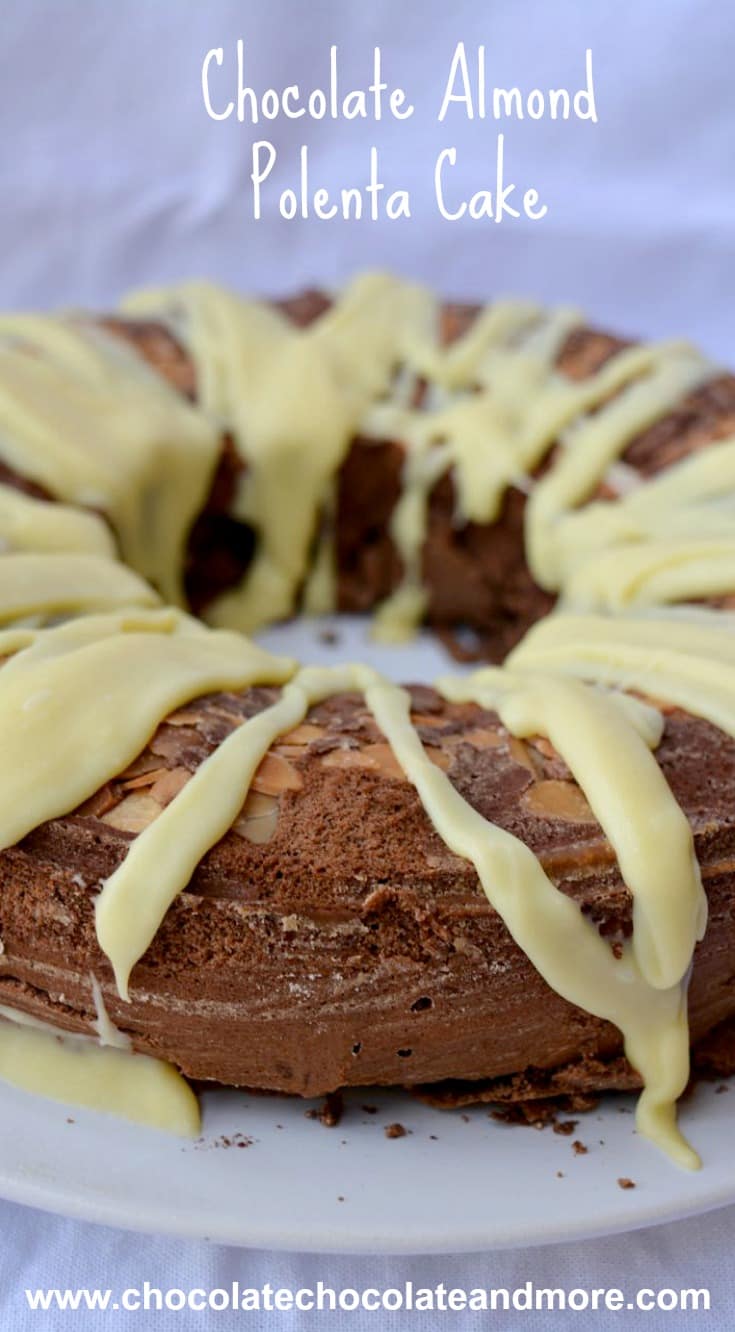 Becky's date had been her friend for some time and that's how Becky wanted to leave it but he had other ideas – hence the drama. He started sending Becky sweet texts and dropping by presents (little things she would've appreciated had she returned his feelings). Long story short, a few days before prom Becky told him that she wasn't going with him. She ended up going with a group of girl friends.
I'm hoping this year is drama free. Becky assures me this guy understands they're going as friends. While Becky was with me here in Cambodia she picked out a lovely royal blue silk and had a long skirt made. She found a cute white lace halter top to go with it so she's set. I'm looking forward to seeing the photos (just got some so this is an update).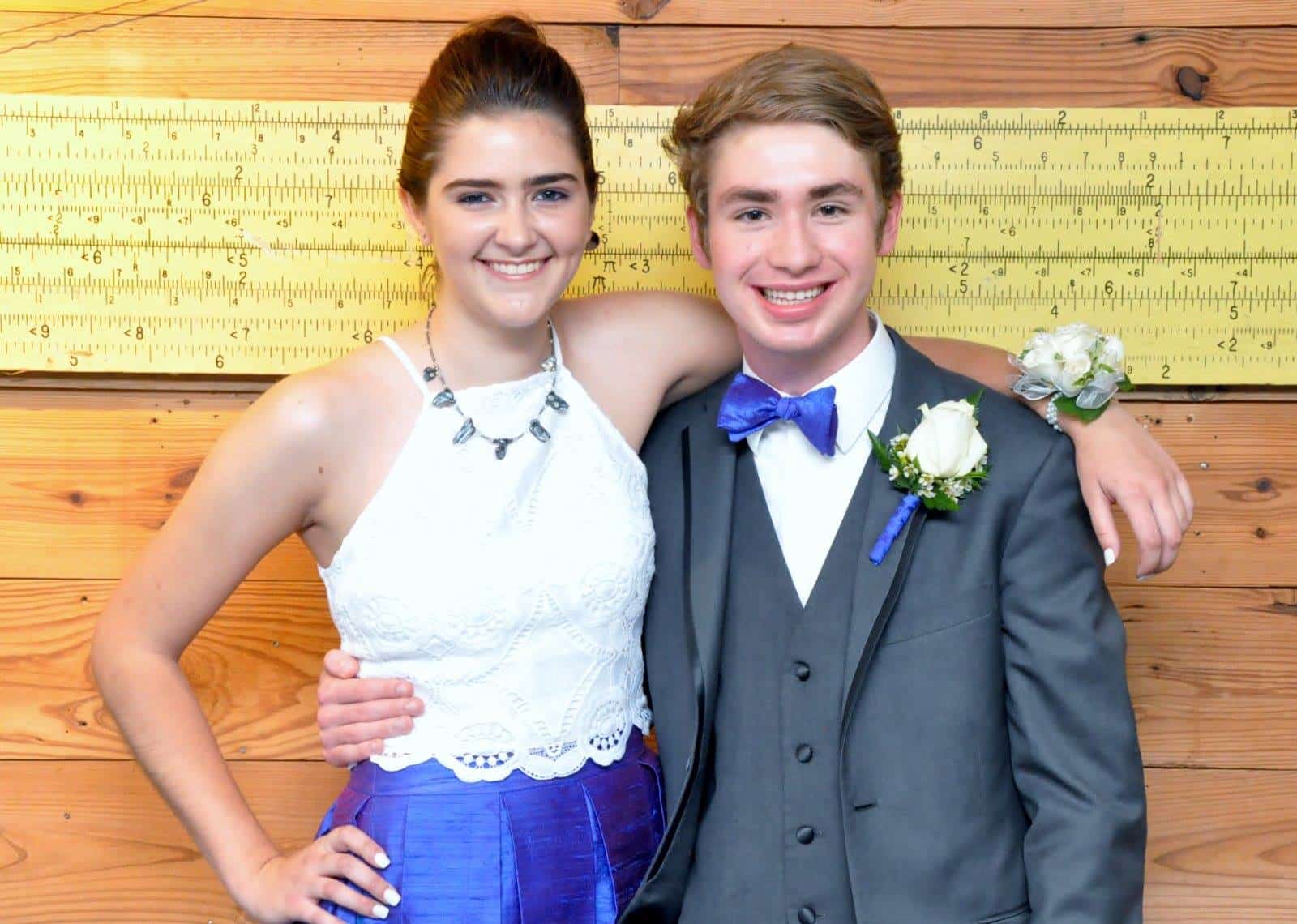 I needed some distraction this afternoon and baking is a great way to keep your mind off things. I scanned through my cookbooks and found a few polenta cake recipes. Polenta is an Italian cornmeal with a finer grain than regular cornmeal. I have a lemon cornmeal biscotti recipe and I love the texture the cornmeal gives it so I thought I'd try a polenta cake but, of course, I wanted mine to be chocolate.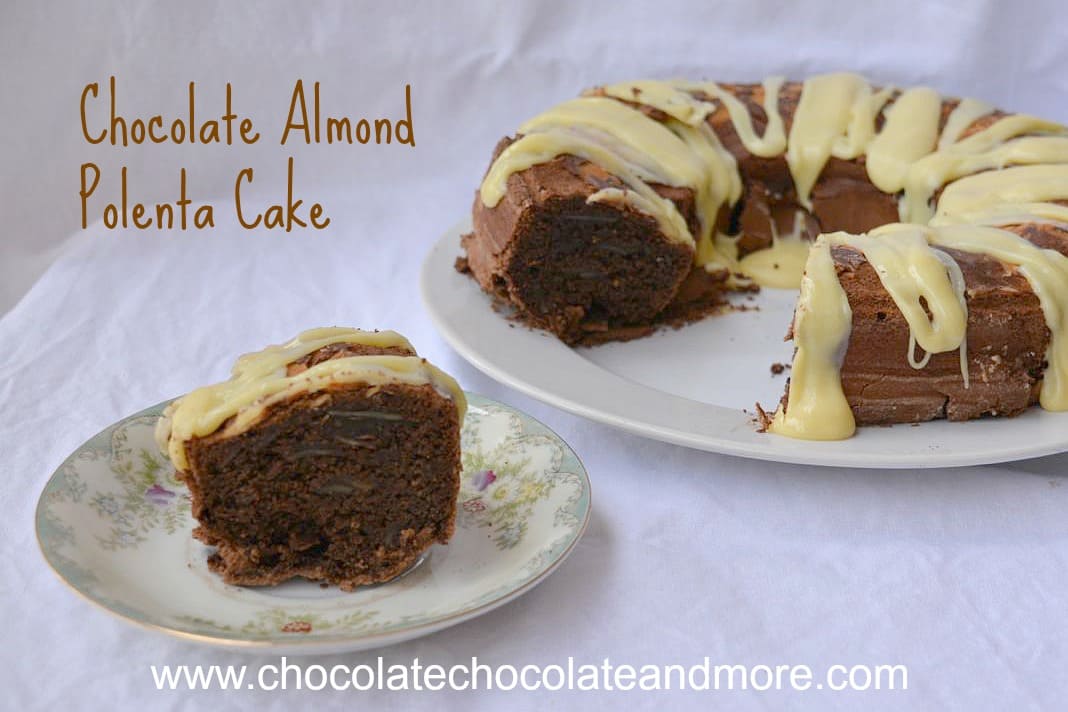 The first version had no eggs. The moisture was supposed to come from milk but it still came out too dry for my tastes so back to the drawing board. For version 2, I added polenta and almonds to a flourless chocolate cake (mine's called chocolate sin because it's sinfully delicious). This flourless chocolate almond polenta cake came out much more moist. Just for fun I topped it with some white chocolate ganache for a little contrast. It's good plain or, go the whole hog and top with dark chocolate ganache.
Flourless Chocolate Almond Polenta Cake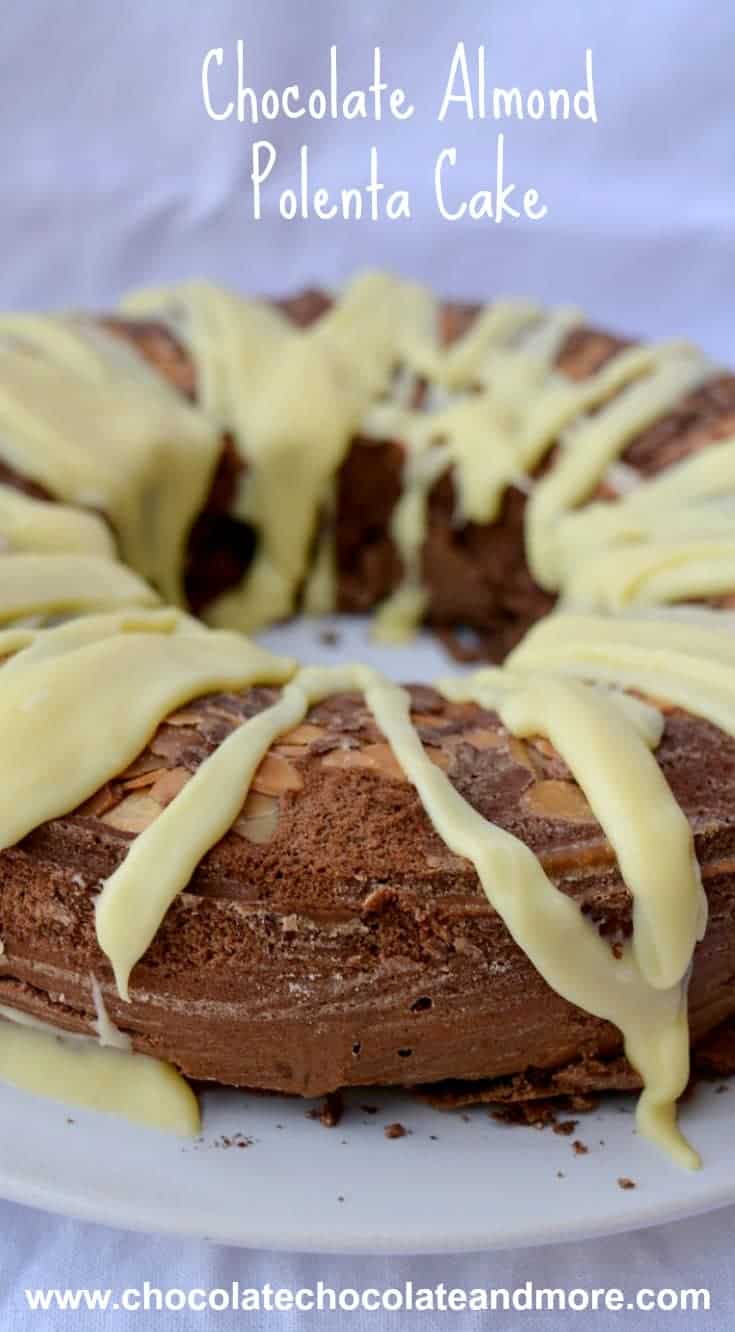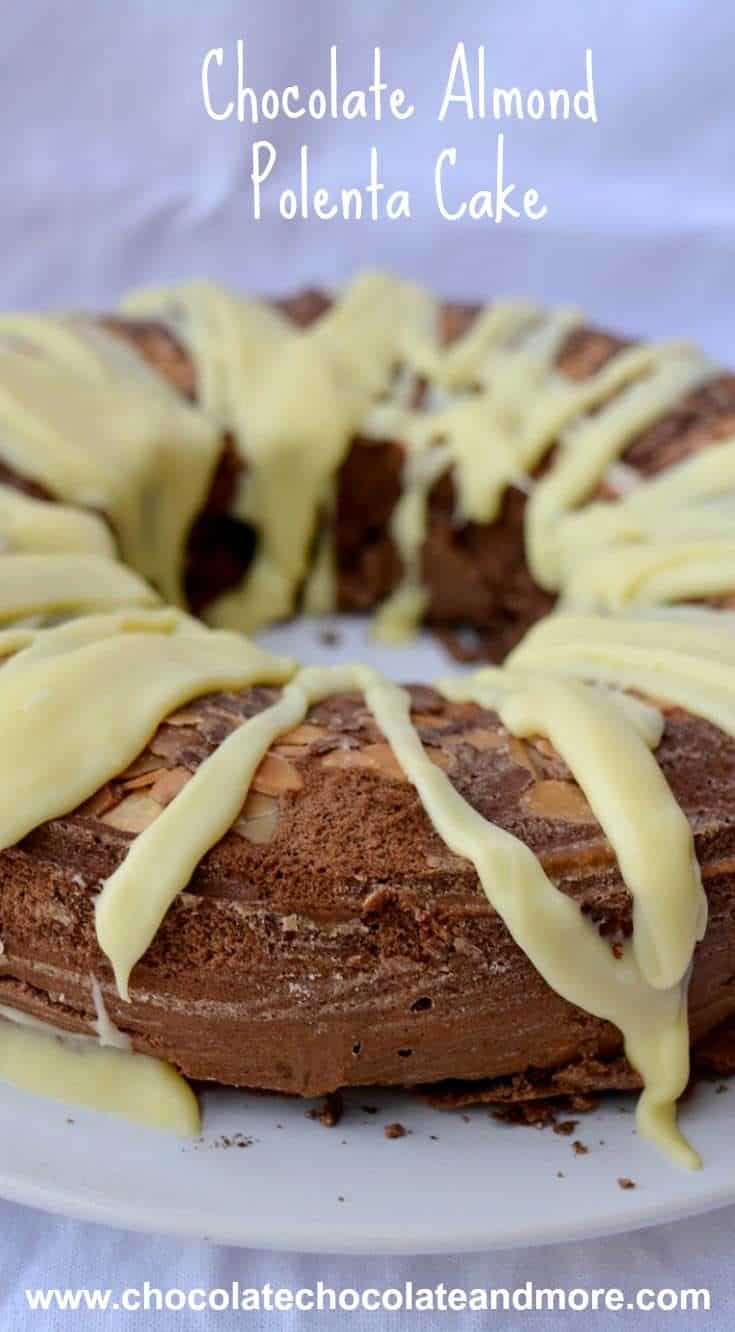 Prep Time 15 minutes

Cook Time 50 minutes

Total Time 1 hour 5 minutes
Ingredients
1 ¾ cup semi-sweet chocolate chips
¼ cup unsalted butter
5 eggs separated
⅓ cup sugar
⅔ cup polenta
¾ cup toasted almonds
White Chocolate Ganache (optional)
1 bar high quality white chocolate (100g/3.5 oz)
2 tablespoons heavy cream
Instructions
Grease and flour a 9 inch (23 cm) springform tube pan. Sprinkle 1/4 cup of the toasted almonds in the bottom of the pan. Set aside
Put the chocolate chips and butter in a microwave safe bowl and cook on med power for 2-3 minutes until chocolate starts to melt. Stir together until smooth.
Add egg yolks, polenta, and remaining toasted almonds.
In a separate bowl, beat egg whites until soft peaks form. Sift in sugar and beat until stiff peaks form.
Fold egg whites into chocolate mixture and pour in prepared pan.
Bake at 350°F for 25 minutes. Let cool to lukewarm in the pan (the top will cave in). Invert onto serving plate.
Break white chocolate bar into small pieces and place in a bowl with heavy cream. Microwave on medium for 1-2 minutes to partially melt the white chocolate. Stir until smooth. Drizzle on cake.
Notes
To make a vegan option, substitute almond milk for the milk and coconut oil for the butter.

Have some more left over polenta or cornmeal? Try these Lemon Cornmeal Shortbread Cookies from Hungry Couple.
Looking for something a little more decadent. Here is a Black Velvet Cake with dark chocolate ganache from Melissa's Southern Style Kitchen.

Or you can lighten things up but still have rich flavor with this chocolate avacado cake from A Treats Affair.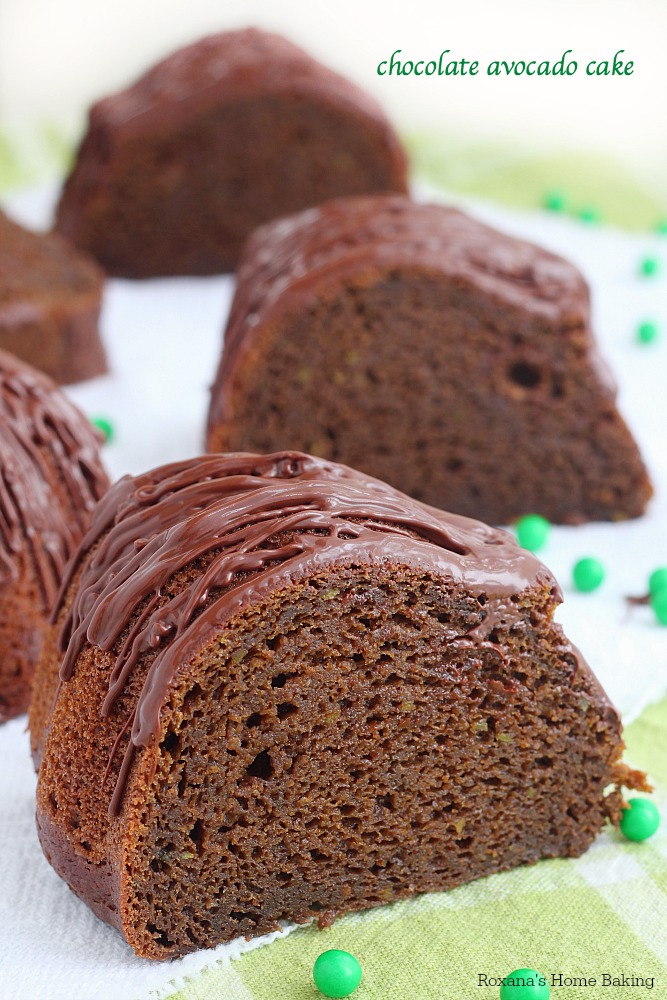 Or this chocolate applesauce bundt cake