Combine your basic everyday popcorn with some dried cherries, pecans, and sugar and voila! You have Cherry Pecan Caramel Corn – a nice snack that almost everyone can enjoy!!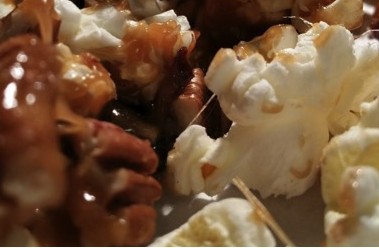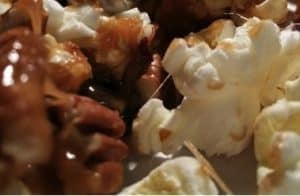 Hi, all! I'm Jen–another of Joan's cousins, and sister to Kim. Today, I'll be making one of my favorite recipes: caramel corn (pretty awesome on its own) with dried cherries and pecans.
I'm a procrastination baker. Anyone else like that? You know: Report to be written? Oh, look, a cookie recipe! House cleaning to do? Bake brownies! Have to pack for a trip? Make caramel corn! It's a skill I honed in college, and resulted in caramel corn becoming the snack for any road trips my friends and I would take.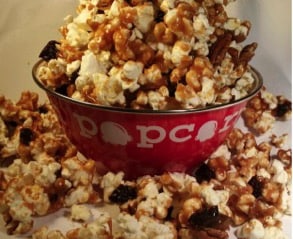 Today's not a road-trip day but it is a grey snowy day, so making Cherry Pecan Caramel Corn is giving me delicious taste of summer and being on the open road while it's still the middle of winter. Now I know there are many ways to make caramel corn–that's part of the fun of it! Many recipes use corn syrup; mine uses honey, because it's something I always have around the house. If honey's not a taste you prefer, you can substitute in an equal quantity of corn syrup.
The cherries add some nice tartness to the sweetness of the caramel, while the pecans add some fun texture. Let's be honest here–cherries and pecans (or dried fruits and nuts of any sort) make many, many already-delicious things even tastier, and caramel corn is no exception. If cherries and/or pecans aren't your thing, this would work just as nicely with cranberries or any other tart dried fruit; for nuts, cashews, peanuts, or petty much anything would be delicious. You can also have fun with the caramel by adding a teaspoon of cinnamon to it before boiling.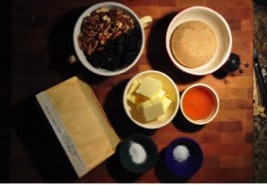 I also love making this recipe because cleanup is a cinch. Usually when I bake it looks like gremlins got loose in my kitchen: In spite of my best efforts, I have little dustings of flour everywhere, and a pile of dishes so big that it looks like something from Dr. Seuss. For this one, I can have my dishes done in 5 minutes AND have almost no work to do wiping down the counters. I usually use microwave popcorn rather than making it on the stove [here's a great trick to get rid of those pesky unpopped kernels], and you can clean the sugar pan and wooden spoon by soaking them in hot water and soap for a bit. Easy–and it gives you even more time to sit down and munch on your homemade caramel corn!
Cherry Pecan Caramel Corn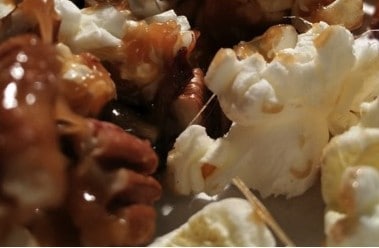 Ingredients
6-8 Cups popped popcorn
½ Cup dried cherries, chopped
½ Cup pecans, chopped
¾ Cup firmly packed brown sugar
7 Tablespoons salted butter
3 Tablespoons honey
½ teaspoon salt
½ teaspoon baking soda
Baking sheet
Parchment paper
Instructions
Pop the popcorn, then spread on a parchment paper-covered baking sheet. Sprinkle with chopped pecans and cherries. Set aside.
Combine the brown sugar, butter, honey, and salt in a heavy saucepan.
Over medium heat, stir and bring to a boil. Once it's boiling, stop stirring; let it boil, untouched (but NOT unwatched!), for 8 minutes or until it reaches 240F on a candy thermometer.
Stir in the baking soda, enjoy SCIENCE! as the mixture foams.
Pour the mixture over the popped popcorn, chopped cherries, and chopped pecans, then fold everything together gently with a wooden spoon or rubber spatula.
Let cool, then break into snack-sized chunks for optimal eating. Once cool, store in a plastic bag or container--if it's dry out, it will keep for a few days. If it's humid, it will keep for a day or so (my recommendation at that point is don't bother storing it and eat the entire batch at once!).
If you like this recipe, you might also be interested in