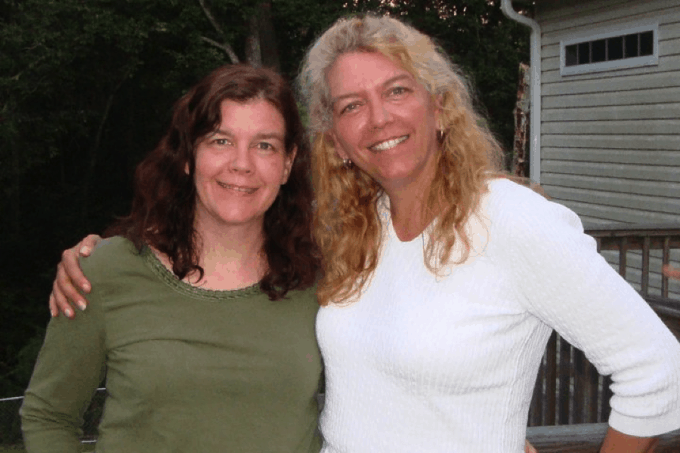 Hi everyone, this is Joan's sister, Gail. Some of you may be unaware that Joan passed away suddenly last week from a heart attack. She went to bed feeling nauseous (which is one of the signs of heart attacks in women) and never woke up.
Her family and friends are in shock and disbelief that someone as full of life as she could pass so quickly with so little warning. Please learn the signs of heart attack in women (they are different than for men).
Ironically, everyone I know who's died of a heart attack had nausea as their main symptom so please don't brush off severe nausea as just the flu or food poisoning – especially if you have risk factors like family history of heart disease or smoking.
Joan made it very clear that she wanted her work to continue in the event of her death so my cousin, Kim Roberson, and I will be working to keep Joan's dream alive. It's especially important for us to support her three children who are devastated by the loss of their mom.
We are gathering on Wednesday, October 28 at 6 PM for a visitation at Rooks Funeral Home in Byron and we will lay my dear sister to rest on Thursday at 10 AM in the Byron Cemetery. While we are mourning our loss, please know that Joan had planned guest bloggers well into the future.
This gives Kim and I some time to adjust and plan some posts of our own. We've also been blessed with amazing support from the talented blogging community so there will be no shortage of great recipes and ideas in the coming months. As her sister, I intend to honor Joan's desire to never go a day without chocolate. I hope you will join me in that quest.
Since most of you don't know me, let me introduce myself. I'm a science education professor at Texas State University and the single mom of three kids, Matthew (22), Timothy (19), and Rebecca (17).
One of the many things my sister and I shared was our love for baking. We grew up in a house where sweets were rarely allowed and our mother couldn't cook to save her life.
Fortunately for us my best friend was Italian and her family was always cooking. I learned how to cook Italian food first and to this day I've never found a restaurant that could match Doris Marsilii's home cooking.
My best friend, Lisa, loved to experiment with pastries so she taught me how to bake. Lisa and I always dreamed of opening our own coffee shop and in college I even had the idea of combining it with a bookstore (this was before Barnes and Nobles got the idea). Too bad we had no funding. Lisa did go on to be a pastry chef though.
This year I'm in Cambodia working with university faculty on improving science instruction throughout the country. Baking here is a challenge and I'll be sharing recipes that even work in a third world country. Joan planned to visit me in Cambodia after Christmas and we had planned a number of posts together of easy-to-make Cambodian recipes.
Cambodia was a French colony from 1863-1953 and the French influence is still very evident in Cambodian cuisine. The French brought their love of coffee, pastries and bread to Cambodia and that stuck. Café's are everywhere in Phnom Penh and according to my coffee-loving friends, the coffee here is amazing.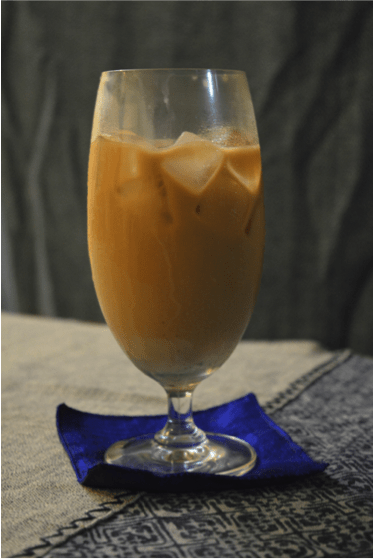 Every morning here at the Royal University of Phnom Penh we have a mini-staff meeting at one of the food vendors. These little restaurants are all al fresco and we're very close to the equator here. Since every day is hot and humid (think Houston, Texas without air conditioning), iced drinks are particularly refreshing and the top cold drink on everyone's list is iced coffee.
Cambodian iced coffee tastes very similar to Haagen Dazs coffee ice-cream but it's creamier. Now, I'm not a coffee drinker. I love my morning cuppa (tea) and I never drink coffee in the States. However, I drink Cambodian iced-coffee nearly every morning while I'm here. It's just that good. Here's a photo of the $0.50 cent variety at the Royal University (Sorry for the poor quality. I only had my iPhone on me and was rushed before our meeting).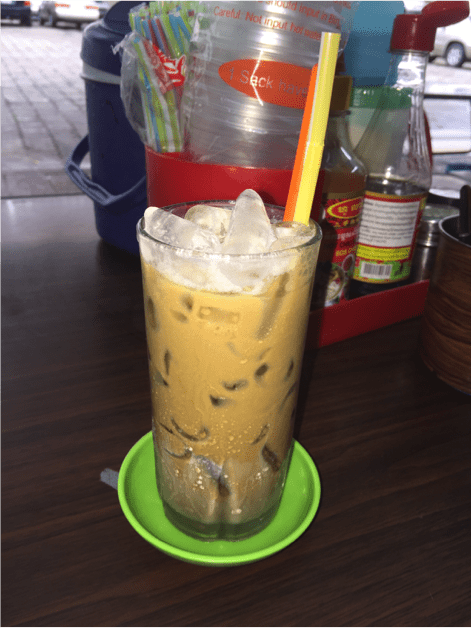 Every coffee shop here has its secret recipe (coffee blend and ratio of coffee to sweetened condensed milk). Some put in more coffee and some put more sweetened condensed milk so change the recipe to fit your tastes. I've put the typically sweet ratio in my recipe.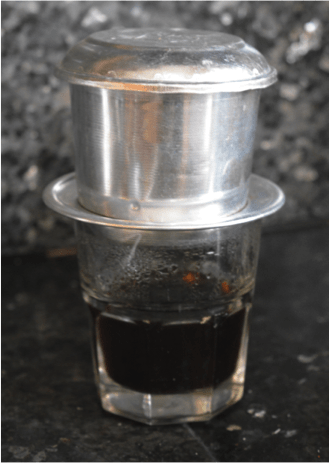 Cambodian Iced Coffee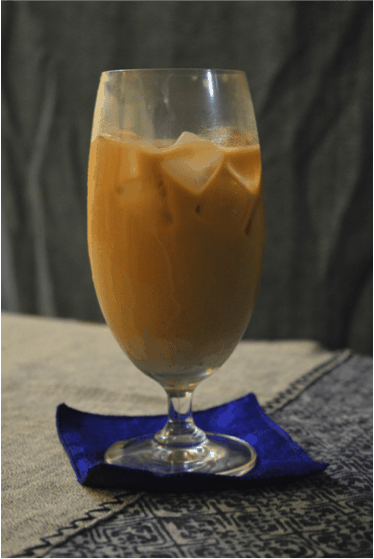 Ingredients
2 Tablespoons sweetened condensed milk
¾ cup strong black coffee (dark French roast works well).
Ice cubes
Instructions
Make strong black coffee. Strong drip coffee works or you can use a French press.
Let coffee cool a bit so it's not scalding hot (lukewarm is best).
Pour ¾ cup coffee into serving glass.
Mix sweetened condensed milk into coffee to taste.
Add ice, and serve.
Notes
To make coffee the Cambodian way, put two tablespoons ground coffee into a Vietnamese coffee filter (or French press). Pour 1 cup boiling water over the grounds and let it drain into the cup.
Cambodians pour the hot coffee over the grounds three more times to fully draw out the flavor.
Many Cambodian coffee shops make layers by pouring sweetened condensed milk into the bottom of a glass, carefully adding the coffee on top and then adding ice to fill the glass. Cambodians also drink this hot so if you live in a cold climate, give the hot version a try. Either way, raise your glass and remember my sister as you enjoy this sweet treat from the other side of the world.
If you want to spice this up for the holidays, add a shot of Kahlua or Baileys to your mixture.
Summary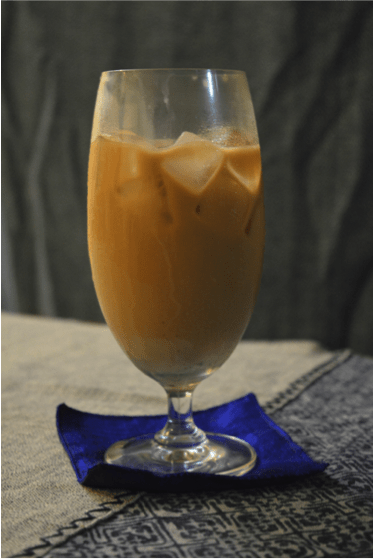 Recipe Name
Published On
Preparation Time
Total Time