This Buche de Noel is a decadent whipped cream-filled chocolate jellyroll infused with Kahlua for extra panache and topped with chocolate ganache to make it simply divine. It's simple to make too.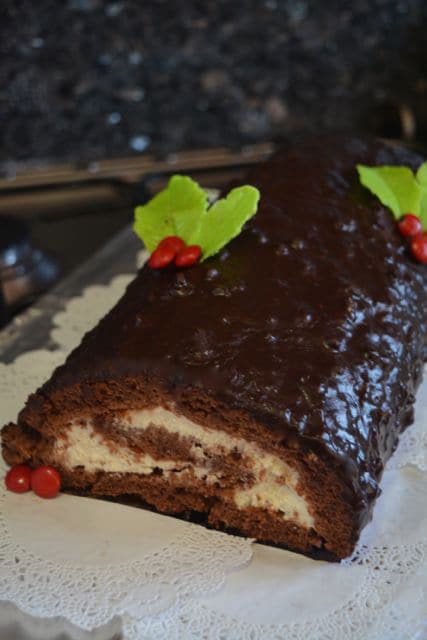 Today was my first day off in a long time so I thought I'd have a baking therapy session. It was one of those days where I reveled in my pajamas all day long. I wasn't lazy about anything else but it was so nice to not wear real clothes (if you know what I mean). I put on some Christmas music and then got to work.
I've always loved chocolate with whipped cream. When I was a kid, some of my classmates would bring crème filled cupcakes to school in their lunches. All of the kids who were stuck with school lunches, including myself, stared with envy while they relished their treats. Now that I'm an adult, I can make my own chocolate and whipped cream treats.
One of my favorites is Buche De Noel. I infuse mine with Kahlua for an extra decadent treat but you can use strong coffee, peppermint liquor or Bailey's instead. The recipe I have at home is entirely from scratch. You have to whip up egg whites, fold in melted chocolate and flour, and carefully put the mixture in a jellyroll pan (hoping to maintain all the air so that the cake remains light and fluffy in texture).
You then have to let it cool, fill it, let the filled cake cool, drizzle the thick glaze on top and let that cool once again before serving. It takes all day and I end up with a lot of dishes to wash which means I only make it for very special occasions.
A reader asked for a recipe for a Buche de Noel so I decided to see if I could simplify my from-scratch recipe with similar results. I've come up with a recipe that starts with a box cake mix (this saves a LOT of time and dishes) and still tastes just as great as the recipe from scratch that used to take all day. Best part is there are only 3 bowls and one pan to clean; compared to the small mountain of dirty dishes I used to have afterwards.
I kept the homemade whipped cream because it's one of my favorites and simple to make, but you could use cool whip to save time (and still more dishes). You still need time for things to cool in between steps so this is not a "quick" recipe but it's well worth the time.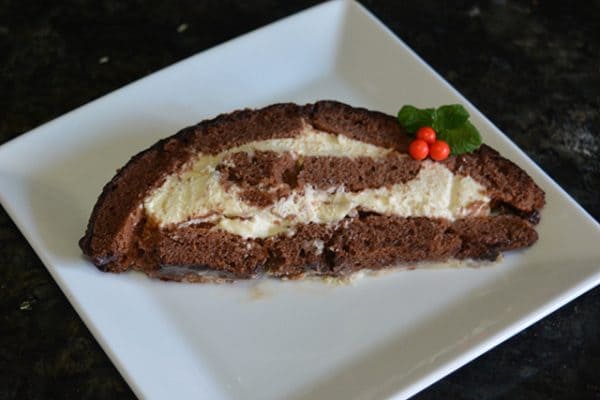 This cake looks complicated but it's actually pretty easy because the whipped cream holds everything together and the chocolate ganache covers any mistakes.
You roll the cake up in a tea towel while it's hot and let it cool as a roll.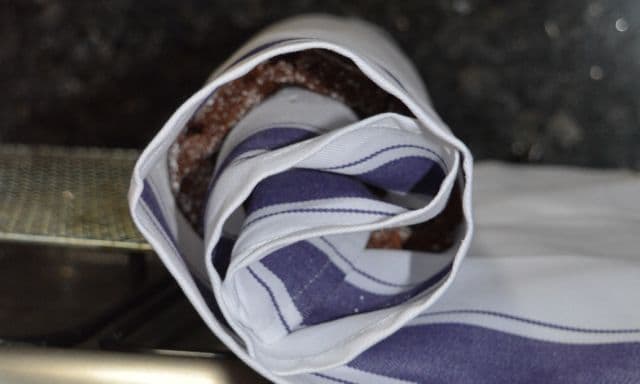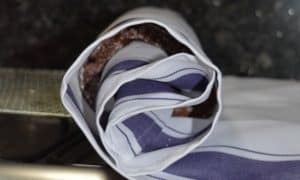 When you unroll the cake, it will break but that's OK.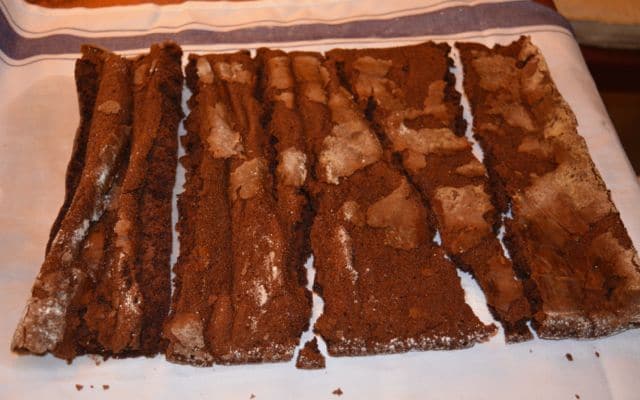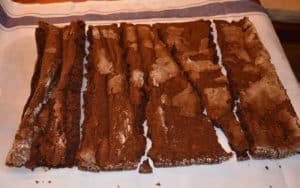 Just push the pieces close together and tuck a piece of aluminum foil under the far end of the cake. Top the cake with whipped cream and use the tea to roll the cake back up. Because you cooled the cake rolled up in the tea towel, it will roll back up pretty easily. It's OK if there are cracks in the cake. Logs aren't perfect.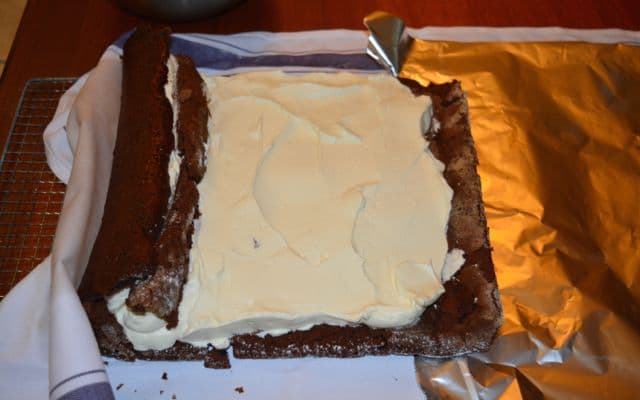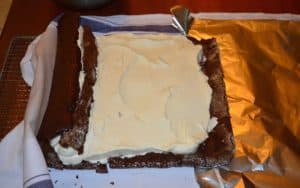 Roll the cake onto the aluminum foil and refrigerate for an hour before topping with the chocolate ganache. The whipped cream will glue the broken pieces back together.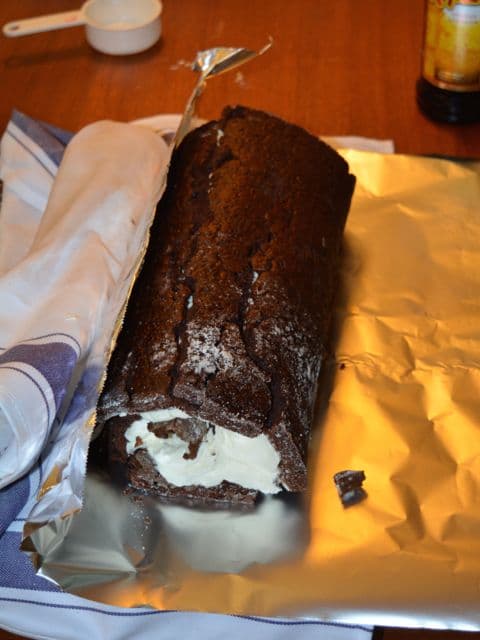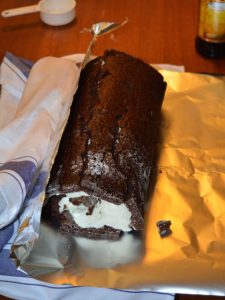 .
Buche de Noel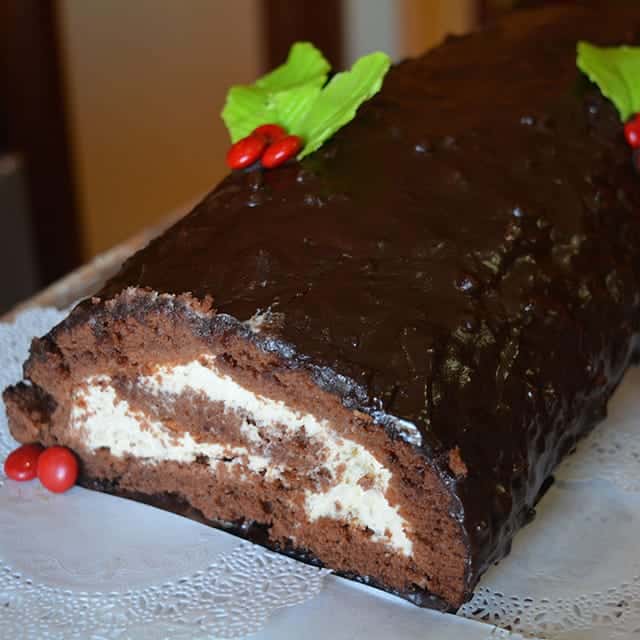 Ingredients
Cake
1 box chocolate cake mix
3 eggs
1 ¼ cup Water
1/3 cup vegetable oil
Kahlua (optional)
Filling
2 cups whipping cream.
½ cup sugar (or more if you like it sweeter)
2 Tablespoons Kahlua (or you can use 2 teaspoons vanilla)
Chocolate Ganache
1 ½ cup semi-sweet or dark mini chocolate chips
¼ cup + 2 Tablespoons heavy cream
Instructions
Spray jelly roll pan with baking spray and line with parchment paper. Spray parchment paper with cooking oil. Dust with flour and tap off excess.
Put cake mix, eggs, water and vegetable oil in a mixing bowl. Beat on high speed for 3-4 minutes scraping the sides constantly to incorporate as much air as possible.
Spread batter evenly in prepared pan. Place pan in a 325°F oven and bake for 8 minutes. Turn pan so that the side that was in the back is now in the front and bake 7 more minutes (or till done).
Lay a tea towel (with no lint) on a cooling rack. Dust the top of the cake with powdered sugar. Lay the towel and cooling rack over the jelly roll pan and turn upside down (cake is now on the towel). Remove the parchment paper and dust the top of the cake with powdered sugar. Roll the cake loosely in the towel (so towel separates layers) and let cool. You want to roll the narrower side toward the other end so that you end up with a shorter "log" than the other way around.
While the cake is cooling, put your mixing bowl and beaters in the freezer for at least 30 minutes. Put sugar and whipping cream in the cold bowl and beat until stiff peaks form. Fold in Kahlua (or vanilla).
Gently unroll the cake. It may crack or even break (that's OK). Just leave it as it is on the tea towel. At this point you can drizzle some Kahlua or other flavoring over the cake if you like. The cake should be moist but not soggy.
Cut a piece of aluminum foil or plastic wrap big enough to wrap around the filled cake. Tuck the piece of the aluminum foil or plastic wrap under the far end of the cake (about 1 inch underneath the cake).
Spread a generous amount of the filling over the cake. Start at the innermost side (the side you rolled first). I start rolling the cake up as I go and I gently push the cake back together where it broke. Leave the last couple of inches at the other end uncovered. When you roll the cake back up, the filling will spread to fill this in.
Use the tea towel to gently roll the cake back up but this time you are not rolling the tea towel into the cake (obviously). Keep rolling the cake until it is on the aluminum foil and then roll it to the middle of the foil. As you roll the cake to the middle of the foil bring the foil along with it (like you're wrapping a burrito). When the cake reaches the middle of the foil, bring the other side of the foil up and snugly wrap the filled cake in the aluminum foil. You want the cake to be snug but not tight. If it's too tight, you'll squeeze the filling out. Place the cake seam side down on a platter and chill for at least 1 hour. This glues the pieces back together.
To make ganache, place chocolate chips and cream in a microwave safe bowl. Heat on high for 1 minute. Let chocolate rest for 2 - 5 minutes before stirring. If you cool for the shorter time, the chocolate won't completely melt giving your Buche a nubby look. If you wait 5 minutes and stir until completely smooth your Buche will have a smooth look. Spoon warm ganache generously over cake.
Decorate as you wish. My daughter and I melted a small amount of white chocolate and mixed in green food coloring. Then we coated the backs of some leaves with it (make sure the plant is not toxic and try to pick leaves with big veins). Holly leaves would be amazing but we don't have them here. Red hot candies, red M&Ms or dried cranberries can be your berries if you use holly leaves. You can also buy marshmallow mushrooms at specialty shops or make little snowmen out of marshmallows to put by your tree. Google Buche de Noel and you'll see lots of decorating ideas.