Mascarpone cheese gives brownie bottom peanut butter cheesecake a light texture that's perfect for a summer picnic. A dash of Kahlua brings out the peanut butter flavor. You can always substitute regular cream cheese and omit the Kahlua if you're looking for a more traditional flavor combination.
Summer is a time of comings and goings. Tonight one of my good friends is going back to the U.S. after being here for a year. I've been saying goodbye quite a bit lately as friends go away for vacations or to permanently relocate. Since my daughter is off to Purdue in the fall and my friend is from Indiana, I suspect we'll be seeing each other after I return in August.
I wanted to send my friend home in style so I made this cheesecake for our last work coffee hour together and it got rave reviews from my colleagues.
I had some brownie mix so I used that shortcut but you could make brownies from scratch. These cocoa brownies would work.
Lining my springform pan with parchment paper that was a little larger than the base kept the brownie batter from leaking while it baked. I know some cooks prepare the brownies in a cake pan and transfer them to the springform pan for their brownie bottom cheesecakes but it seemed simpler this way.
The cheesecake top is no bake. If you haven't tried mascarpone, it's a lighter version of American cream cheese. The flavor is nearly identical (mascarpone is a little milder) so the two are pretty interchangeable. The difference is how solid the dessert is. Mascarpone is great for fillings because it's softer.
Because it's not as firm, I used a little gelatin to help my cheesecake keep its shape in the summer heat. I also added a little Kahlua for some added flavor. 1/4 cup may seem like a lot but the amount per slice is pretty negligible and it's not enough to taste the Kahlua itself. If you don't like alcohol, you can always leave out the Kahlua. If you do, reduce the gelatin to 1 tablespoon.
Yield: 1 cake
Brownie Bottom Peanut Butter Cheesecake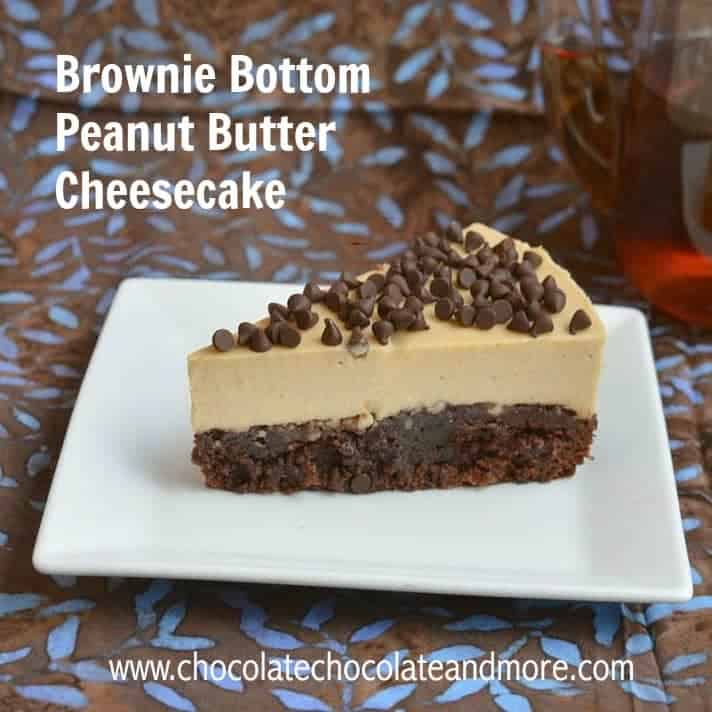 Ingredients
1 batch brownie batter (use 1 box mix or these cocoa brownies)
⅔ cup milk
1 ½ tablespoons gelatin
½ cup honey or corn syrup
½ cup peanut butter
2 ¼ cups mascarpone cheese (or cream cheese)
¼ cup Kahlua (optional)
Instructions
Cut a circle of parchment paper with a 9.5 inch diameter. Line a 9 inch springform pan with this parchment paper (the edges will go up the side a little). Oil the top of the parchment paper.
Prepare the brownie batter as instructed and pour into the prepared springform pan. Follow baking directions for 8x8 inch pan. Let cool.
Scald milk in a small saucepan. Dissolve gelatin in hot milk. Mix in honey and peanut butter. Let cool.
Put mascarpone in a bowl and add peanut butter mixture. Beat with mixer until smooth. If desired, add Kahlua. Pour over cooled brownie and refrigerate at least 8 hours.
Nutrition Information:
Yield:
20
Serving Size:
1 slice
Amount Per Serving:
Calories:

332
Total Fat:

29g
Saturated Fat:

15g
Trans Fat:

0g
Unsaturated Fat:

10g
Cholesterol:

75mg
Sodium:

274mg
Carbohydrates:

15g
Fiber:

0g
Sugar:

11g
Protein:

5g
Nutrition information is based on cutting the cake into 20 slices and is provided as a guideline only. Please consult a dietitian if you have specific dietary needs.