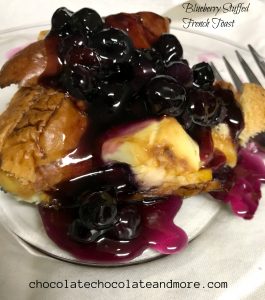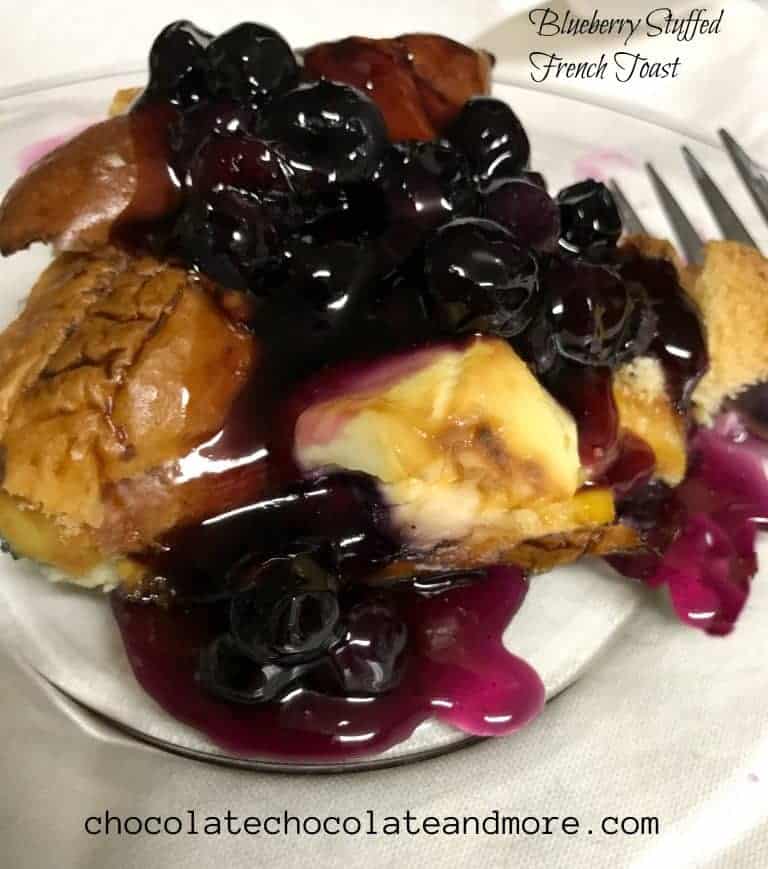 Blueberry Stuffed French Toast
This recipe takes a little longer than your usual french toast, but it is sooooo worth it!
Ingredients
12 slices day-old bread, cut into 1-inch cubes (I used egg bread, but I would suggest challah for best results)
2 (8 ounce) packages cream cheese, cut into 1 inch cubes
1 cup fresh blueberries
12 eggs, beaten
2 cups milk (I used 2%)
1 teaspoon vanilla paste (or extract)
1/3 cup maple syrup
1 cup white sugar
2 tablespoons cornstarch
1 cup water
1 cup fresh blueberries
1 tablespoon butter (if desired)
Instructions
For "day old" bread, slice bread into cubes, place in large bowl, and allow to "stale" overnight
Night before:
Rinse blueberries and set aside to dry
Lightly grease a 9x13 inch baking dish. (I used glass Pyrex)
Arrange half the stale bread cubes in the dish, and top with cream cheese cubes.
Sprinkle 1 cup blueberries over the cream cheese, and top with remaining bread cubes.
In a large bowl, whisk the eggs, milk, vanilla extract, and syrup until combined.
Pour over the bread cubes and blueberries in the baking dish.
Cover, and refrigerate overnight.
The morning you want to serve:
Approximately 30 minutes before you are ready to bake, remove the bread cube mixture from the refrigerator and allow to "un-cool".
Preheat the oven to 350 degrees F (175 degrees C).
Cover the baking dish with foil and bake 30 minutes.
After 30 minutes, uncover the dish and continue baking 25 to 30 minutes, until center is firm and surface is lightly browned.
Remove from oven and allow to cool 5 minutes before cutting to serve.
Blueberry topping:
Approximately 20 minutes before removing the French Toast from the oven, begin making the blueberry topping.
In a medium saucepan over medium-high heat, mix the sugar, cornstarch, and water.
Bring to a boil and cook 3 to 4 minutes, stirring constantly.
Mix in the remaining 1 cup blueberries and reduce heat
Simmer 10 minutes, until the blueberries burst.
You can stir in butter just before pouring over the finished French Toast, however I didn't add it to mine. 
Pour over finished French Toast, or provide on the side and allow each person to pour as much as they want over their serving.
Recipe by Chocolate Chocolate and More! at https://chocolatechocolateandmore.com/blueberry-stuffed-french-toast/