Becky's sugar cookies are a sweet, vanilla take on a traditional sugar cookie recipe. They're great for any occasion.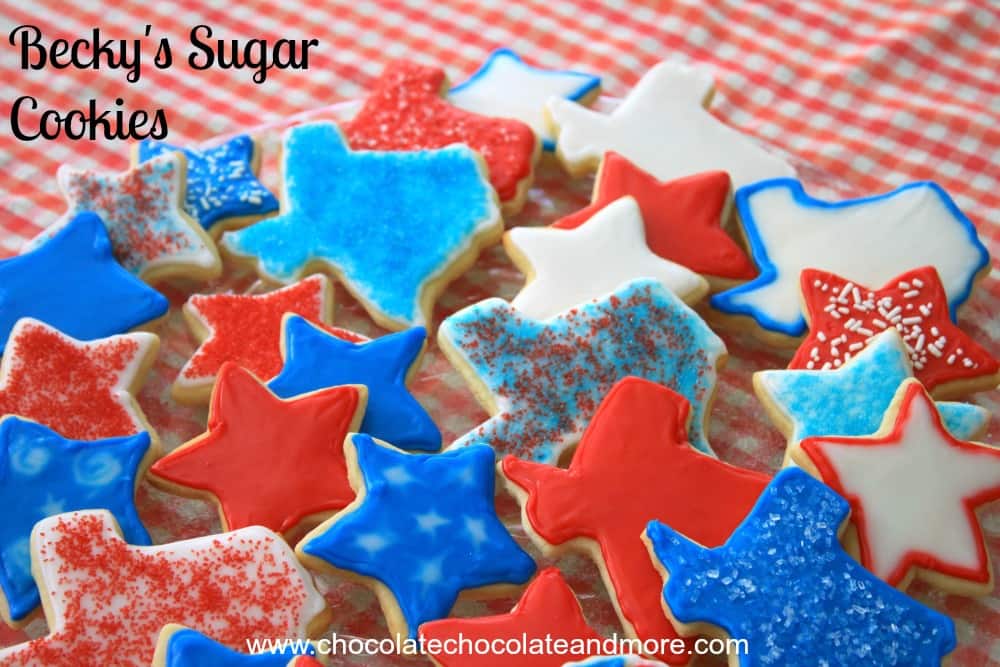 This is Joan's niece, Becky. I love any excuse for a picnic! When the sun is shining and a cool breeze is blowing I start itching for a reason to get outside. That's why the Fourth of July is so great; the holiday just screams outdoor barbecue.
In Texas, meat (usually beef) is the center of the celebration. It's hot so drinks and desserts are just as important. In fact, to me they're more important. Down in the South we loooove our sweet iced tea and so it's traditionally prepared with a healthy dose of sugar. I'm not a fan of sweet tea, so I left the sugar out of mine. If you like sugar, you can always stir some in while the tea is still hot.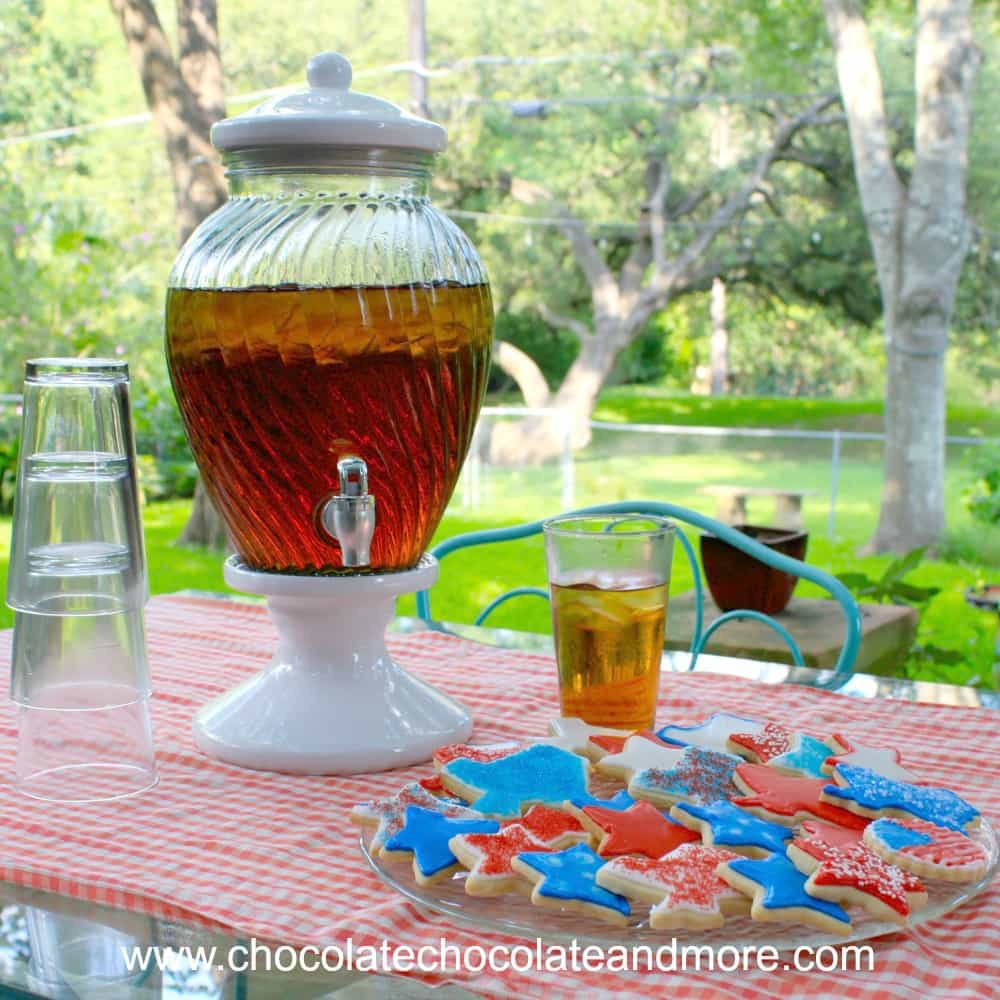 I like spicy teas so I decided to make an iced Chai Spice Tea. I just made it hot first and then iced it. Chai Spice Tea has a flavor that will stand out at your summer gathering. I served it in a glass beverage dispenser from Old Time Pottery. I love the old fashioned look of this one and the stand is just the right height for dispensing tea into pint glasses. I served my cookies on a glass platter from Old Time Pottery. Plain glass works well for any event.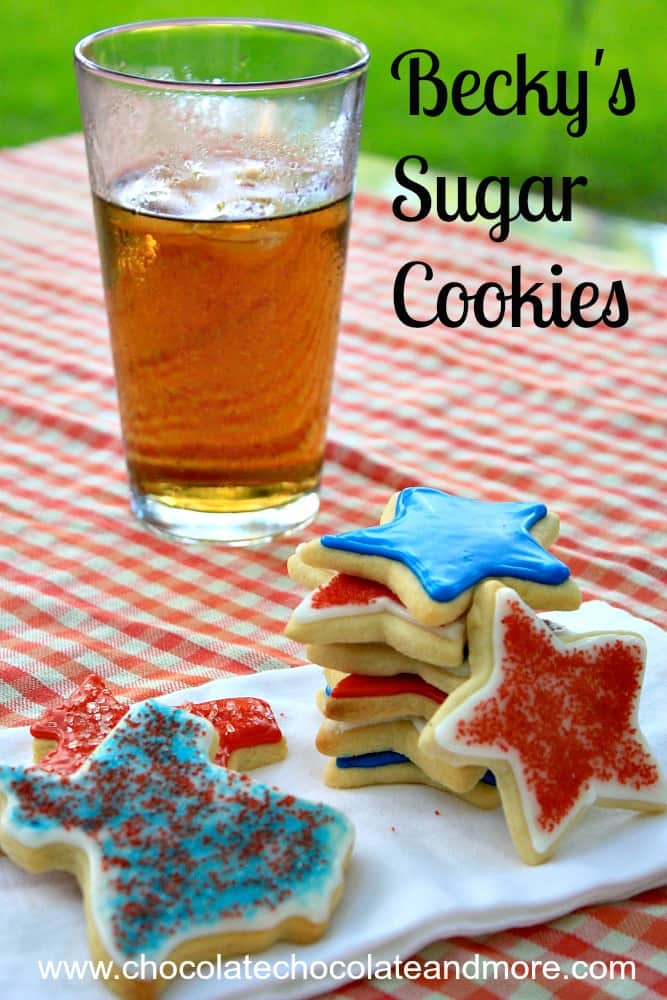 Sugar cookies are incredibly easy to customize for any event. Icing them allows you to be creative and you can make decorating them a fun activity with your kids. To get a smooth look, make a batch of frosting that is thick (like toothpaste) and use a round tip (or plastic bag with a hole cut in the corner) to ice around the edges of the cookie. After you outline the cookies, thin the icing with some milk so the it's like a thick glaze. You could have the kids spoon this icing into the outlined shapes. Add sprinkles while the icing is still wet.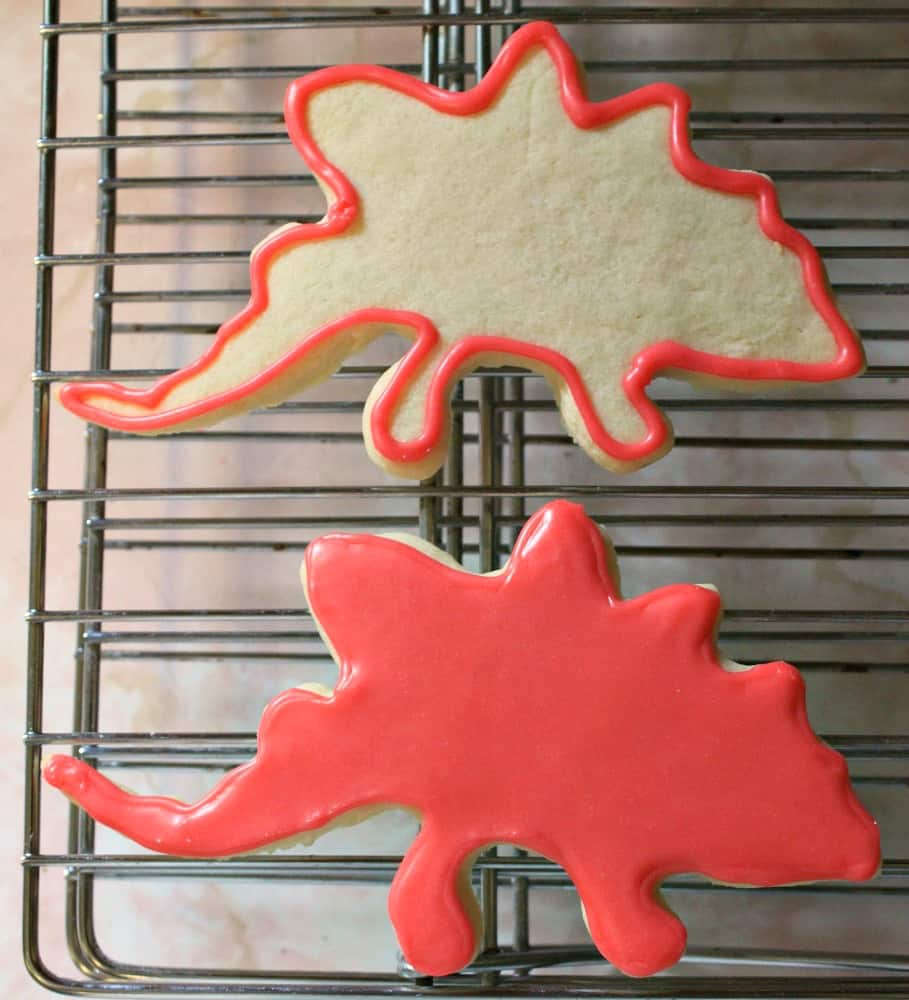 I know it's not Texas' independence day, it's America's. So why the Texas shaped cookies? The Answer: because Texas is my favorite state and I hardly ever get to use my Texas cookie cutter. Besides, Texas deserves to celebrate the benefits of American independence from Britain which allowed it to join the US later. That's my story and I'm sticking to it.
Becky's Sugar Cookies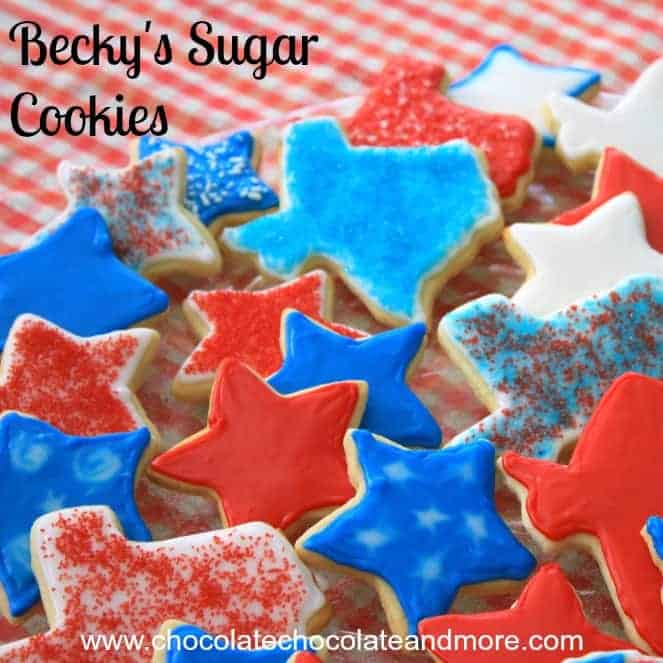 Ingredients
2 cups flour
1 ½ teaspoon baking powder
½ teaspoon salt
½ cup butter (softened)
1 ⅓ cup sugar
1 egg
2 teaspoons vanilla extract
1 tablespoon milk
For Icing
3 cups Dixie Crystals powdered sugar
1 teaspoon vanilla
3-5 Tablespoons water or milk
food coloring
Instructions
Sift together, flour, baking powder and salt, set aside.
Cream butter and sugar together.
Add in egg, vanilla and milk.
Slowly add in flour mixture, make sure well combined.
Wrap dough in plastic wrap and refrigerate for 2-3 hours. (can also be frozen)
Roll dough out on floured surface to 1/8 inch thickness (mine are always closer to 1/4 inch) Use cookie cutters to cut into shapes. Place on parchment lined baking sheet.
Bake in a preheated 375°F oven for 7-8 minutes, just until edges start to turn golden. Let cool on cookie sheet for 5 minutes before removing to racks to cool completely.
Icing
Add enough water or milk to the powdered sugar to make a toothpaste consistency add in vanilla. Pipe frosting around the edge of each cookie. Add more milk or water until the icing has the consistency of a thick glaze. Add sprinkles while the icing is still moist.