You may think of apple bundt cake as a delicious fall dessert treat, but it doesn't have to just be relegated to the end of the year! Add a little citrus and you have a treat that can be served as a warm dessert or as a nice picnic treat on a spring day.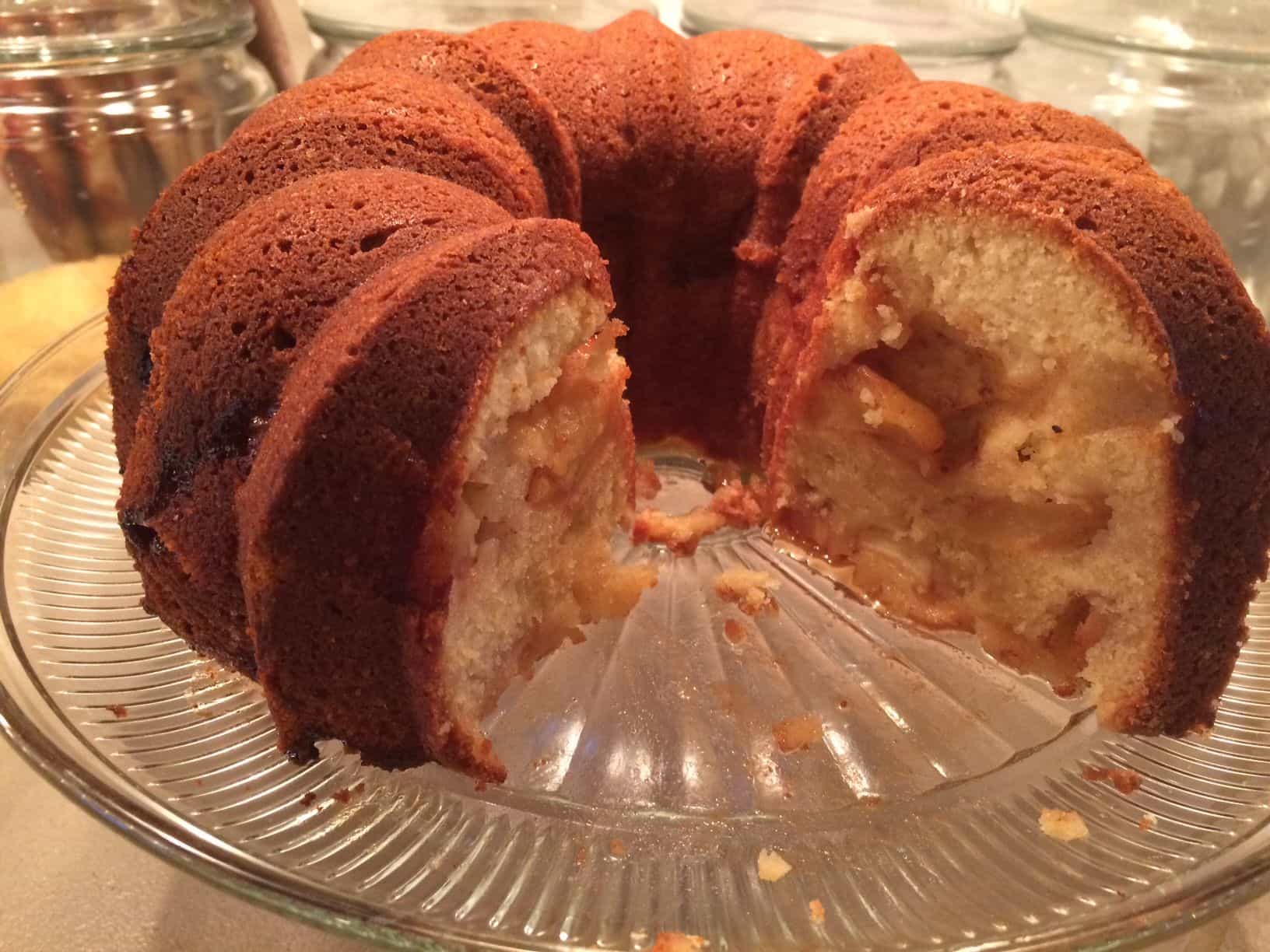 This simple to make apple cake recipe was given to me by a dear friend who is actually a trained chef – so I know anything he passes along is worth giving a try! It is both refreshing and reminiscent of Grandma with layers of sweet apples, the flavor of orange and an infusion of cinnamon.
This can be put together in 15 minutes and the aroma will have everyone in the house rushing to the kitchen table for a glass of milk and piece of your amazing apple cake! It's simple to put together. Just put a layer of batter, a layer of apples, and then top with a layer of batter.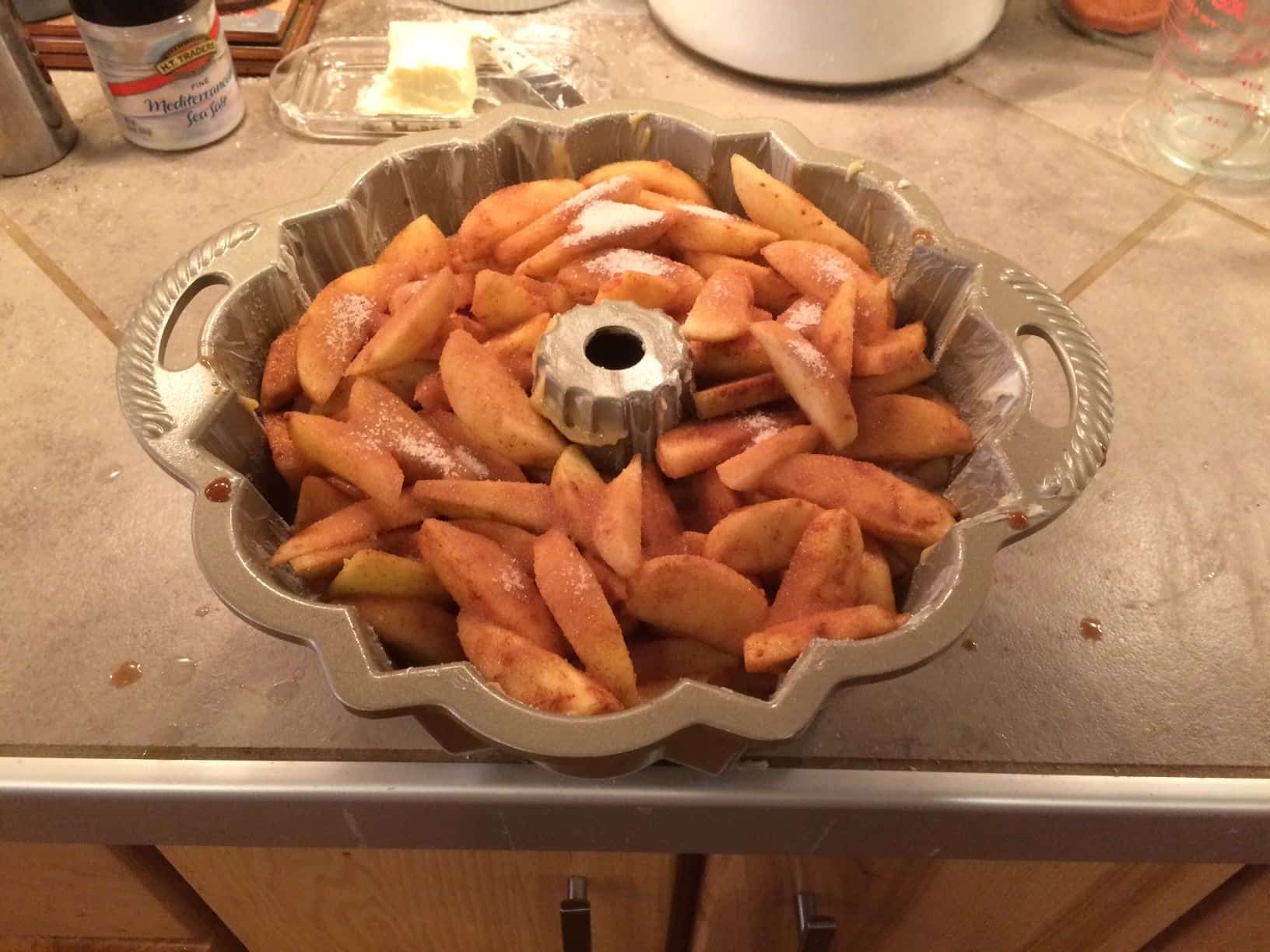 The best part is, it can be served any time (assuming you have any left-over!). Let it cool, cover, and slice it up for a sweet breakfast treat with a big glass of orange juice, or a nice addition to your packed lunch in the office or at school. Keep a slice for your afternoon coffee. You can serve it warm for dessert with a nice scoop of vanilla or cinnamon ice cream.
There are some simple changes you can make to the recipe to make different versions including an orange apple bundt cake, a lemon orange (citrus) apple bundt cake or a Grand Marnier apple bundt cake.
Any way you slice it, this apple bundt cake will become a big hit with everyone who tries it!
Apple Cake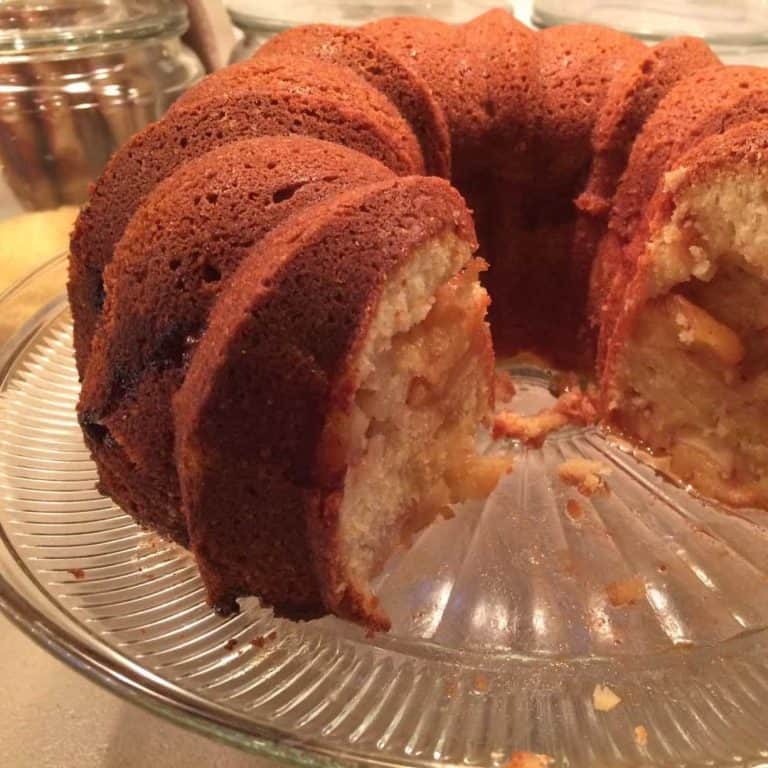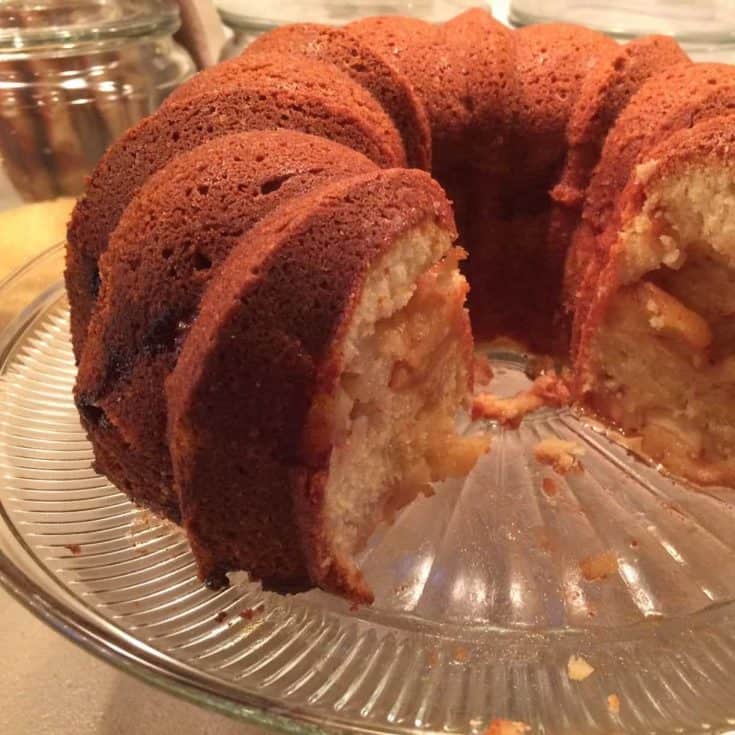 Ingredients
Apple filling:
5-6 cups sliced, peeled green apples
2 tablespoons fresh lemon juice
¼ cup sugar
1 tablespoon ground cinnamon
Cake:
2 cups sugar
½ cup vegetable oil
½ cup unsalted butter, melted and allowed to cool
1 tablespoon vanilla extract
¼ cup lemon juice
¼ cup apple juice
4 eggs
3 cups all-purpose flour
1 tablespoon baking powder
½ teaspoon salt
Small pinch nutmeg
Topping:
2 tablespoons ground cinnamon and ¼ cup granulated sugar combined
Instructions
Preheat oven to 350°F. Grease a 12-cup Bundt pan (or you can use two loaf pans).
To make the filling, combine ingredients in a bowl and toss until apple slices are coated.
For the cake, whisk together sugar, oil, butter, vanilla, lemon and apple juices, and eggs until smooth. Fold in flour, baking powder, salt, and nutmeg until all lumps are gone and batter is smooth.
Spoon approximately 1/3 of the batter into the bottom of the Bundt pan. Top with half of the apple filling. Add another 1/3 of the batter, and top with the remaining apple filling. Use the remaining batter to cover the filling.
Top evenly with the cinnamon sugar mixture.
Place the Bundt pan on a cookie or baking sheet and place in the center of the oven. Bake for approximately 60 minutes, or until the top is golden in color and a toothpick or other tester inserted into the center comes out clean.
Allow cake to cool in the pan for 20 minutes before turning onto serving dish.
Notes
You can change the flavor of this cake by making the following substitutions:
Orange Apple Cake: Replace ¼ cup of lemon juice and ¼ cup of apple juice with ½ cup of orange juice.
Citrus Apple Cake: Add the zest of one lemon soaked in ½ teaspoons of orange oil to the batter.
Grand Marnier Apple Cake: Replace ¼ cup of lemon juice with 1/8 cup of orange juice and 1/8 cup Grand Marnier liquor.
If you like apples, you might also like our traditional German apple cake (Apple Kuchen)